SEE ALL
Sports | September 17, 2021
Boys Soccer defeats Otter Valley in OT
News | September 17, 2021
Water Quality Alert
Obituaries | September 16, 2021
Priscilla Diette Salem
Features | September 16, 2021
High Street's Hastings receives Garden Club honor
News | September 16, 2021
Shedding more light on Peacefield Farm
Obituaries | September 16, 2021
James Edgar Drorbaugh M.D.  
Sports | September 16, 2021
Field Hockey Team downs Rutland
News | September 16, 2021
Reading disputes continue re. overland event, virtual meetings
Business Resources | September 16, 2021
New marketing services now available to local businesses
News
September 17
10:10 am
Water Quality Alert
Woodstock
Avoid using the Ottauquechee River in Woodstock until further notice due to a report of sewage leaking into the river from the Bridgewater Sewage Treatment facility.
Read more in the September 23 edition of the Vermont Standard.
September 16
11:00 am
Shedding more light on Peacefield Farm
It's a lovely Thursday evening in early September and dusk has descended on Peacefield Farm, the controversial proposed farm-to-fork restaurant project alongside a bucolic stretch of Pomfret Road in Woodstock, just south of the Pomfret border. A crowd of about 30 people, including members and staff of Vermont's District 3 Environmental Commission, the state Agency for Natural Resources, a representative of the Two Rivers-Ottauquechee Regional Commission, and interested parties, neighbors, and concerned citizens engaged in the Act 250 review process for the proposed farm-based restaurant are gathered for what one attendee euphemistically called "a lighting ceremony." The purpose of the gathering at Peacefield Farm on Thursday evening, Sept. 9, was to give people involved with or interested in the Act 250 review process for the Peacefield project an up-close-and-personal sense of the impact that all the interior and exterior lighting around the proposed restaurant could have on the nighttime sky and the character of the rural, residentially zoned neighborhood for those who live nearby.
Read more in the September 16 edition of the Vermont Standard.
September 16
9:00 am
Reading disputes continue re. overland event, virtual meetings
Reading
Irate town residents confronted the Reading Selectboard at its regular monthly meeting Monday evening regarding two issues that have roiled the community throughout the summer. The first matter of concern is the selectboard's seeming reluctance to commit the town's legal resources to defend an August decision of the Reading Zoning Board of Adjustment (ZBA) to deny a permit for The Pilgrimage — a proposed four-day event that would have brought as many as 350 four-wheel-drive vehicles to a 75-acre site on Bailey's Mill Road for a statewide "overlanding" touring event of Class IV roads and off-road locations throughout Vermont Sept. 23-26. The second issue at hand is the Reading governing body's intransigence in agreeing to hold "hybrid" public meetings moving forward, with in-person and virtual attendance options, as was the practice throughout the ongoing pandemic from March 2020 until June of this year, when Vermont Gov. Phil Scott lifted COVID restrictions on public gatherings such as town meetings.
Read more in the September 16 edition of the Vermont Standard.
Features
September 16
12:00 pm
High Street's Hastings receives Garden Club honor
Woodstock
When Jill Hastings moved into her High Street residence three years ago, the landscaping was in shambles, but countless hours of effort have transformed the home's small plot into one of the village's most vibrant sights. The Woodstock Garden Club recently rewarded Hastings' dedication with the Streetscape Award, which Hastings humbly says is largely thanks to lessons learned from her late husband.
The club, which was founded in 1961, has been giving out the Streetscape Award since 2007. Hastings has been a member of the club since 2006. For a time, she was the president, but now she is a regular associate. She says the club grants the award to "a garden in the village of Woodstock created and maintained by the homeowner, business owner, or organization that has special appeal for all to enjoy." The judging is done by fellow club members based on creativity and the hands-on work involved in putting it together. This is her first time winning the award.
Read more in the September 16 edition of the Vermont Standard.
Sports
September 17
10:13 am
Boys Soccer defeats Otter Valley in OT
Woodstock waited until late to win at Otter Valley Wednesday. Despite having the lion's share of possession and shots at goal, Woodstock trailed 1-0 at halftime. The Wasps picked up the intensity in the second half but it looked like it wasn't going to be their day until Zach Martsolf-Tan scored with a header from a corner by Alec Smail with two minutes of regulation remaining. Ezra Lockhart won the game with a direct free kick in the 3rd minute of the first overtime.
Read more in the September 23 edition of the Vermont Standard.
September 16
10:33 am
Field Hockey Team downs Rutland
Woodstock
It may have been Division II Woodstock against Division I Rutland Tuesday afternoon at Yvonne M. Frates Field in Woodstock, but the smaller school came out on top. The Raiders had taken the measure of WUHS the past few years, but the home team turned the table this time around with a 2-0 victory.
"We've lost against them in previous years, but it's always been good competition," said senior co-captain Nicole Fullerton. "We looked at their stats and I wouldn't say we were confident, but we knew it would be a good match and that we needed to play hard. I think we did that the whole game. Both teams had a lot of hustle and it worked out well for us."
Woodstock jumped out on top just over six minutes into the game. Hannah Gubbins scored the goal, Lily Gubbins worked hard to keep the ball in the Wasps' possession in the circle, but the play really started much earlier than that. Sweeper Georgia Tarleton stole the ball, made a couple of moves upfield herself and then passed the ball ahead to jump start the attack.
That first part of that play was indicative of Woodstock all game long.
Read more in the September 16 edition of the Vermont Standard.
Obituaries
September 16
12:33 pm
Priscilla Diette Salem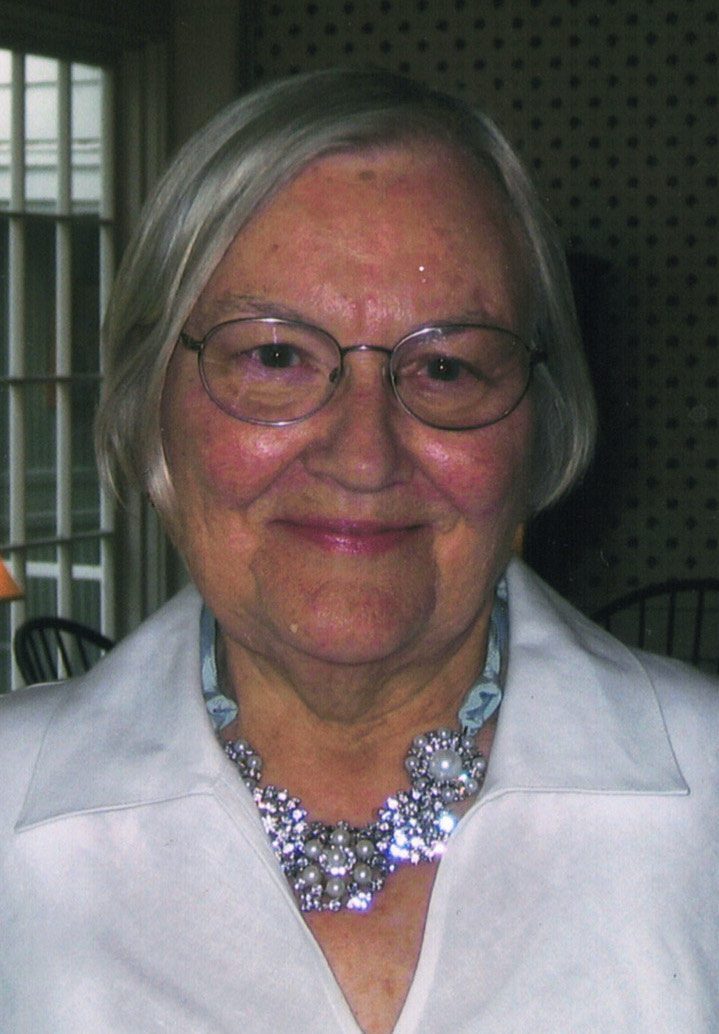 Priscilla Diette Salem passed away on September 8, 2021 at the age of 90 following a brief illness. She was born in Morrisville, Vermont on December 22, 1930; the eldest daughter of Beatrice and Ovide Diette. As a young girl she moved to Woodstock, Vermont where she attended school, graduating from Woodstock High School in 1948. She graduated from the University of Vermont in 1952 with a degree in education. Following graduation, she moved to Bennington where she taught home economics at Bennington High School and remembered fondly the names of every student she taught. It was during this time that she met the love of her life, Charlie Salem.
Priscilla and Charlie married on August 16,1958 and moved to Bucks County Pennsylvania while Charlie attended dental school. While teaching high school in Langhorne, PA she received her master's degree in Bacteriology from Penn State University.
In 1962 they returned to Bennington, purchasing a home on Elm Street.  The first floor was converted into a dental office and they lived upstairs.   They built their home on Sharon Drive where they raised their four children. Priscilla was a devout Catholic, a member of Sacred Heart and later Sacred Heart Saint Francis churches. She raised her family in a strict French Catholic tradition with great intensity and joy. Her family was her greatest passion; she will forever guide her family as its matriarch.
Priscilla loved tennis and her ladies doubles group. She was a master gardener and longtime member of the Garden Club of America, serving a term as the local chapter president. She was a naturalist and took great joy in sharing her vast knowledge with others. She was a voracious reader and lifelong learner. She loved her studies in art history at Williams College and her greater than 25 years as a docent at the Clark Art Institute. She and Charlie traveled extensively. She was an excellent cook and baker as well as a skilled seamstress. She taught these skills to her children to be sure they could each be self-sustaining.
Priscilla was a devoted wife and celebrated her 63rd wedding anniversary with Charlie just weeks prior to her death. She was an incredible mother to her children and grandmother to their children. She enjoyed the family's annual summer reunions at The Basin Harbor Club on Lake Champlain surrounded by all of her children and grandchildren. She instilled in all of them the value of family and the power of love. She leaves behind her husband Charlie; her four children Maria Ascher, her husband Tom and their sons Charlie and Jonathan; Charles Salem, his wife Sarah Dahl and their children Isaac, Olivia, and Emma; Justin Salem, his wife Christiana and their children Henry, Anna, and Nicholas; Elizabeth Foster, her husband Ben and their children William and Catherine; her brother Frederick Diette; many nieces and nephews. Priscilla was preceded in death by her parents; her brothers Bruce Dudley, Scott Dudley, and Philip Diette; and her sister Patricia Courtney.
A mass of Christian burial took place at Sacred Heart Saint Francis Church on Saturday, September 11, 2021 at 10 o'clock.
Private committal services will be held at the convenience of the family.
Contributions can be made in her name to The Bennington Free Library or Bennington Bloom through the office of Mahar & Son Funeral Home, 628 Main Street, Bennington, VT  05201.
Guestbook condolences may be made at www.maharandsonfuneralhome.net
September 16
10:41 am
James Edgar Drorbaugh M.D.  
James Edgar Drorbaugh M.D.  was born on October 31, 1922 and he died peacefully at age 98 in Kaneohe, Hawaii on August 28, 2021.
James graduated from Princeton University in 1944 and he received an M.D. from Columbia University in 1948. He practiced pediatrics at Children's Hospital in Boston and later was Chief of Maternal and Child Health in Hawaii.
He was a devoted husband for 70 years to May Field Many Drorbaugh (b. 1926 d. 2017). He is survived by four children, Virginia, James Jr., MayField, and Ann, six grandchildren, and 11 great-grandchildren.
He loved sailing and doing things with family. They traveled around the world with their children in 1969 – 1970. The family spent many happy days with relatives in Woodstock, Vermont.
The family will hold a private memorial for him and his wife to scatter their ashes together in the waters of their beloved Hawaii.
Business Resources
September 16
5:05 am
New marketing services now available to local businesses