News | March 23, 2023
School board race recount raises even more questions
Sports | March 23, 2023
Woodstock girls are Snowboarding State Champions
Features | March 23, 2023
Barnard's Eric Kelly mushes in Iditarod for second time
Obituaries | March 23, 2023
Joseph Francis Duane
Obituaries | March 23, 2023
Allen Michael Glick
News | March 23, 2023
Despite reservations, selectboard approves Woodstock marketing expenditure
Features | March 23, 2023
Local barbershop choirs focus on fun, friendship and harmony
News | March 23, 2023
Girls on the run at WES learn to win in the game of life
Obituaries | March 23, 2023
Edward Postler
Features | March 23, 2023
New Executive Director wants to make OHF even more accessible
Input your text here! The text element is intended for longform copy that could potentially include multiple paragraphs.
News
March 23
8:35 am
School board race recount raises even more questions
By Mike Donoghue, Standard Correspondent
WINDSOR — A recount in a Mount Ascutney School Board race has widened the Town Meeting Day victory gap for the winner, but also created more questions about the election process and integrity.
The recount now shows School Board member Amy McMullen, the Windsor town clerk, beating first-time candidate Kaitlyn Gould, 255-222.
The original tally of 252-234 had an 18-vote margin on Town Meeting Day, but is now 33 votes. Gould lost 12 votes and McMullen picked up 3 in the recount.
The recount was done last Thursday, but Gould, who had filed the appeal, told the Vermont Standard she was never notified of the time or the place.
Gould said she received an email Thursday afternoon from West Windsor Town Clerk Cathy Archibald with the adjusted vote totals and a note saying the recount had happened that morning. Archibald said a notice was sent to both candidates ahead of the recount and the results were sent after. Archibald said she conducted the recount with Windsor Assistant Town Clerk Riley White and justices of the peace from both towns.
The possible failure to notify Gould about the time and place for the recount is another in a long series of issues that have surfaced about the Mount Ascutney School District election and in some cases failing to follow certain election laws.
Among the concerns were McMullen's presence by the school ballot box on election day. Residents also were concerned about the failure of the district to properly warn and post its informational meeting, the failure to post the election warning and the failure to post a sample ballot.
Windsor Town Manager Thomas Marsh also questioned the lack of proper security when the ballots from West Windsor were transported to Windsor, which is about a 15-minute trip. He said the ballots were reportedly secured by a lock with a metal key that the people transporting carried. In Vermont ballots are normally secured with plastic locks that are broken open only when election workers are present. Archibald said the school ballots in West Windsor never left the locked box until they arrived in Windsor.
Both the Mount Ascutney School Board and the Windsor Selectboard fielded multiple questions at their respective meetings last week about the election laws that residents said were ignored. Some complaints were mentioned by taxpayers at the School Board meeting on March 13.
The following night more complaints were aired at the Selectboard meeting and Marsh actually provided a long list of election problems when he was questioned.
Most of the problems appeared to center on the failure of the Mount Ascutney board to select a school district clerk to help run the school portion of the Town Meeting Day election.
"It's been a problem for every year since the district was formed," Marsh explained at the selectboard meeting last week. He said the school district needs its own election supervisor at both polling places in Windsor and West Windsor.
Under questioning, Marsh said he was unwillingly drawn into the controversy because the Mount Ascutney School Board members have failed to do their duty and the public wants answers.
"It went from the time when they should have posted the meeting to the time ballots should have been secured…," he said, outlining the 3-weeks of problems. "Not one step was done correctly," Marsh said.
"I am laying it at the feet of the School Board," he said. 
The lack of a school district clerk also meant there was nobody to oversee the election, nor to recruit neutral people to count the ballots.
Windsor and West Windsor, which make up the two-town school district, have their own municipal clerks to oversee town elections. Those town clerks have no authority over school elections, officials have said.
Windsor Selectboard member Ryan Palmer, who is also a member of the Board of Civil Authority, said tabulators made town counting quick work. He said when he saw the school district was shorthanded, he jumped in. School Board Chair Elizabeth Burrows, her husband, Justin, who is a town auditor and McMullen were the only school officials on hand to tally more than 550 ballots by hand on Town Meeting night.
Marsh said officials later determined the school ballots had been left unsecured in the town clerk's office. Blank ballots also had been left unsecured on top of them, he said.
Marsh said steps were taken to secure all the ballots with a plastic lock. He said the school superintendent was called and was told the ballots would be left in the custody of the Windsor Police. They remained there from Tuesday night to Thursday afternoon, he said.
Windsor resident Misty Boutin said she could understand McMullen as town clerk being at the polls for town issues, but questioned why she was hovering over the school ballot box during the day.
Boutin said she heard from several voters, including school employees that said they were uncomfortable with McMullen standing by the ballot box as they tried to deposit their private votes. 
Election integrity is important, she said.
"I want to know if my vote counted," Boutin told the selectboard.
Boutin said Tuesday night that Gould was going to take the high road and not contest the election and seek a re-vote. Boutin said Gould believed it was up to voters to take action.
McMullen, after questions were raised, has acknowledged her actions on Town Meeting Day were probably not in the best interest of the community.
"In hindsight, I see the poor judgment of being present for the duration of the day. And if I find myself in a similar situation in the future, I will assign someone to serve in my place," she said at the school board meeting last week.
McMullen, who is a part-time town clerk, said at the school board meeting she was present during vote tallying, "but did not participate in the counting of ballots." She repeated that claim Wednesday morning in an interview with the Vermont Standard.
Palmer saw it differently.
"Our clerk was involved. It was her computer, her spreadsheet where all the votes were tabulated," he said during the Selectboard meeting. "She was running the computer." 
Palmer, who was elected Windsor County Sheriff in November, said it has shaken his faith in McMullen.
"Overall, with the atmosphere in this country related to elections and everything else, I think this was a very, very poor choice by somebody who knew a lot better…" he said.
"I think this was really a bad judgment call and I think in an election that was decided by 19 votes, it doesn't help. It made me as a board member lose confidence in our town clerk's ability to run elections from an independent standpoint, especially in an election, as a town, we probably shouldn't have been involved in…," Palmer said during the recorded meeting. 
"I think this adds a lot of fuel that didn't need to be on a fire that is kind of tearing our country apart in reference to voter fraud." McMullen said Wednesday she had not heard the comments made by Palmer at the meeting. Reached at her regular job at the Cavendish Fletcher Community Library, McMullen said she is looking to move forward. "It's all good. We do it for the community." McMullen said. 
Palmer stressed he had no evidence or belief about any possible fraud in the election. 
Boutin thanked Palmer for his honesty during a difficult situation.
Burrows, the school board chair, and Interim Superintendent Christine Bourne have said there is a process the district can take to validate its mistake-filled election. The board would be asked, possibly at an April 19 meeting, to vote on a motion that says it believes all the errors were inadvertent and caused by oversight.
Burrows has said the district has had trouble finding somebody to be the school clerk, whose duties include preparing and overseeing elections. The board budgets an annual stipend of $50, Burrows has said.
By comparison, the school board members get $1,000 a year and the chair $1,250.
The Mount Ascutney School Board did move quickly to fill the clerk's vacancy last week by electing McMullen to the office.
March 23
6:00 am
Despite reservations, selectboard approves Woodstock marketing expenditure
The Woodstock Selectboard met Tuesday morning to consider the Economic Development Commission's (EDC) recommendation to fund a full year of a marketing campaign for the town and village, totaling nearly $100,000. Despite the board's decision to approve the remaining $62,800 in funding for the program ($37,200 had already been approved at a previous meeting in February), the debate over the issue amongst the public in attendance at the meeting, and the board members themselves, was contentious. 
The recommendation, which was approved by a vote of 4-1, centers on a campaign developed and managed by Burlington-based digital media and marketing firm Class Four Marketing. In several reports to the EDC over the past two months, Sleep Woodstock Owner Patrick Fultz, who is also the EDC Marketing Working Group chair, spotlighted what he termed successes of the marketing effort the company ran last year, which was initially funded at $125,000. 
EDC Chair Jon Spector opened the discussion by detailing the results of the marketing campaign so far. "We have had a series of three meetings over the last three months, all of them public. We've had extensive discussion about the marketing plan. There was huge success in building a database of people who have expressed an interest in Woodstock and a great increase in how we understand why they're interested. [This has been] on the order of 20, or 30 times a more effective program. It took us five years to build a list of 3,500 people who we thought were interested in Woodstock and in six months, we identified 18,000 people."
But Spector also noted the divisiveness of the issue of marketing for a town and village that cannot support the tourists it currently has. "I know that you've received a number of emails from a group of people who feel that it's not worth it — there are too many people, we can't get reservations for lunch, there are not enough bathrooms, etc.," Spector said. "And then there are other people, who I've spoken to, who say, 'It's great, it's exciting, we like it, or we don't mind it.' We need to understand what a broad cross-section of the community feels. We need to understand the impact on merchants…and we need to understand the experience that the visitors have."
Spector explained the EDC's intended strategy to address those questions, as well as how to improve the website, how to conduct an appropriate survey, and how best to implement the results of that survey going forward. "I think it'll actually be a lot of work, to answer all of these questions to involve the community very fully, to survey the visitors, to survey the merchants, to survey the residents — and to brainstorm and engage with the residents about what our objectives are. And if our objectives are [whether or not] we are going to continue to be a tourist economy. I think most people think, no matter what we are going to be, what are the things that we can do to mitigate the problems? Parking, or restaurants, or food, and whatever other issues that the community has. So we're basically recommending two things — we're recommending funding for the full year. And we are committing very seriously to a plan to take the remainder of this year and analyze those issues." 
Selectboard Chair Joe Swanson had some of the final remarks before the vote, saying, "We still need to do this survey of the residents, businesses and visitors. I'd like to keep the platform going until we have that and then use that information to guide next year's proposal." 
Bourgeois then made a motion to approve the plan for $62,300 with the understanding that marketing would be ramped down during appropriate high periods and that the survey results be finalized by Jan. 1, 2024. Swanson, Bourgeois, Riley, and Cole voted in favor, Ford voted against. 
Read about the full discussion that took place at the meeting in the March 23 edition of the Vermont Standard.
March 23
6:00 am
Girls on the run at WES learn to win in the game of life
Woodstock resident Carly Pizzani is a personal trainer and running coach, and the mother of four boys aged 8-17. Last year she noticed an organized group of girls running laps at the Woodstock Elementary School (WES), and she asked one of the volunteers what was going on. That was Pizzani's first introduction to the Girls on the Run (GOTR) program, and she decided to sign up as a coach to "get some much-needed girl time." The experience was so much fun and so rewarding, Pizzani returned to coach again this year.
Pizzani said, "The most interesting thing about [the GOTR program] is, it teaches the girls the joy of running and moving their bodies, but it also teaches them about problem solving, empathy, how to deal with conflict, and they learn how to use those lessons to address things that happen in practice, and in the rest of their lives. The girls are using physical activity as a way of building confidence, and it's even so much more than that."
The WES GOTR program is scheduled to begin at the end of March, continuing for ten weeks or so, as Pizzani said there is some wiggle room with the schedule. They meet twice per week after school, and each season culminates with a 5K race in Manchester. Pizzani called last year's race "a massive event," and reported, "There were probably 200-300 girls from a ton of different schools there."
Pizzani expressed that she has a handful of volunteers signed up to work with her and the girls this year, but she is always looking for more. It is required that two coaches must be present during the sessions, and every adult volunteer goes through a background check. Pizzani also mentioned she has space for up to 15 girls, and only five have signed up thus far.
GOTR is headquartered in Charlotte, N.C., and sponsors local groups across the U.S. The organization runs two programs, one for girls in grades 3-5, and one for girls in grades 6-8. According to their website, their mission is to underscore "the important connection between physical and emotional health, [to address] the whole girl when she needs it the most." GOTR reports that 97% of girls say they learn critical life skills including resolving conflict, helping others, or making intentional decisions, and 85% felt they improved in confidence, caring, competence, character development or connection to others.
Mallory Lewis, mother of Harlow, an 11-year-old girl who started the GOTR program two years ago, said her daughter couldn't wait to participate again. This season, Harlow's 9-year-old sister Fallon will join GOTR for the first time, and according to Lewis, "She is so excited to participate in the 5K. Fallon has come along to support Harlow these last few years, and she loves the race. It's all color and excitement, the girls get a medal at the end, and a cheering squad, sometimes they wear tutus, or face paint."
Read more about this in the March 23 edition of the Vermont Standard.
March 23
6:00 am
Woodstock PT pleads guilty to lewd act, gets probation
A well-known former Woodstock physical therapist, who authorities said was involved in improper touching of female clients, has received a suspended jail sentence to settle his criminal case in Vermont Superior Court.
Peter P. Mayock, now of Pinehurst, N.C., pleaded guilty on Friday to a reduced charge of committing a prohibited act of open or gross lewdness on a female patient, who complained about him groping her breasts during an office appointment two years ago, records show.
Mayock was initially charged with felony lewd and lascivious conduct — which carried a possible 5-year prison term and $300 fine. Former Windsor County Deputy State's Attorney Glenn Barnes subsequently offered a plea bargain reducing the charge to a misdemeanor.
Judge John Treadwell imposed a suspended prison term of three months to one year during a hearing last Friday afternoon. He placed Mayock on state probation for three years.
Mayock has petitioned to have his Vermont probation transferred to North Carolina, where he has been living, officials said. The state website indicated Mayock registered with Vermont Probation and Parole in Hartford last Friday shortly after his court hearing. He has 30 days to be accepted by North Carolina.
Mayock sold his home in Quechee in September 2021, according to Hartford land records.
The complaining victim was aware of the plea deal, which had been negotiated earlier, according to Deputy State's Attorney Travis Weaver, who took over the case when Barnes left the office. The plea agreement appeared to address her concerns, including Mayock's health and age, Weaver said in court.
Treadwell did not impose any fine, but assessed Mayock $147 in court costs. Mayock must complete 40 hours of community service and participate in the local Restorative Justice Program.
Mayock also is required to do all treatment recommended from a psychosexual evaluation, the judge said.
However, Mayock will not be required to register for the Vermont Sex Offender Registry under the plea agreement.
Treadwell also ordered Mayock not to practice as a physical therapist ever again.
Mayock, who has refused comment since being charged, did not offer any comments or an apology during the court hearing when given a chance by the judge.
Defense lawyer Paul J. Perkins of Plante & Hanley in Hartford did say his client agreed with the terms of probation.
For more on this story, please see the March 23 edition of the Vermont Standard
Features
March 23
6:00 am
Barnard's Eric Kelly mushes in Iditarod for second time
 Former Barnard resident Eric Kelly was a huge fan of the Iditarod, but he never imagined being one of its mushers. He joined the iconic 1,000-mile race across Alaska's interior for the second time this year at age 53.
"I had a huge interest in the sport as a fan — you know, like, a really big fan — but the thought of actually being a dog musher hadn't really crossed my mind," he said. "It's been a life-changing experience."
Kelly was born in New Haven and grew up in Barnard. He and his wife, Laura, traveled often, and when they visited Alaska in 2007 while living in Arizona, he fell in love with the place and "accidentally found a job." They moved to Alaska in 2008. 
Kelly first became interested in mushing when his son was assigned the topic for his fourth-grade school newspaper. During the research of the article, they learned about Jamaican musher Newton Marshall, who was training for the 2014 Iditarod. Kelly met Marshall when their son interviewed him and learned Marshall needed someone to help with fundraising and caring for the dogs. 
Kelly stepped up and became more heavily involved with Marshall the following year. Soon Kelly was building his own dog team, DayBreak Mushing in Knik. It took years of training and racing to qualify, and Kelly joined his first Iditarod in 2022.
"It was amazing," Kelly said of going from Iditarod fan to musher. "Being my rookie run, everything on the trail was new, the whole experience, the pre-race stuff through the end. It was eye-opening, and life-changing, and we finished. Getting to Nome, even now, seems surreal. We made it 1,000 miles. All my dogs were healthy."
As snowmobiles replaced dog sleds in Alaska's native villages, the Iditarod was founded to continue the legacy of mushing.
He said the experience bonds the musher to the dogs as they cross the bitter but beautiful landscape with a shared purpose. 
"My dogs — we just understand each other. When we're out there, they know what I need. I know what they need. It's this bond you can't explain. We have it all the time, but once you're out on the trail, it's just you and the team. You sort of become one with your dogs," he said.  
This year, Kelly encountered a major obstacle near Shaktoolik, which led his team to scratch about 230 miles from the finish line. He and the team were being blasted by 50-mile-per-hour Arctic winds, and the visibility dropped so low that he could not see the next marker. He huddled up his team and prepared for an extended stay, unprotected on the coast.
"Almost immediately I saw a light coming towards me," he wrote on his Facebook page. "It turns out Gloria Andrew from the village had been watching me on the tracker and when she noticed I had stopped, took it upon herself to get on her snow machine and come check on us."
For more on this story, please see the March 23 edition of the Vermont Standard
March 23
6:00 am
Local barbershop choirs focus on fun, friendship and harmony
Every Tuesday and Wednesday night, several buildings in the Upper Valley reverberate with the rich sounds of three barbershop choirs as they each work hard to perfect the harmonies of their newest songs. The Valley Chords, a group of women-identifying barbershoppers, practice in White River Junction, while the Vox Stars, which is open to anyone, and the North Country Chordsmen, a bass-clef chorus, are in Hanover. Each group has a different approach to their rehearsals and how they choose to capture this traditional, American sound.
The three barbershop groups in the Upper Valley belong to two different international organizations, both of which were founded in Tulsa, Oklahoma in the 1940s. The Vox Stars and North Country Chordsman are both a part of the Barbershop Harmony Society, and the Valley Chords are members of the Sweet Adelines. Both organizations hold annual contests, where choirs from all over the world can perform, get feedback, and learn how to become even better singers. 
Anthony Helm, the current president of the North Country Chordsmen and Vox Stars said, "Most of us are not in it to be competitive per se but it helps to sharpen your instrument. It gives you something to strive for. You're trying to improve yourself." Carmen Wilmont, a member of the Vox Stars said, "With Sweet Adelines, I can get a lot of [musical instruction] that I couldn't get when I was younger. I always wanted to do voice lessons [and] the Sweet Adelines has been a really good outlet for that." Dan Falcone, the director of both Hanover groups also reflected, "[the competitions] are mostly about the love of singing and love of people who like to sing and being very supportive."
A few years ago, Falcone helped found the Vox Stars, under the same chapter, after the Barbershop Harmony Society began allowing women as full members in 2018. Bruce Pacht, a former president of the Vox Stars and North Country Chordsman, said, "We went through a full year of examination trying to understand what the people who were in the Chordsmen wanted to do, and eventually, we decided we wanted to preserve the sound of an all-male chorus… but no longer be discriminatory in gender identification, so if you can sing in that range, you can sing in the North Country Chordsmen. They also decided to create an all-gender chorus that has Soprano and Alto parts, the Vox Stars. In addition to barbershop, the Vox Stars also sing more contemporary a cappella which ranges from songs like "Can't Stop the Feeling" by Justin Timberlake and "Africa" by Toto to "Into The Unknown" from Frozen II. The Vox Stars meet every other week, which Pacht says, "means the expectation of individual learning is much higher." Helm added, "We want to make it clear that there is a place for everyone within our organization regardless of who you are or how you sing."
The three groups perform all around the Upper Valley. From Fourth of July concerts and singing at local senior communities to annual performances at the Lebanon Opera House and Singing Valentines, there is no shortage of ways to see these choruses in action. Helm said about local performances, "for me personally, my goal is to be up on stage, connect with the audience, and have a really good time with them. To watch them tap their toes — that's a success."
Read more in the March 23 edition of the Vermont Standard.
March 23
6:00 am
New Executive Director wants to make OHF even more accessible
Woodstock native Hali Robinson, the new Executive Director of Ottauquechee Health Foundation (OHF), says there is a "common public health parable" regarding how best to understand issues of health and wellness in a community.
"You're eating a picnic beside the river, and you keep on seeing these people drowning, and so each time you go in and save somebody from drowning… the parable is go upstream and see why these people are falling into a river and drowning in the river."
The lesson to be learned is that the word 'public' in the term 'public health' needs to be emphasized in order to tackle systemic issues concerning the health and wellness of a community, and listening to their individual crises.
That is the kind of approach that Robinson says she plans on applying to her new role, hoping to be a "beacon for people in the community for health promotion."
The vision of OHF to "better health and well-being for those we serve now and for future generations" is an outlook that Robinson plans to continue as the organization's new leader, while further collaborating with other public health groups in forming community-wide partnership, constructing grant programs, and supporting new educational and wellness initiatives.
This vision is especially important to Robinson as a native of Windsor County, having grown up in Woodstock, Pomfret, and Barnard. As OHF's new leader, she said she is "honored" to bring her past research and experiences in public health and epidemiology back to those communities she's so familiar with.
"I think the experience of being embedded in these communities and then going and getting my Master's in public health — it really sets me up for success within this organization," she said.
In order for that vision to be continuously upheld, Robinson believes it is necessary to take that initial step of looking at public health with a broad view to see clearly what issues are present, and then zoom in that lens to the individual level. While many can be affected by the same issue, how it affects a person at that individual level differs from person to person.
"I think that sometimes people, with what they have on their plate and the tools that they have in their toolbox, they're just doing the best that they can do," she said. The objective then, according to Robinson, is to meet exactly where that specific individual is at, with the added understanding of how diverse public health issues really are.
Coming out of the pandemic, Robinson also sees plenty of opportunities for new initiatives and grant programs to resolve concerns in the area caused or exacerbated by the crisis. "I definitely want to communicate and promote Ottauquechee Health Foundation, [and] what we can do to help the community."
Robinson sees that one of the strongest ways OHF can engage with its communities on a whole is to make the organization more wide-open and transparent in outreach and messaging. By the end of 2023, she would like to see an improvement in "health communication and literacy, and making this organization accessible," especially for curious people who are not very technologically capable.
Read more in the March 23 edition of the Vermont Standard.
March 23
5:00 am
Woodstock's Hugo Belton traveled many roads in his eventful life's journey
By Tom Ayres, Senior Staff Writer
By the time he was a young man, with a budding career as a highly regarded international economist, former Woodstock resident Hugh "Hugo" Belton had traveled many roads.
He'd herded sheep in Australia, blasted roads through the mountains of Chile using dynamite, and learned the rudiments of seafaring on a British cargo ship. Such were the early occupational exploits of young Hugo Belton, the son of a career diplomat who landed his precocious child a flurry of wildly diverse jobs before Hugo had even hit young adulthood.
Many roads well-traveled eventually brought Hugo Belton and his wife, Jennifer DeToro Belton, to Woodstock for six years from 2010 to 2016, where their hearts and minds became immersed in Vermont and the community they found there.
But that's near the end of Belton's remarkable story and this is just the beginning.
Over the course of the day on Monday, Jennifer Belton, who capped her career as a librarian as the director of the Norman Williams Public Library in Woodstock, regaled a rapt listener with numerous tales of her late husband's eventful life. And what a life it was for Belton, who passed away at home in Westfield, Ind. on Feb. 5, surrounded by family after many years of struggling with Parkinson's disease.
"I first met Hugo at the Office of Management and Budget in Washington," Jennifer said, the deep-seated affection of 40-plus years evident in her voice as she spoke about the jobs both Beltons had in the OMB, part of the Executive Office of President Jimmy Carter. Equipped with a B.A. in Economics from the University of Oregon and an M.A. from the University of Texas, Hugo Belton was a celebrated economist on the rise, serving as a senior management analyst with the Executive Office, where Jennifer started the first library for a sitting President.
"We were both married to different people and we were just friends," Jennifer recollected. "But then I started to work at the old Executive Office Building, across the street from the new EOB and adjacent to the White House, and Hugo called me up for lunch. And I thought that was unusual, because people who work in the new EOB don't call people in the old EOB — I don't know why, but that was the case that when you make the transition from one building to another you don't usually hang out with the old team. We went to lunch and he said he'd gone to the Renwick Gallery at the Smithsonian and seen an exhibit and that he'd applied for an NEA grant to study woodworking in California. And I said to him, 'Let me get this straight: you're going to California for six months, you're not going with your wife, and you're not wearing a wedding ring. Is that right?' And he said, 'Yes' and I said, 'Oh, well — call me when you get back,' Jennifer quipped, laughing brightly.
Shortly after Hugo returned to Washington from California, where he studied woodcraft under the tutelage of renowned furniture maker Art Espenet Carpenter, whose work had been shown at the Renwick Gallery, Belton stepped off the career path of an acclaimed economist and turned his life in a wholly different direction — a life's journey that he would undertake lovingly, together with his former coworker and friend turned spouse, Jennifer.
In 1979, at age 36, Hugo founded Hugh Belton Studio Furniture Makers and set up shop in a studio on Capitol Hill — a workspace he later moved to a new home in suburban McLean, Va. He described his reinvention of himself as "upwardly aspiring, downwardly mobile," according to Jennifer. Soon thereafter, Belton's new wife was to play a leading role in gaining broader recognition among the Capitol Hill crowd for the aspiring master woodworker's virtuoso creations. Jennifer, then working as the librarian and information specialist with the Washington Post, persuaded famed Post editor Ben Bradlee to commission Hugo to craft an elegant table for the newspaper's editorial conference room, where senior newsroom editors would gather to decide on the news stories for each day's lead pages.
The Bradlee breakthrough presaged Hugo Belton's rise as a nationally recognized designer and manufacturer of unique, museum-quality office and home furniture, produced on commission for corporations and private residences — a life's passion that lasted for the next 37 years, including the six years that Hugo and Jennifer Belton spent in "retirement" on College Hill Road in Woodstock, where the couple relocated after a careful review of several New England locales. Jennifer was ready for retirement and especially longed to get away from Washington, where the emotional rigors of providing day-to-day care for the Beltons' late, 20-year-old son, Noah, who suffered from a rare neurological disorder called Alexander disease, had left the family grieving, sad, and spent.
Arriving in Woodstock, Hugo and Jennifer hired local carpenter Chris Amborse to frame a house for them on College Hill. The couple then built out their new home themselves, "hammering all the nails, putting in the walls, kitchen, bathrooms, and everything," Jennifer remembered. "It was just the sweetest house and I miss it terribly," she added. Hugo reestablished his Washington and McLean workspace and continued to craft fine furniture. The pair immersed themselves in their new environment, where Hugo joined the Vermont Woodworkers Guild and served as a mentor to aspiring woodworkers while Jennifer stepped up to lead the Norman Williams Library for several years. Hugo's late-life handiwork now adorns homes and businesses throughout the Upper Valley, much as it did in the nation's capital and around the country for nearly four decades.
By 2016, however, the affliction that had challenged Belton for years — Parkinson's disease, possibly tied to a toxic sheep vaccine he'd been exposed to on that Australian farm in his teen years — had worsened significantly. The couple made the decision to relocate from Woodstock to live near their daughters, Sarah and Julia, in Westfield, Ind., a northern suburb of Indianapolis. There Hugo savored his final years with family and newfound friends, always the creative spirit and inveterate storyteller, writing a memoir detailing his extensive world travels and inventive life, and continuing as the warm, funny, perpetual jokester that Jennifer, the children, Woodstock friends and neighbors, and people the world over had come to love over the nearly 80 years of his life. 
"It was on January 20 that the palliative care team decided that it was time for Hugo to go into hospice care," Jennifer Belton said of a fateful day just one month ago. "For those last weeks, he told more jokes and stories, even as we were preparing for him to pass and he could barely speak."
Each night, as Jennifer Belton readies for sleep, she clambers up a small ladder onto a tall, gloriously curved sleigh bed that Hugo Belton crafted many years ago, creating its luscious lines using a steam table to bend the wood into rounded shapes resembling the runners of a horse-drawn sled, much like one that might have traversed a snowy Vermont woodland in times of yore.
The marvelous piece of furniture is yet another reminder that the memories of Hugo Belton that are imbued in his life's work and in the hearts and minds of his loved ones — as well as in the memories of the countless friends, fellow craftspeople, coworkers, patrons, and acquaintances of eight decades — are immeasurably rich indeed.
March 23
5:00 am
Chris Lloyd "was a friend to everyone he ever met"
 Chris Lloyd left behind a legacy of environmentalism, advocacy, and friendship
By Tom Ayres, Senior Staff Writer
Bill Dagger was walking along the shores of Silver Lake in Barnard one summer day 36 years ago, pushing a double stroller carrying his infant twins, Ali and Jackie. Suddenly what seemed to be a mirror image appeared on the path before Dagger: another father, also pushing a twin stroller toting two infants, Sophia and Daniel, headed straight for him.
The pair of twin-bearing fathers met mid-path and introduced themselves, with Dagger turning around and joining Christopher "Chris" Lloyd for a stroll around the lake with their tiny charges rolling along. A lively conversation ensued, leading to a deep friendship between Dagger and Lloyd that was to last for nearly four decades, until Lloyd passed away from the effects of a rare blood disorder on Feb. 18 at his home in Woodstock.
The friendship between Dagger, his wife Bobbi, and Lloyd and his wife, Vassie Sinopoulus, exemplified the deeply personal, engaged, and vibrant connections that Chris Lloyd, 77, built with family, friends, neighbors, and fellow community servants over the course of nearly 50 years living and working in Woodstock. Lloyd's family members, friends, and admirers paused last weekend to share recollections of their beloved Chris, who will also be remembered at a memorial service in May — the season of renewal and rebirth, and Lloyd's favorite time of the year.
"Chris and I were both pushing those double strollers and one of us had to get off the sidewalk to let the other pass. We decided to walk together and continue talking, because it was obvious we had something in common," Bill Dagger reminisced last Sunday. "There was something about Chris where he would always find the most interesting part of you and pull it out and make a conversation about it," Dagger continued. "Thinking about it, we had politics in common. He was definitely liberal — and we are, too. The thing with Chris is that he was more enlightened than just being blindly liberal. He knew what the reasons behind things were and could explain it very well."
Advocacy journalism, pacifism, environmentalism, conservation, and a passion for human rights, multiculturalism, and gender equity were central to Chris Lloyd's being — "genetic, part of his DNA," as his longtime friend Dagger put it. Lloyd's grandfather was William Bross Lloyd Sr., an American attorney, political activist, and the oldest son of the muckraking progressive journalist Henry Demarest Lloyd and Jessie Bross, the daughter of Chicago Tribune founder William Bross, through whom Lloyd Sr. ultimately inherited a valuable one-quarter share of the newspaper, then considered one of the country's journalistic giants.
Combining the zeal of an investigative journalist with a passion for philanthropy and social action, Lloyd Sr. is known to political historians as a founding member and donor to the fledgling Communist Party of America in 1919. In keeping with family tradition, Lloyd Sr.'s wife Lola Maverick Lloyd was also a fiery organizer, pacifist, and early feminist who founded the Women's International League for Peace and Freedom at the start of World War I. The activist organization continues its work to this day, with several chapters here in Vermont.
Such are the deep roots of Chris Lloyd's lifelong commitment to social justice, environmental writing, multiculturalism, gender equity, and community engagement. His father, William Bross Lloyd Jr., was a prominent pacifist during World II and Chris's older sister, Robin, 84, is a celebrated filmmaker, journalist, and philanthropist who has been a bulwark of the progressive movement in Burlington, Vt., for decades. She spoke about her late brother last weekend as well.
"Our father was the editor of a small newsletter called Toward Freedom and I took it over when he retired in 1986. We keep following in the tradition of our ancestors, as they say," Robin said, chuckling. "I think it has been supportive to Chris and to me to look back at these people who were successful in their areas of work and to try to continue that work in our family. In my case, Chris was a beloved younger brother, seven years younger than me, just this beautiful, curly-headed child with a wonderful sense of humor who enjoyed life."
Chris Lloyd's greatest contributions to Woodstock and the greater Upper Valley community resided in his longtime engagement with the former Countryman Press publishing company in Taftsville, the Billings Park Commission, the Norman Williams Public Library, and the North Chapel Unitarian Universalist Society, where he lent his resounding baritone and love of music to the choir for more than three decades.
Lloyd joined the staff of the Countryman Press in the mid-1970s, working as a copy editor with company founders Peter and Jane Jennison, with whom he served for many years until the company's sale to W.W. Norton in the mid-1990s. The Countryman team also included several other Woodstock luminaries, including Lou Kannenstine and Carl Taylor, and the publishing company specialized in mysteries, poetry, and, particularly to Lloyd's liking, books about nature and hiking, including field and trail guides to Vermont and New Hampshire. Sinopoulus spoke lovingly of those times at the Countryman Press and lauded her late husband's devotion to the preservation of Billings Park and the land and trails on Mount Peg, which wrapped around their hillside home on the Highland Avenue Extension.
"[Now Vermont State Sen. Alison Clarkson] and Chris and John Wiegand worked on the commission and raised about $200,000 to buy the piece of land that Fred Merrill owned that was dividing Mt. Peg from the town. It was abutting our property up there on Highland Avenue," Sinopoulus said, reveling in her husband's accomplishments with the Billings Park Commission. "We'd go and clean the trails, pick blueberries, forage for morel mushrooms, and enjoy walking and hiking," Sinopoulus said, speaking of passions she and Lloyd instilled in their children, Sophia, now known as "So;" Dan; and Vassie's son and Chris's stepson, Cherif.
Clarkson, speaking with great affection for her longtime friend and colleague on Sunday night, lauded Chris's work on the Billings tract two decades ago. "The enduring legacy of his time on the Billings Park Commission was convincing Laurance Rockefeller to give us the top of Mt. Peg and securing a public park out of Mt. Peg, of which — before 2000 — only a third was owned by the town. That was a big piece of work that Chris was very proud of and it's such an ongoing gift to the people of our area. Chris also worked with the Vermont Land Trust and the Woodstock Foundation to secure the Merrill property as well. He just loved Mt. Peg, not just because he could hunt for morels on it, but also because it's this lovely wilderness and a much-appreciated park in the heart of our very busy downtown."
Lloyd's contributions to the Norman Williams Library were also significant. Over many years, he served in multiple roles on its Board of Trustees, acting as president, vice president, and as an active member of finance and fundraising committees. Chief among his accomplishments was providing oversight to a major renovation and expansion of the library, including a significant upgrade of its information systems in the early 2000s. "I was the treasurer for the library at the time," recalled Joe Boyd, a retired Woodstock banker and loan officer who presently serves as the president of the Norman Williams board. "That was a huge project — multiple millions of dollars — and Chris was central to its oversight. He was very generous with his time and money and just helped to get a lot of it done."
Known to family and friends as a voracious reader, Lloyd could be found nestled on a couch or sitting at the kitchen counter each day, savoring his morning coffee while pouring over The New York Times. Often he'd simultaneously engage in another of his favorite pastimes: singing in a honeyed voice, belting out a witty ditty of his own creation, or humming contentedly. Music, too, was central to Lloyd's life. "I've been at North Chapel for 25 years," the Unitarian Universalist Society's music and choir director, Diane Mellinger, said last weekend. "Chris was in the choir for that whole time and longer. He had a lovely voice, he could read music, and he was always asking questions about the music we were rehearsing each week."
Chris Lloyd had a keen interest in diverse world cultures, resulting from his youth, part of which was spent living with family in Tunisia and Switzerland. He had a particular affinity for international music and songs performed in foreign languages. "Chris really enjoyed the South African work songs and a cappella anthems in our repertoire. He liked gospel songs and spirituals, too, and he especially liked classical music and singing in French. No matter what we did, he was totally game," Mellinger recalled. "He was a delightful guy who really enjoyed singing."
The Daggers were not the only family in Woodstock who first connected with Chris and Vassie because of the endearing presence of the couple and their children along Highland Avenue, on the trails on Mt. Peg, and at gatherings throughout the community. Former longtime Woodstock Union High School foreign language teacher Keri Bristow, who is now the chair of the Windsor Central Supervisory Union School Board, recalled how she and her husband, Preston, themselves raising a young family on Highland Road, were charmed by the Lloyd-Sinopoulus tribe.
"Before we even knew you all, we watched you walk up and down Highland Avenue with the twins," Bristow wrote in a remembrance of Chris posted on the website of the Cabot Funeral Home. "Cherif was my student in French class and [granddaughter] Maya my student in Spanish class. So and Elissa became besties and Dan and Calvin enjoyed video gaming. Chris was the constant on our road, walking up and down, sometimes with Vassie and with Dan. Ever pleasant, ever kind. Chris will be missed by all who knew him," Keri Bristow shared.
In a subsequent conversation, Bristow offered more thoughts about Lloyd. "He was a kind, gentle soul who always took the time to stop and talk and share a good word," Chris and Vassie's longtime neighbor commented. "He was very interested in the environment and in making the world a better place. He was a friend to everyone he ever met."
Bristow's daughter, now Elissa Koop, spoke reverently of her "bestie's" father and the impact he had on her growing up. "Chris was a very curious observer — he was genuinely interested in people," Koop recollected. "I think that, as a kid, what differentiated him from other adults in my life is that he was very curious about our experience and our thoughts on things. I think a lot of adults don't have a lot of curiosity about kids. They just don't have a lot of time for kids in terms of engaging with them intellectually, but Chris really wanted to understand what we thought about things. He loved learning, he loved talking, and he loved getting people's perspective on the topic at hand."
Koop also touched on how lightly Chris Lloyd stepped through the world, always concerned about the welfare of others. "One of the things that was unique about Chris was his love of whimsy. He was just delighted by the world," Koop said. "He was just in love with life and beauty and he just wasn't so concerned about the practical things in the world. It was important to him that people have equity and equality. He and Vassie had a unique relationship. They really trusted each other. They had a totally equal partnership – and I look at their relationship as a real model for life. It was just so beautiful."
It falls to Koop's lifelong best friend, So Sinopoulus-Lloyd, to have the last word on her father. In an email Monday afternoon, they wrote, "'Praise Him.' These are the final lines to my Dad's favorite Gerard Manley Hopkins poem, 'Pied Beauty,' an ode to the sensual beauty, the 'dappled things of the world.' When my Dad and I would read this poem to each other — which we did several times in these last few weeks — his voice would crack at the last line.
"Dad was agnostic," Sinopoulus-Lloyd continued, "but he was nevertheless a deeply pious man. He was awed by the human capacity for love, devotion, and wonder — a wonder that he eagerly shared," they offered, later writing, "I think from my Dad I really received my tender heart and concern for social justice, my literary mind, and of course, my love for wandering the land, treading on the ground with my feet. Dad always encouraged my penchant for words and for the literary, as well as for understanding systems on large, holistic scales.
"He really believed so strongly in both the human heart, and the human mind. On other topics, my words run out these days," Sinopoulus-Lloyd concluded. "But I can't stop talking about my Dad. Praise him. It is my honor to have had him as my father."
Sports
March 23
6:00 am
Woodstock girls are Snowboarding State Champions
Wasps finish second in the boys competition
By David Miles, Standard Correspondent
For several years now, the snowboarding teams at Woodstock Union High School have been knocking on the door for titles in the State Championships. This year that knock was finally answered when the girls team captured the overall team title. Meanwhile, the boys claimed second place in the competition held at Jay Peak on March 8.
"Witnessing this team compete at states this year was a great pleasure," said Athletic Director Jack Boymer. "They rallied together as a whole and put forth some awesome individual performances as well. For the girls team to be named state champions and the boys to come in second place shows how well-rounded the entire team is. I'm very proud of this group and all they accomplished this season."
Woodstock nosed out South Burlington by a mere two points, 51 to 53. The Wasps dominated the Giant Slalom event, placing three competitors in the top five (as well as four in the top seven) to build a large enough cushion over the field. Even though the South Burlington girls claimed first place in both the Rail Jam and the Slopestyle competitions, the Wasps' large margin of victory in the GS made the difference.
"The GS is Woodstock's bread and butter," said Coach Alyssa Smith. "The program was created a little over a decade ago by Dave Bloch and he built it on the foundation of GS. He is the racing guy and has shared a lot of his knowledge with the athletes over the years. I have learned a lot from him myself on racing form and technique."
Freshman Lia Gugliotta won both runs to finish in first place in the GS. Teammate Skye Cully was right behind her in second place with Bonnie Kranz taking fifth place. Maya Cully placed seventh and Ariana Winawer-Stein gave the Wasps half of the top ten with a ninth-place result.
The WUHS boys meanwhile placed five in the top fifteen. Leading the way were the Wysocki brothers, Zev in third and Jonas right behind him in fourth. Owen Crossman was next in line in fifth place. Logan Sudol notched 14th, one spot ahead of teammate Kyler Eaton in the 15th position.
"Lia is just so fast," said Smith. "To have a freshman as the number one girl in the state is pretty amazing. Of course to have another freshman, Bonnie Kranz, as the number one girl in the state for Slopestyle is equally amazing. She had her eyes set on the Slopestyle title and she walked away champion. I am so happy for her and proud of all of her hard work that she put in to win that title."
Kranz' Slopestyle title was the second of two event titles for the girls on this day. Wasp teammates Gugliotta (5th), Skye Cully (9th) and Winawer-Stein (16th) also placed well in the Slopestyle. Meanwhile, the Woodstock boys grabbed 4th (Zev Wysocki), 9th (Jonas Wysocki) and 12th (Owen Crossman) in this discipline.
The Rail Jam event rounds out the three events in Vermont high school snowboarding. It was here that the boys really shined, grabbing four top-ten finishes. Zev Wysocki was second, with Eaton in 4th, Crossman in 8th and Sudol in 10th. Meanwhile, Jonas Wysocki and Cormac Farrell both finished in a tie for 21st.
"I was nervous for Kyler Eaton going into states because he had broken his wrist, but thank goodness he got cleared to participate," said Smith. "He put up some valuable points for us. And Owen is just an awesome guy. He is so smooth in his approach that it's really fun to watch him."
The girls rail jam competition found Kranz with another top-five finish, claiming third place and Gugliotta nabbing 9th place. Meanwhile, both Skye and Maya Cully joined Winawer-Stein and Amelia Fabre in a group tie for 16th.
"Skye is another great racer on our team," said Smith. "She always works super hard on her form at practice and she has come a long way in the sport as a racer."
Combine Skye Cully's 16th in the rail jam with her 9th place in the slopestyle and 2nd in the GS and she finished fifth in the overall standings. And that made her the third of three Woodstock girls in the top five. Gugliotta (1st in GS, 5th in slopestyle and 9th in rail jam) was third overall while Kranz parlayed her victory in the Slopestyle with 3rd in the rail jam and 5th in the GS to claim second place in the overall standings. Only Sage Wyndorf of team runner-up South Burlington finished ahead of Kranz and Gugliotta in the overall standings.
Burr & Burton's Connor Kelly was the boys overall champion, but Zev Wysocki (2nd in Rail Jam, 3rd in GS, 4th in Slopestyle)  was right behind him in second place.
"Zev put down the best day I have seen from him ever," said Smith. "He crushed every single event. He also works so hard in practice and every single weekend in the park. He deserves all the recognition and I am really excited to see what he can do next year as a senior."
Just like with the girls, WUHS had three boys with high finishes in the overall standings. Owen Crossman took 4th overall and Jonas Wysocki grabbed seventh.
"Jonas was our top GS guy most of the season," noted Smith. "He won a lot of races throughout the season. And he is so much fun to watch in Slopestyle because he puts down some very unique runs."
Burr & Burton won the boys team competition with a score of 44 points to 122 for runner-up Woodstock. North Country finished in third with 176 points, with Missisquoi next at 245. The Bulldogs nipped WUHS in both the GS and the Rail Jam team events, but really dominated the competition in Slopestyle, pulling away from the rest of the field by taking first, second, third and fifth in that discipline.
"I was really hopeful for both the boys and girls going into the meet. I knew we would be competing for a top finish looking at our regular season results," said Smith. "It was going to be a matter of some of our kids putting together the best runs we've had all year and they clearly showed up. Going into pre-season this year we definitely had our eyes set on a state championship. The first State Championship in our program's history and another runner-up finish for the boys. That's not an easy thing to do!
"I am so proud of all our athletes. They have worked hard all year long and for some of them, several years to get to this point. And even though we were only able to have six boys and six girls compete on this day, there are many more on our team who also contributed to these titles. Each one of them pushed each other at practice and encouraged them to try new things from a specific trick to determine the right time to turn on the course."
The other team members who did participate in the state championships include Santino Bohren, Sierra Bystrak, Marlena Farinas, Samantha Gomes, Ian Hewitt, Violet Kranz, Alaythia Lockhart, and Gabriella Lockhart. As Smith pointed out, they are integral to the team unity and camaraderie as well.
March 23
5:26 am
Wasps claim back-to-back Girls Hockey State Championships
By Ray Couture, Standard Correspondent
Woodstock Union High School girls hockey players, coaches, parents, and fans gathered in a compact room near the Wasps' locker room on the north end of UVM's Gutterson Fieldhouse ready to celebrate.
The team had been crowned VPA D-II champions for the second straight year just moments before in an on-ice ceremony following a heartstopping 4-1 victory over the Kingdom Blades, and most of the players were still stuck in their sweaty jerseys and bulky pads, faces reddened from the exertion caused by an end-to-end game that had but a single goal's difference for the majority of it. 
But that didn't stop the group from packing into the space like sardines, hugging and laughing and taking in the unbridled joy of becoming back-to-back champions, a first in Vermont D-II girls hockey since Montpelier's U-32 did it back in 2010 and 2011.
Off to the side of the scrum, Wasps Head Coach Ian Coates discussed his team's future and commended its steely focus on winning. Coates said when he went into the team's locker room ahead of the matchup to deliver his pre-game talk, he tried to use the potential of becoming back-to-back champions as a motivating tool, but that it caught the players by surprise.
"I'm like, 'Listen ladies, back-to-back,'" Coates remembers telling the team. "Then the lightbulb goes off and they're like, 'Oh, yeah.'"
He continued, "The same thing happened when we got the trophy, it hadn't even dawned on them that we'd gone back-to-back. It's pretty cool that they just focused on the moment."
As Coates talked, one happy parent walked past, stopped to shake his hand, and said, "Coach's tenth year, right? How amazing is that?"
Coates' ten years at the program's helm could be considered a slow build into a budding dynasty. The Wasps hadn't made the D-II playoffs for three years when Coates arrived in 2014 and hadn't reached the quarterfinals since 2009.
In just the last five seasons, since 2019, the team's been to three finals, winning two of them. They went 21-1 last season and followed it up with an 19-4 record this year, despite struggling on the defensive side of the ice early on.
The Wasps have entered the D-II playoffs as the #1 seed for three straight years; A deep playoff run is now the norm for WUHS girls hockey. 
Pivotal to that transformation, of course, has been the players. Co-captain Isabel Konijnenberg, who'd only started playing hockey as a sophomore when she transferred to WUHS from a school in Massachusetts, is a devil on the ice who combines speed, agility, and power to leave opponents scrambling just to stay upright (in the Wasps' 3-0 semifinal victory against Hartford, she put two defenders on their butts with one move on a play in the second period).
"She's a good athlete," Coates said as a knowing understatement.
Fellow senior and co-captain Lily Gubbins has been the bedrock of the defense during both title runs and was crucial in the game against the Blades, stopping two great goal-scoring opportunities with hyper-focused stick deflections and also acts as a stabilizer and puck-progressor on the team's offense. 
Sophomore Kassidy Haley has scored more than 50 points in each of the past two seasons and rivals Konijnenberg in skate speed and attacking prowess. Her 56 points this season were a team-high and she led the team in both goals (31) and assists (25), though junior center Gracelyn Laperle nipped at her heels with 24 dimes of her own on the year.
Junior defender Hannah Gubbins, Lily's sister, poured in 24 points, including two huge assists in the semifinal.
Coates praised the team's experience for maintaining its resolve in the face of adversity and praised the leadership of his captains, Konijnenberg and Lily Gubbins. 
"They're just leaders in the locker room, on and off the ice, and great people," Coates said. "They're very passionate about the game and they really care about the team, those are the right people to have in those positions."
Coates will have to find a way to replace the leadership of the two outgoing seniors next season. Going into this year, the team didn't name any alternate captains as a way to see who was really ready to step up.
"There's been moments this year where you can sort of see who wants that role and who might not," Coates said. "We're in that situation where we really don't know and so that's kind of a bit scary, but also with how small our team is already, losing three seniors is a little scary, too."
As for Lily Gubbins and Konijnenberg, their futures in hockey are a bit murky as well. Konijnenberg is playing soccer at Williams College (Mass.) in the fall and hasn't ruled out playing hockey. Gubbins hopes to at least play club hockey in the future.
But on Thursday night, huddled with their friends, coaches and family in the little connecting room between their locker room and an exit to Gutterson Field House's ice rink, only the celebration of winning as a team was on the outgoing captain's minds. 
"Couldn't ask for a better season," senior defender Lily Gubbins said. "I couldn't ask for a better way to sign off."
Obituaries
March 23
6:01 am
Joseph Francis Duane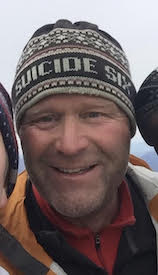 We are sad to say that Joseph Francis Duane passed away on Saturday, March 18th at age 58, surrounded by his loving family.
Joe was born in Manhasset, NY on January 21, 1965, to Mary and Francis Duane and grew up in Port Washington, Long Island with his three sisters and brother. He graduated from Paul D. Schreiber High School in 1983, and he attended the University of Maryland. He held a variety of jobs throughout his life; from ski instructing in Breckenridge, CO to financing on Wall Street. In 1990, he started his business, Joseph Duane Painting, which he continued for the rest of his life.
He met his wife, Terry, in 1995 in one of his favorite places – Montauk, NY. They were married in 1998 and lived in New York City. Joe and Terry wanted to raise a family in a beautiful place and instill a love of nature, so they moved to South Woodstock, Vermont in 1999. Joe's three children were the light of his life.
Joe worked as Ski Patrol Assistant Director at Okemo Mountain. Most recently, he was Ski Patrol Director at Saskadena Six, working there for over 18 years. Joe was an active person who skinned and skied Saskadena Six almost every day, sometimes switching it up by going to Pico or Killington. He also spent a great deal of time golfing, hiking, biking, running, playing lacrosse with his kids, and adventuring out in the backcountry with his son.
Family was of utmost importance to Joe. He is survived by his wife, Terry, and their three children; Abbey, Nora and Will. He is also survived by his mother, Mary Duane, his three sisters, Mary (Sean), Patricia (Kester), and Olivia (Kirk), and many loving nieces and nephews. He is predeceased by his father, Francis Duane and his brother, Andrew Duane. Joe was a man who lived his life to the fullest and was happiest with his family and in the outdoors. His kindness touched many lives and his friends and family will miss him dearly.
A memorial gathering will be held at Cabot Funeral Home in Woodstock, VT on Thursday, March 23rd from 5:00 PM – 7:00 PM.
March 23
6:00 am
Allen Michael Glick
Allen Michael Glick, 81, of Umatilla, FL (formerly of Framingham, MA and Barnard, VT), died peacefully at home on March 12. Born to Selig and Lillian (Tagerman) Glick, Allen leaves to cherish his memory his loving and devoted wife of 16 years, Iris C. Glick; his sister, Wendy Glick and her partner Joseph Orth of West Palm Beach, FL; his aunt Lenore Tagerman of Boca Raton, FL; his brother-in-law Walter Randall of Wayland, MA, Iris's nephew Stephen Randall and wife Michelle of Umatilla, FL; and Walter Randall and wife Laurie of MA. Allen was predeceased by his sister, Sarajane Glick, in 1960, and his beloved companion of 31 years, Eileen E. Anderson, in 2000. The Glick Family wishes to extend heartfelt gratitude to each of Allen's caregivers for their professional and compassionate care of Allen in his home.
Raised in Worcester MA, Allen attended Tabor Academy and Clark University. From a young age, he worked with his father Selig: first, in the family-owned parking garage businesses and later, in a sales and management capacity, at his father's automobile dealership. In 1967, at the age of 26, he earned the honor of being the youngest person to have ever been granted a Chevrolet dealership franchise. From 1968 through 1999, he grew an automobile empire ultimately comprised of 8 dealerships in Massachusetts. He owned and operated Eastleigh Farm in Framingham, MA 1981-1999. He also served on the boards of several local banks and was a private real estate investor. A deeply religious and caring person, Allen was extremely philanthropic to a variety of Jewish organizations, major charities, the communities in which he lived, his alma mater Clark University, and many individuals less fortunate than he.
Allen enjoyed riding horses with his wife Iris at their homes in Barnard, Vermont and Umatilla, Florida. Being surrounded by family and his many friends, at one of his farms or at his oceanside home in New Harbor, Maine, brought Allen great joy and satisfaction. Allen's kindness, heartfelt caring, witty sense of humor, and genuine influence will forever be missed.
Services took place in Worcester, MA on March 16, 2023 under the direction of Miles Funeral Home of Holden, MA. To read the full obituary visit: milesfuneralhome.com
March 23
6:00 am
Edward Postler
Woodstock
Edward Postler, 98, passed away on St Patricks Day in Lebanon, NH
He was born in NYC to John and Emma Postler
He served in the US Navy as a Seabee in the Pacific during WWII. After the war, he went to trade school for Architecture but realized that he would have better job opportunities as a design draftsman. His talent later led to work on the Hubble Telescope as well as other NASA projects.
He met Lynn Walsh on a blind date and they married in 1950. They lived in NY until 1957 when they moved their growing family to Fairfield, CT. He lived in the Lake Hills section of Fairfield for 64 years before moving in 2021 to VT to be closer to 2 of his children.
He enjoyed bowling, skiing, golf, and fishing and loved watching the Mets and Giant play.
He is survived by his children; Brian, Neal, Chris, (Laura), and Kerry,(Hugh) a sister Megg along with 10 grandchildren and 5 great-grandchildren, and many nephews and nieces.
He was predeceased by his wife of 56 years, his oldest son Klaus, his brother Richard and sister Marie and grandson Kevin.
The family will be having a private gathering per his wishes.
An online guestbook can be found at cabotfh.com
March 23
6:00 am
Peggy K. Janney
Plymouth
Peggy K. Janney, 75, a long-time resident of Plymouth, Vt., passed away on March 10.
Born on January 15, 1948, Peggy was the daughter of Henry Kahn and Lillian (Florsheim) Kahn. Raised in Chicago, she graduated from Harcum College in Bryn Mawr, Pa., with a degree in education.
Peggy was a dynamic, multifaceted people person who lived many lives — teacher, Italian car importer, wife, mother, and part-time philanthropist. She lived a life full of experiences that most of us could only dream of. She battled through broken bones, breast cancer, heart attacks, and surgeries armed with a sense of humor, a glass of chardonnay, and a handful of M&Ms.
Peggy was predeceased by her husband Walter C. Janney III. She is survived by her son Peter Janney and his long-time partner Deborah Dukeshire, her brother Robert Kahn and step-brothers Steve and Tom Kahn.
Services will be held later this spring. Memorial donations may be made in her name to the Foley Cancer Center at Rutland Regional Medical Center. To leave an online condolence, visit cabotfh.com
March 23
6:00 am
Service for Sue Holmes Hottenstein on Saturday, April 1
Woodstock
A memorial service for Sue Holmes Hottenstein, 87, who died on December 25, 2022, will be held on Saturday, April 1, 2023, at the First Congregational Church of Woodstock in Woodstock, Vermont at 11:00 am.
Memorial donations may be made to the Homestead, Mertens House, or The First Congregational Church of Woodstock VT.
Arrangements are under the direction of the Cabot Funeral Home in Woodstock.  Condolences may be offered by visiting cabotfh.com.
March 23
5:01 am
James "Butch" Leighton Lewis, Sr.
WEATHERSFIELD
James "Butch" Leighton Lewis, Sr., 79, passed away on March 5, 2023, at Valley Regional Hospital in Claremont, NH following a brief illness.
Butch was born September 28, 1943 to Rodney and Ruth (Manley) Lewis in Lebanon, NH.  He graduated from Woodstock Union High School in 1962.  After graduation he joined the Navy, serving for four years on the USS Glennon DD-840.  On March 25, 1966, he married Karen Bradley, to whom he was married for 57 years before her death.
Butch began working as a plumber, working his way up to master.  For many years he worked at Ottauquechee Plumbing and Heating in Woodstock, and in the process, met many people in the area.  During his working career, he also served as a Deputy Game Warden, EMT, and Ski Patrol at Suicide Six.
In high school, Butch played on the football team and continued to enjoy many sports and activities throughout his life, such as hunting, fishing, boating, bowling, snowmobiling, and skiing.  He was an avid golfer and played league golf for many years.  He and Karen enjoyed traveling to new golf courses and attending PGA and LPGA golf tournaments.
Butch is survived by his mother-in-law, Norma Bradley, his son, James Lewis, Jr., and his daughter, Kristine Lewis Urban; his grandchildren Kassidi, Samantha, Savannah, James, William, Ryan, and Keighley; his great-grandchildren, Addison and Lily.
He was pre-deceased by his wife Karen, his brother Bob, and his parents, Rodney and Ruth.
A memorial gathering will be held at the Thompson Senior Center in Woodstock, VT on Saturday, March 18th from 2:00 pm – 4:00 pm.
In lieu of flowers, donations may be made to the American Legion, 59 Central Street, Woodstock, VT 05091.
Arrangements are being made by the Cabot Funeral Home.  An online guestbook can be found at cabotfh.com
March 23
5:01 am
Ann Louise DeTurk
Hartland
Ann Louise DeTurk of Hartland, Vermont passed away on Tuesday, February 28th at the age of 58. She was at home surrounded by her family.
Ann was born in Wiesbaden, Germany on September 13th, 1964 to Boyd Reynolds and Beverly (Thennis). Her younger brother, Michael, was born four years later. They spent their childhoods in Germany and Spain, growing up and going to school on the military bases where their parents worked as educators. A lifelong runner, one of Ann's fondest memories was, while still in high school, training for and running the Paris marathon with her father, Boyd. She also enjoyed spending summers with her extended family on the Bohn family farm in Webster, South Dakota, with her cousin and lifelong friend Kathy.
Ann came to the United States for college in 1982, first attending the University of Texas at Austin before transferring to join Kathy at the University of South Dakota. After graduation in 1986, she and Kathy spent a summer working as nannies in Darien, Connecticut. Next, they came to Vermont, where Ann only intended to stay for one winter, but then she met Dave DeTurk and she never left. They have been together ever since.
Ann also found her calling as a teacher here, working in various positions around the upper valley. In 1992 Ann and Dave were married, and in 1995 she gave birth to their daughter Rebecca, followed by their son Dylan in 1997. When the kids were born she took a break from teaching for several years in order to spend all day with them. Instead, she taught aerobics – bouncing the kids around with her wherever she went. In 2000, Ann and Dave built their dream home in the hills of Hartland.
In 2004, Ann got a job teaching at Hartland Elementary, a position she held and cherished for 18 years. In teaching she found her true passion, teaching not only of facts and figures but of tolerance, understanding, and compassion for all others, which for her was the greatest lesson of all. She constantly strove to be better for her students and earned her Master's degree in 2016 while teaching full-time. She also met her closest friends while teaching at Hartland, where she was known for always wearing blue and purple, being goofy, and making people laugh.
Ann loved reading, language, puzzles, music, animals, and her garden. She could always be found listening to a musical theater soundtrack or a dance track from the eighties. She was extremely creative, had a talent for drawing and crafts, and enjoyed creating costumes for school theater productions. She was passionate about exercise and especially enjoyed running, rock climbing, and even tap dancing. Her favorite activity of all was walking up the trail behind her house with her dogs, Maddy and then Gizmo. She also had a love of sailing, and in recent years enjoyed spending time in the small sailboat that Dave found and fixed for her. She led a life filled with adventures like scuba diving in Nevis and Antigua, riding camels around the pyramids of Egypt, space camp at Cape Canaveral, visiting Mayan ruins, and surfing in Fiji, to name a few. Ann and Dave celebrated their 30th wedding anniversary last year.
In May of 2022, Ann was diagnosed with brain cancer. It was a brief but extremely courageous battle, and she chose to remain positive throughout. A special thank you to all those friends and caregivers who enabled her to spend her final days at her home on the hill.
Ann was predeceased by her mother Beverly and her father Boyd. She leaves behind her brother Michael, her husband David, her two children Rebecca and Dylan, and her beloved dog Gizmo.
Private services will be held at a later date. An online guestbook can be found at cabotfh.com
March 23
5:01 am
Sonia Holt
Sonia Holt, a longtime resident of South Woodstock, and most recently of Essex, Vt., died peacefully at the McClure Miller Respite House in the early morning hours of Thursday, March 9 after a long illness. Sonia was predeceased by her husband Nelson in 2002. She is survived by her daughters, Amy Callahan and her husband Judd; Shelly Holt Allen and her husband Doug; grandchildren Ian and his wife Amanda, Lauren, Courtney and Jessie; great-grandchildren Casey and Ellie, and her brother Hugh Gahagen. Arrangements are with LaVigne Funeral Home of Winooski. A private burial service will be held in the spring at the convenience of the family. In lieu of flowers, donations may be made in her name to the McClure Miller Respite House.
March 23
5:00 am
Richard P. Boardman
WORCESTER
Richard P. Boardman, 83, passed away on Sunday, March 5, 2023, at Briarwood Assisted Living in Worcester after a brief illness. He was born in Bristol, CT, the son of Frank G. and Nancy (Doane) Boardman. His beloved wife of 59 years, Judith "Jaye" (Brightman) Boardman, passed away in 2020.
Dick, as he was known to friends and family, is survived by daughters Stephanie P. Casale and her husband, Tom of Sandwich, NH, and Jennifer "Jessie" B. Glockner and her husband, Gary Gleason of Holden, MA and Richmond, VA; sister, Carolyn E. Boardman and her husband John D. Pinkham of Arlington, VT; grandchildren Alessandro P. Casale, Sofia C. Casale, and Liam M. Glockner; brother-in-law Peter E. Brightman and his wife Leslie Altman; and several nieces and nephews. He was predeceased by his son-in-law, Peter K. Glockner of Holden, MA.
Dick grew up in Plainville, CT, and Woodstock, VT. During his youth, he spent time at his family's farm in Hartland, VT, working with his father and learning carpentry skills that he would use his whole life. He graduated from Vermont Academy in 1957, where, at 6' 8" tall, he proved to be an accomplished basketball player. He earned his bachelor's degree from Dartmouth College, his master's degree from Chicago University, and his doctorate in education from Columbia University. While at Columbia, he worked with his mentor, Dr. Robert Dentler, the director of Columbia's Institute for Urban Studies, to co-author a report for the New York State Education Commission on Desegregating the New York City Public Schools (1964). Commonly known as the Allen Report, it was intended to provide the data and research to support the desegregation of the New York City public school system, then the nation's largest school district.
After finishing his doctorate, he taught at the college level for several years. In 1970, he and Jaye moved their family to Princeton, MA, where they had a small farm and practiced homesteading. Soon after that, he left teaching to start his own general contracting business, Boardman Builders. His lifelong passion for building and renovating homes spanned more than 50 years and resulted in custom-built homes throughout Worcester County and many other towns where he lived throughout his life, including Orient, NY, Mystic, CT, Yarmouth Port, MA, and Nokomis, FL.
Dick loved animals and had a special affinity for Old English sheepdogs, which he and Jaye raised for many years. He also loved music. He played the double bass for a time and amassed an impressive record collection of every genre. He enjoyed watching sports, basketball in particular, and was a big fan of the Celtics and the UCONN women's team. After retiring, he and Jaye enjoyed traveling, relaxing at their Florida and Cape Cod homes, and spending time with family and friends. He was a wonderful father, dutiful son and brother, and a caring and devoted husband.
Funeral services are private and will be held at a later date. In lieu of flowers, memorial contributions may be made to The Alzheimer's Association. Arrangements are under the care of the Miles Funeral Home, 1158 Main Street, Holden. To share a memory or offer an online condolence, please visit www.milesfuneralhome.com
March 23
5:00 am
Leonard W. Banister
Leonard W. Banister, 96, of Walden, VT died February 25, 2023. Leonard was born on February 10, 1927, in Springfield, VT to the late Leigh A. and Evelyn D. (Warner) Banister.
He graduated from Springfield High School and enlisted in the Navy.  He married Janet Pickener on June 25, 1949.  Leonard worked at Idlenot Dairy in Springfield, VT, and after moving to CT worked at the Republican/American newspaper in Waterbury until his retirement. Leonard enjoyed stamp collecting, gardening, and playing cribbage. He was a lifelong fan of the Boston Red Sox and never said no to homemade peppermint stick ice cream at family gatherings.
He is survived by his three children and their spouses, Marcia (Rip) Henley, Carol (Mark) Ryan, and Bruce (Diane) Banister. He leaves behind 4 grandchildren and 3 great-grandchildren, Liana (Taylor), Shauna (Ian), Brenna, Trevor, Janet, Evie, and Jameson.  He was preceded in death by his parents, his wife Janet, and grandsons Seth and Brian.
Services are to be held at a later date. The Holcomb-des Groseilliers Funeral Home has been entrusted with all arrangements. Memorial contributions in Leonard's name may be made to the West Windsor Historical Society at PO Box 12, Brownsville, VT 05037.
Business Resources
March 23
3:35 am
New marketing services now available to local businesses