SEE ALL

Pause
News | October 18, 2019
Crash in Woodstock ends in possible road rage incident
News | October 17, 2019
Ascutney Outdoors nearing end of T-bar project
Obituaries | October 17, 2019
David J. Strousse
Obituaries | October 17, 2019
Lydia Montaño
Obituaries | October 17, 2019
Deborah Hadden Gray
Obituaries | October 17, 2019
Loomis G. "Loo" Dana
Obituaries | October 17, 2019
Coleman Williams (Bill) Hoyt
News | October 17, 2019
School Board finds funds for TPVS
Sports | October 17, 2019
Girls' soccer loses to Mt. Anthony
News

October 18
1:53 pm
Crash in Woodstock ends in possible road rage incident
A driver in a two-car crash on Pleasant Street in Woodstock suffered a possible bone fracture after allegedly trying to stop a third vehicle that may have caused the accident, police said. Police said the accident occurred in front of the Shire Motel at 46 Pleasant St. at about 9:10 a.m. Wednesday, Oct. 16.
Witnesses said a black Volvo sedan pulled out in front of a Toyota Tacoma pickup truck, causing that vehicle to stop short, and a third vehicle to strike the rear of the truck. The driver of the pickup was identified as Eric Louttit of North Clarendon, Vermont. The driver of the third vehicle, a Suburu Impreza, was identified as a juvenile. Police said Louttit reportedly chased after the Volvo and was able to get the vehicle to pull into the new Maplefield's gas station.
Louttit began to pound on the passenger windows of the Volvo as it began driving away on Route 4, police said. Louttit "subsequently fell to the ground and possibly sustained an injury," police said. "At about this time, the operator of the black Volvo contacted 9-1-1 to advise of a possible road-rage incident and volunteered to meet with officers at" the Woodstock police station.
Police said Louttit was taken away in an ambulance to a local hospital with a possible bone fracture.
Woodstock Police Chief Robbie Blish said charges may or may not be pending.
Anyone with information about the accident is asked to call Corporal Donna at 802-457-1420.
October 17
2:13 pm
Ascutney Outdoors nearing end of T-bar project
After more than a year of work, Ascutney Outdoors, located in Brownsville, is going into the final phases of the T-bar project. When done, the T-bar system will allow access to an additional 1,800-feet of skiing and 10 trails. The terminals are now in place and the cable, which weighs about 4,000-pounds, is being pulled up the hill.
In recent years, they have had 2,000 visitors to the mountain for skiing and snowtubing. It is anticipated that the numbers will increase with the T-bar in addition to the rope tow.
Glenn Seward, a member of the Ascutney Outdoors board, says they hope to have the inspection done by mid-November.
October 17
1:24 pm
Star Power: School Observatory Offers Down to Earth Lessons
The Prosper Valley School observatory in South Pomfret has been educating the public and students interested in astronomy since a volunteer effort built the observatory in 2004.
"If you don't have a sense of awe, you don't know where you are," says Robert Hanson, observatory co-director and a sixth-grade teacher at Woodstock Elementary School.
School supervisory union officials are looking at ways to leverage the future use of the observatory with the educational needs of the district.
"We want to offer this observatory as a place where you can have experience with the universe–or a part of it," Hanson said.
October 17
1:13 pm
Select Board OKs funding for Town Hall Master Plan
The Woodstock Select Board on Tuesday authorized $16,000 in spending to create a master plan of renovations for the Town Hall and Theater.
The board's plan followed a lengthy discussion of whether the master plan is necessary in light of other capital needs in the town.
"I just feel we need a little more time and a little more thought to this. This is a huge expense and undertaking. I'm not saying I'm against it," board chair L.D. "Butch" Sutherland said.
The Town Hall Building Committee recommended hiring Jay White Architect of Burlington to design the master plan to "guide repair, maintenance, and restoration decisions" leading to "full revitalization of the building and theater.
October 17
9:07 am
School Board finds funds for TPVS
On Monday, the Windsor Central Modified Unified Union School District Board approved spending $100,000 on The Prosper Valley School (TPVS) in South Pomfret to help with the mold problem that has plagued the school and forced it to be closed to students in 2018. The funding will come from a variety of sources.
The School Board is still weighing their options for the more than $500,000 needed to address the mold issues and possibly reopen the school in 2021.
For more information, read this week's The Vermont Standard.
Sports

October 17
8:50 am
Girls' soccer loses to Mt. Anthony
On Tuesday, Mt. Anthony scored early in the second half and Woodstock could not get one in to the back of the goal despite several strong attempts from the front runners Hannah Reed, Abi Mascillo, Novah Conway and Faye Stevens. Mt. Anthony's score was the only one for the entire game.
Sophie Leggett was very active in the mid field both defensively and sparking the attack. Defending by Celia Burrington, Kelly Jackson, Bitty Alexander and Alice Sperber limited Mt. Anthony's scoring to just one goal. Woodstock keeper, Emma Tarleton was very active in goal, her effort and big saves kept Woodstock in the game.
Woodstock drops to 5-7-1 and will finish the season at Fair Haven on Saturday.
Obituaries

October 17
12:00 pm
David J. Strousse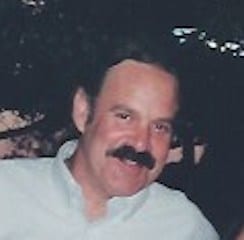 David Jonathan Strousse of Hartland, VT, died on October 4, 2019 of complications from cancer. He is remembered as a devoted father and husband and a caring friend.
David was born on June 25, 1957 in Stamford, CT to David and Marcia Strousse. He grew up in Stamford, attending King School and Stamford High School. David then went to Ithaca College where he met his future wife. He worked in the ski industry for four decades and was known as a master boot-fitter. His pursuit to make ski boots fit comfortably led him to a career as a pedorthist; he treated many grateful clients with custom orthotics. He was an avid skier, Deadhead, and was a member of the Hartland Planning Commission.
David was loved by his family: his wife Victoria (Zialcita) of Hartland, his daughters Rose Simone of Burlington, VT and Kate Caroline of Montpelier, VT; his sisters Cynthia of Boston, MA and Tracy of Laguna Woods, CA; his half-brothers Justin and Eben Strousse and his German Shepherd puppy, who will miss the nightly sunset walks.
There will be no calling hours, per David's wishes. In lieu of flowers, please send donations to Vermont Public Radio, https://donate.vpr.org/
The Cabot Funeral Home in Woodstock is assisting the family. An on line guest book can be found at cabotfh.com
October 17
11:29 am
Lydia Montaño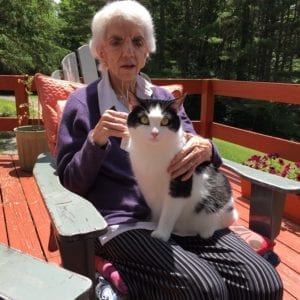 Lydia Montaño, 87, died peacefully surrounded by family on August 8th at Mertens House in Woodstock, Vermont.
Lydia was born December 12, 1931 in Monterrey, Mexico, to Eduardo and Virginia Gaja. The third of three siblings, she excelled in school and would go on to study secondary school in St. Louis, Missouri.
Lydia was a devoted wife of 60 years of Arnulfo Montaño of Brownsville, Texas, and loving and patient mother to sons Alex, of Woodstock, and Patricio, of Highlands Ranch, Colorado.
Arnulfo's work, took the family to El Salvador and Mexico City among other cities before moving to Ventura, California, where Lydia would become a U.S. citizen. Lydia spent 25 years living in California. She became highly involved with the church and her sons' school. She developed friendships that would last for the rest of her life.
A lifelong learner, Lydia learned to paint religious icons so intricate that many had a hard time believing the works were not made by a professional. She spoke fluent Spanish, English, French and Italian. Russian was next. She just ran out of time.
Lydia loved animals all her life – and they sure loved her back. As a young girl, she adopted a coyote pup that her father had mistaken for an abandoned dog. She kept it, like one would a dog, until his howling became an issue.
While living in Texas, Lydia befriended two ducks. The couple would show up promptly to peck at her door at 8 am for breakfast and 5 pm for dinner. Tortillas for both meals. In addition, she fed and had spayed a homeless cat and her kittens. The cats would let no one else approach them.
Whether it was animals, family or friends, no one went hungry around Lydia. Her prodigious menu ranged from enchiladas to flan. But it was her tamales and flour tortillas that knew no equal.
Lydia spent the last three years of her life in Vermont, which she described as the most beautiful place she'd ever been in. Living with her son Alex and loving daughter in law Macgregor in Woodstock, she enjoyed looking out from the deck at the trees and the mountains; the birds and the squirrels; snow and sun. Often, she was moved to tears and thankful prayer.
Mrs. Montaño is survived by husband Arnulfo, sister Irma, sons Alex and Patricio, and grandchildren Sarah, Bailey, Diego, Oscar, Emilio, Santiago and Marco.
The family is forever grateful to Barb Templeton and everyone at Mertens House for their loving and compassionate care.
October 17
10:40 am
Deborah Hadden Gray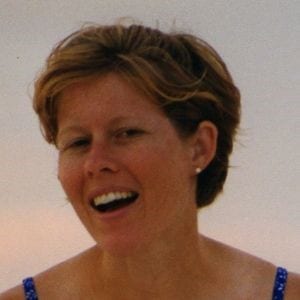 May 7, 1964 – September 25, 2019
Melrose, Massachusetts | Age 55
Deborah Hadden Gray passed from this life to the next on September 25th after a prolonged illness.  She is survived by her husband, David; her sons Liam and Collin, her parents, Craig and Joan (Gill) Hadden of Barnard, VT, a brother, David Hadden and his wife Amie of Bangor, ME as well as 16 nieces and nephews.
Born in St. Louis, Deb spent her earlier years in Pennsylvania, Massachusetts, and Barnard, VT. She graduated from Woodstock High School and Bucknell University.  Her faith, love for nature, art, science, and an active lifestyle were developed at a young age, shaping her into an intelligent, giving, and modest woman.
Deborah earned a Masters degree in Biology and worked as a wetlands scientist and planner for Camp Dresser & McKee in Cambridge and Fort Point Associates in Boston early in her  professional career. She worked 20 years at Massachusetts Port Authority on airport and maritime projects, retiring as Boston Port Director having  managed critical projects such as dredging of the harbor to accommodate the ever-larger ships using the Port. She was respected as a thoughtful and pragmatic manager, thriving at collaborating on complex projects with colleagues, the business community, elected officials, advocacy groups, and the public. She loved and valued her colleagues greatly.
Deborah's true focus and love, however, were her husband and sons.  She prioritized and planned her time around them – cherishing those times dearly.
Deb had a strong but private faith and lived it through her daily actions and deeds ~ important as her disease progressed, helping her persevere and later resolve to live her remaining time in the most meaningful ways. Deb drew much strength and support from her devoted friends to remain active as circumstances allowed. She later appreciated receiving amazing care from dedicated professionals tending to her complex needs; including many aides, nurses, and doctors with whom she developed loving relationships.
A Memorial Service will be held on Saturday, October 26, 11 am at Grace Chapel, Lexington, MA.   A celebration of her life will follow, 2 pm at the Exchange Conference Center in Boston.
Gifts in Deb's memory may be made to the Melrose High School Permanent Scholarship Fund, PO Box 760695, Melrose, MA 02176 (www.mhsfund.org) or a cause of your choice.
October 17
9:48 am
Loomis G. "Loo" Dana
South Burlington — Loomis G. "Loo" Dana, 92, passed away at home on October 8, 2019.  Loo was born on August 21, 1927 in Lynn, Massachusetts to parents Grosvenor and Frances Spear Dana of Woodstock, VT.
Loo is survived by his children and their spouses; Richard & Laurie Dana, Gregory Dana & Deena Frankel and Christine Dana & Lynda Collar as well as his granddaughter, Elizabeth Dana.  He was predeceased by his wife of 50 years, Susanne Ott Dana.
A celebration of Loomis' life will take place at the College Street Congregational Church in Burlington on Saturday, October 19 at 2 p.m.  In lieu of flowers, the family asks that donations be made in Loo's name to the Meals on Wheels program of Age Well Vermont (agewellvt.org).
October 17
9:42 am
Coleman Williams (Bill) Hoyt
Woodstock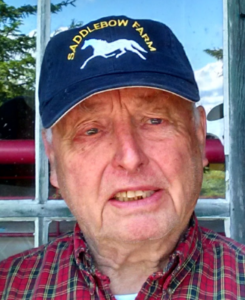 Coleman Williams (Bill) Hoyt was born to Colgate Hoyt and Muriel Williams (Williamson) Hoyt in New York City on November 11, 1925. He died at age 93 on October 9, 2019 after a brave struggle with cancer and a stroke. He was predeceased by his three brothers, and a son Andrew Erskine Hoyt. He leaves his devoted and beloved wife Cecilia Lucia Hoyt, two sons from a previous marriage, Coleman W. Hoyt Jr. and wife Amy of Concord, MA and Stephen Tecumseh Hoyt and wife Chrisanne of Orford, NH, daughter-in-law Chrystine Hoyt of Benton Falls, ME,  and five grandchildren.
Bill attended Groton School, and then enlisted in the Navy V-12 Program in 1943. He graduated from Tufts with a Naval Science degree and served as an officer on the USS Duluth in the Pacific. After discharge, he attended Yale and graduated with an Industrial Administration degree. He was immediately hired by the Reader's Digest where he was employed for 40 years. At the Digest he held several positions including being in charge of printing the world's largest circulation magazine and managing their Condensed Books and RCA Victor Record Club. In addition to managing the postage costs for the Reader's Digest, Bill became Chairman of the Postmaster General's Mailers Technical Advisory Committee in Washington, DC. He established a system of "worksharing" postal rates and wrote a book on the subject. He was respected worldwide for his postal expertise.
He retired from the Reader's Digest in 1988 and moved full-time to his family farm in Vermont. There he started Continuity Shippers Association, an international postal consulting service. He was the recipient of many awards for his outstanding contribution to the field of mail advertising and selling. He was a former Director of the Direct Marketing Association, The Association for Postal Commerce, Vermont Land Trust, National Trustee of Outward Bound USA, and consultant to the US Information Agency in Beruit, Lebanon. He was a member of the Yale Club and Squadron A in New York, OCavalry and Guards Club in London and The Lakota Club in Vermont.
Bill loved his life in Vermont and was dedicated to his community. He was elected Town Agent, Grand Juror and was Cemetery Commissioner for decades. A former Commander of the Bridgewater American Legion he presided over the funerals of many veterans of Woodstock and Bridgewater. He was happiest spending time at Saddlebow Farm with his family and friends. There he enjoyed raising horses, sheep, and Brittany Spaniels. He treasured his time in the great outdoors planting vegetables and Christmas Trees, clearing trails, hiking, skiing, fishing, and haying. He will be missed for his eloquent command of the English language, his fortitude, his quick wit and his beautiful handwriting.
In lieu of flowers, donations may be sent in his memory to The Lucy Mackenzie Humane Society, PO Box 702, Brownsville, VT 05037
Funeral to be held Friday October 25th at 2:00pm at the St. James Episcopal Church in Woodstock, Vermont. Burial will be held privately in the Mendall Cemetery in Bridgewater, Vermont.
The Cabot Funeral Home in Woodstock is assisting the family. An on line guest book can be found at cabotfh.com