Race Against The Clock
Throughout the country newspapers are in a fight for their lives. Here too.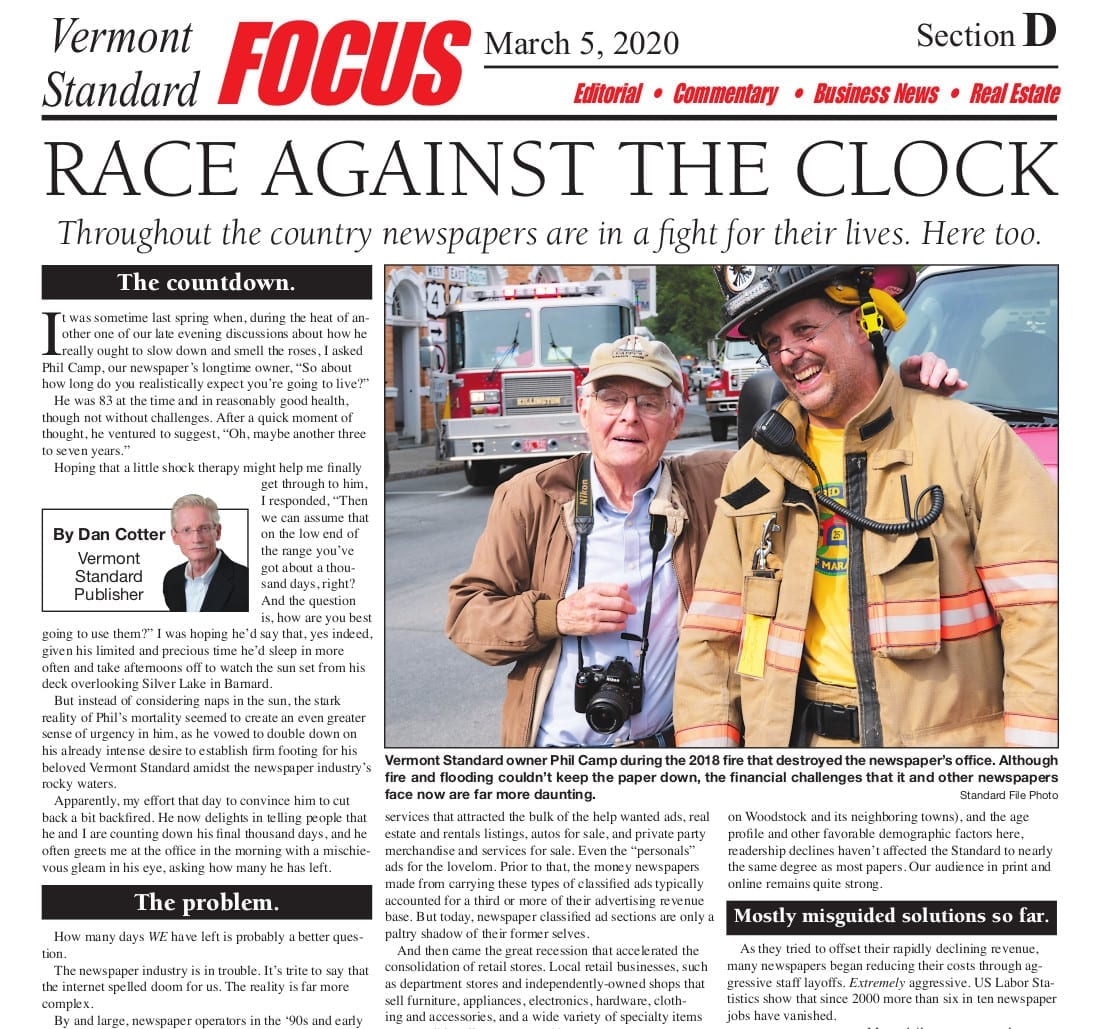 Article from the March 5th, 2020 print edition of the Vermont Standard.
It was sometime last spring when, during the heat of another one of our late evening discussions about how he really ought to slow down and smell the roses, I asked Phil Camp, our newspaper's longtime owner, "So about how long do you realistically expect you're going to live?"
He was 83 at the time and in reasonably good health, though not without challenges. After a quick moment of thought, he ventured to suggest, "Oh, maybe another three to seven years."
Hoping that a little shock therapy might help me finally get through to him, I responded, "Then we can assume that on the low end of the range you've got about a thousand days, right? And the question is, how are you best going to use them?" I was hoping he'd say that, yes indeed, given his limited and precious time he'd sleep in more often and take afternoons off to watch the sun set from his deck overlooking Silver Lake in Barnard.
But instead of considering naps in the sun, the stark reality of Phil's mortality seemed to create an even greater sense of urgency in him, as he vowed to double down on his already intense desire to establish firm footing for his beloved Vermont Standard amidst the newspaper industry's rocky waters.
Apparently, my effort that day to convince him to cut back a bit backfired. He now delights in telling people that he and I are counting down his final thousand days, and he often greets me at the office in the morning with a mischievous gleam in his eye, asking how many he has left.
How many days WE have left is probably a better question.
The newspaper industry is in trouble. It's trite to say that the internet spelled doom for us. The reality is far more complex.
By and large, newspaper operators in the '90s and early 2000s failed to recognize and leverage their opportunity to use the internet to further their business interests and accomplish their civic mission more effectively. Back then (and even now), newspapers typically just put the same content from the pages of their paper on a website, while giving little thought to how that course of action fit into their overall strategic plan or how to monetize it. The Standard was no exception.
Instead, competitor companies emerged that figured out how to use the internet to pick off some of the most lucrative newspaper advertising categories. They created online services that attracted the bulk of the help wanted ads, real estate and rentals listings, autos for sale, and private party merchandise and services for sale. Even the "personals" ads for the lovelorn. Prior to that, the money newspapers made from carrying these types of classified ads typically accounted for a third or more of their advertising revenue base. But today, newspaper classified ad sections are only a paltry shadow of their former selves.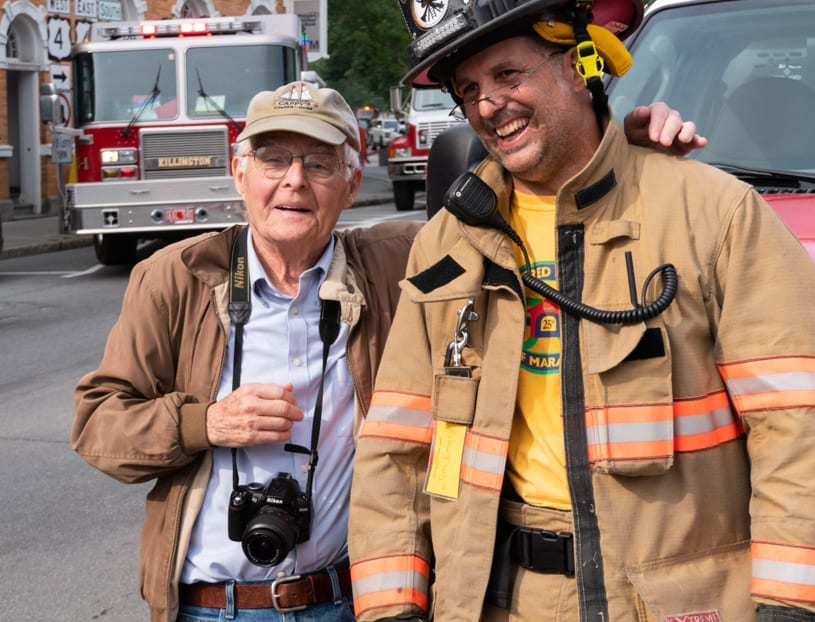 Vermont Standard owner Phil Camp during the 2018 fire that destroyed the newspaper's office. Although fire and flooding couldn't keep the paper down, the financial challenges that it and other newspapers face now are far more daunting.
And then came the great recession that accelerated the consolidation of retail stores. Local retail businesses, such as department stores and independently-owned shops that sell furniture, appliances, electronics, hardware, clothing and accessories, and a wide variety of specialty items were traditionally newspapers' best customers for display advertising on pages throughout the paper. But those stores began to disappear due to the poor economy in the late 2000s and competitive pressure from big box discounters, such as Walmart and Home Depot, and other chains that don't advertise as much. And that problem has been exacerbated by the trend we see today towards more online purchasing, which is further eroding brick and mortar retailing. With fewer local stores in existence (and with many of those still standing in distress), newspapers run far less of the traditional "what's on sale this week" advertising that has helped to keep them afloat for the past hundred years.
The result is that newspaper advertising revenue, which everyone counted on to fund the free press in our country, has declined 67% across the industry since its peak in 2005. Consequently, the profits at most newspapers evaporated and losses have been mounting for years.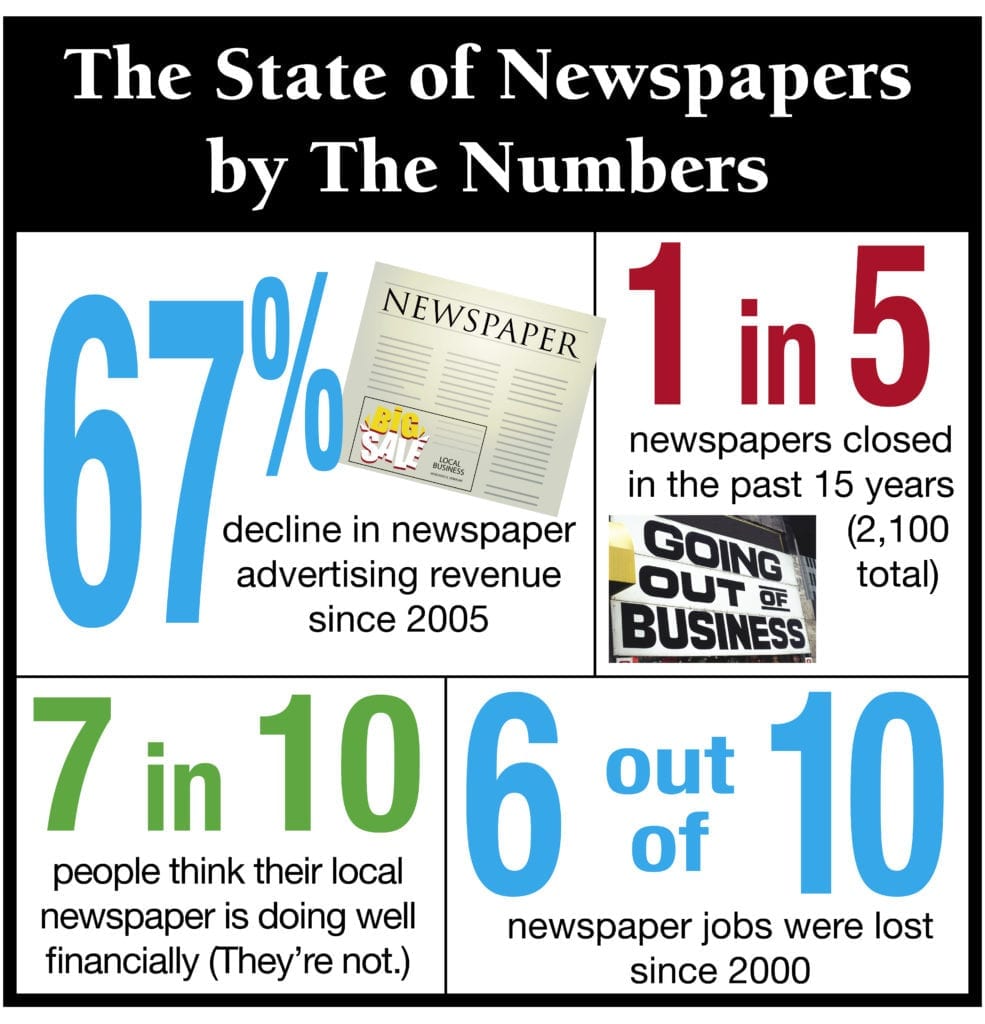 Many newspapers, especially those in large towns and metropolitan areas, suffered readership losses too, as well as the coinciding loss of revenue from readers' subscription and single-copy purchases. Lifestyles have sped up and more people, especially those who are younger, now eschew the printed newspaper reading habit in favor of simply grazing for their news on TV and online.
Fortunately, due to the uniqueness of the Standard's local coverage (e.g., we are the only news media focusing exclusively on Woodstock and its neighboring towns), and the age profile and other favorable demographic factors here, readership declines haven't affected the Standard to nearly the same degree as most papers. Our audience in print and online remains quite strong.
The newspaper industry is in trouble. It's trite to say that the internet spelled doom for us. The reality is far more complex.
Mostly misguided solutions so far.
As they tried to offset their rapidly declining revenue, many newspapers began reducing their costs through aggressive staff layoffs. Extremely aggressive. US Labor Statistics show that since 2000 more than six in ten newspaper jobs have vanished.
Many daily newspapers also reduced the number of days they publish. Some formerly 7-day newspapers are now delivering a printed paper just three days a week, while others have dropped their Saturday or Monday editions.
In light of dwindling advertising revenue, lots of papers have begun putting more of the burden on their readers to fund their operations by dramatically increasing subscription and single copy prices. In fact, the price of most metropolitan area daily newspapers has more than doubled since the mid-2000s. So, for instance, Boston Globe readers now pay upwards of $1,000 a year for a regular-price print subscription. And many newspapers are now focused on charging people for access to their websites as well.
Despite newspapers' efforts to make up for their revenue declines with cost savings and circulation price increases, Penny Abernathy, the Knight Chair in Journalism and Digital Media Economics at the UNC Chapel Hill School of Media and Journalism reports that in the past fifteen years our country has lost about 2,100 newspapers (more than 1 in 5), all but 70 of which are weeklies that were serving local communities, just like the Standard does. And lots of the publications that are still publishing have been so severely gutted by staff layoffs and deprivation of resources that they are now badly compromised and unable to provide anything that resembles quality news coverage for their communities.
In recent years, many newspaper owners cut their losses and avoided closure by simply selling their papers. Unfortunately, they often sold to national or regional newspaper companies that are controlled by investment firms, hedge funds and private equity companies that are by their nature primarily profit-driven, rather than purpose-driven like most independent newspaper operators (i.e., people like Phil). In the worst cases, these new corporate owners have deeply slashed expenses at papers in their chain in order to wring out whatever profit they can, with little regard for the papers' long-term viability or journalistic responsibility to their communities.
On a happier note, a relative few papers have been sold to wealthy residents or others who truly care about their community and fully appreciate the role local journalism plays in the quality of life there. These types of owners often think that the local newspaper is just as essential to the community's wellbeing and sense of place as the town's library, cultural and educational institutions, churches, etc., and they realize that communities around the country that have lost their newspapers have usually lost a good bit of their overall connectedness, civic participation and vitality as well. Instances where these types of owners are involved include the Boston Globe, Washington Post, Los Angeles Times, Minneapolis Star Tribune, Salt Lake Tribune, and even small papers in Pittsfield, Massachusetts, and Bennington and Brattleboro, Vermont. Since they're trying to secure a long-term future for the community's newspaper, these benefactors provide much-needed working capital so that the paper can invest in staff, resources and strategic experimentation.
In the past fifteen years our country has lost about 2,100 newspapers (more than 1 in 5), all but 70 of which are weeklies that were serving local communities, just like the Standard does.
The Standard has experienced the same type of revenue declines as other newspapers, for all the same reasons. However, Phil has always kept the Standard's overhead expense to a bare minimum, so there have not been layoffs here like those seen at papers around the country. Frankly, there's not a lot of staff or salary to cut, although we have indeed pursued other cost efficiencies that have produced considerable savings. Plus, the leaders at the Standard feel duty-bound to publish a substantive news product for the community regardless of the cost.
Even despite the financial struggles we face, the Standard recently invested to improve the newspaper's content and design. We also reengineered our Vermont Standard THIS WEEK website and our approach to how we distribute news online so that we are now able to provide fresh, timely local news updates on the site all throughout the week – essentially making the Standard a dynamic 7-day local news source for the communities we serve.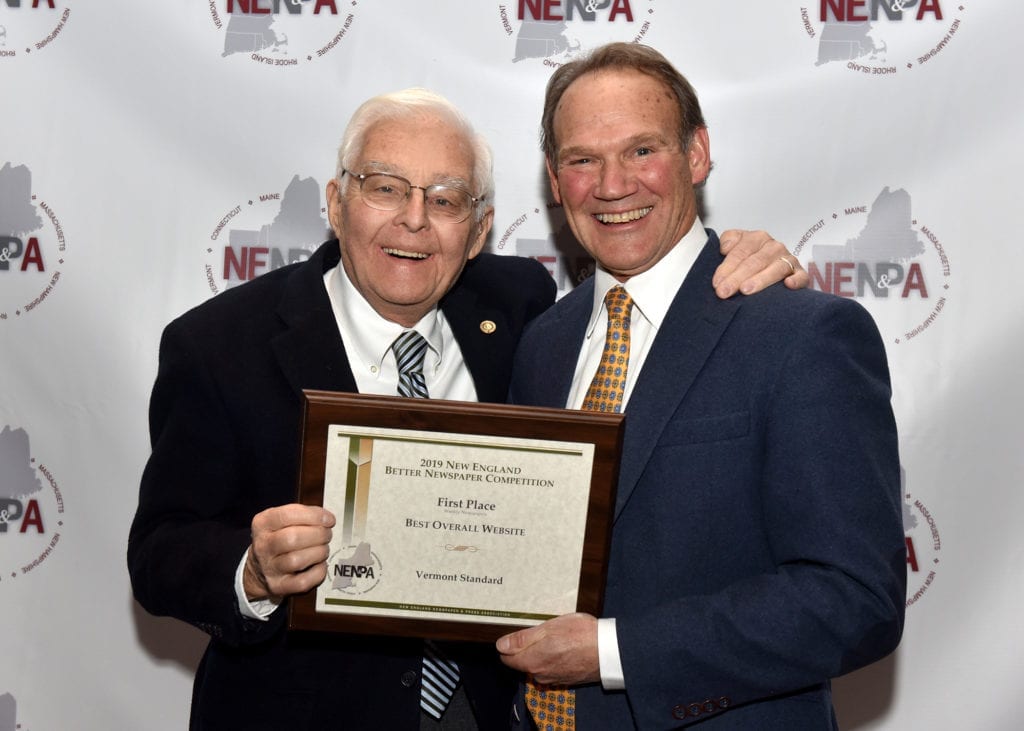 Vermont Standard owner Phil Camp accepting the award for "Best Weekly Newspaper Website in New England" at the New England Newspaper & Press Association convention in Boston in February.
Our effort to improve our news products rather than diminish them, as so many other newspapers have done, has not gone unnoticed. Our website now attracts a significant volume of reader traffic each day, and it was recently recognized as the best weekly newspaper website in all of New England by the New England Newspaper & Press Association. They also named us first runner-up for "General Excellence," their top recognition for overall newspaper quality.
Meanwhile, the Standard has held the line to keep its cover price and home-delivered subscriptions affordable, at just $1 a copy at newsstands or $35 a year for an in-state mailed subscription ($45 elsewhere). So, readers here haven't had to endure the price increases that have become commonplace in other markets.
That's all good news for our audience.
But despite its reluctance to join in the "death spiral" strategy that has taken hold throughout the industry – where, in its effort to survive, a newspaper's attempt to aggressively cut expenses and increase its cover price severely weakens and reduces the value of the paper, which in turn drives away readers, which then makes it even harder to establish a lasting and meaningful path forward -- the Standard is not immune to the pain that all newspapers are enduring. We are swimming upstream as we try to cope with the same ad revenue deficit that's affecting all newspapers. Like them, it's as if we're facing a tsunami. In fact, The Standard – and more personally, Phil -- loses on average two to three thousand dollars each time we print our weekly edition.
Our advertising revenue continues to erode, even worsening as some local businesses and organizations now divert more of their promotional funds toward digital marketing tactics, such as buying Google ad words, Facebook ads, and direct email solicitations. Others just promote their business on free online bulletin boards. Plus, decisions on marketing expenditures for most of the chain stores that our audience shops at are being made far away at corporate headquarters, where they tend to opt for broad, generic marketing tactics without any consideration given to using local advertising options, like the Standard, that exist in a single store's trading area.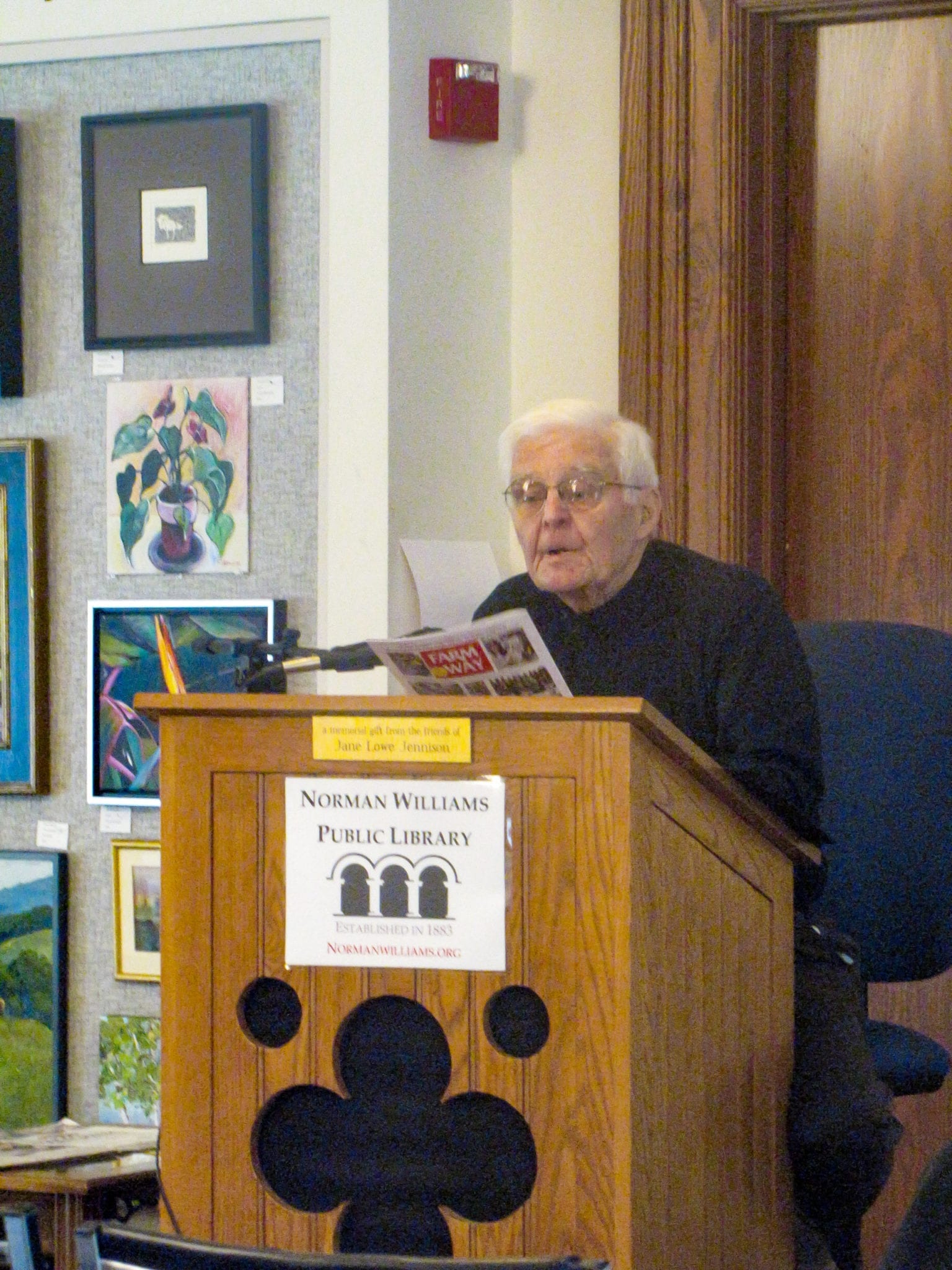 Standard owner Phil Camp discussed the challenges his paper faces during a Learning Lab event last spring at the Norman Williams Public Library.
If this comes as a surprise to you, you're not alone. A recent study by the Pew Research Center showed that most Americans think their local news media are financially sound. Seventy percent think their local news media are doing very well (19%) or at least somewhat well (51%). They're not.
We are swimming upstream as we try to cope with the same ad revenue deficit that's affecting all newspapers. Like them, it's as if we're facing a tsunami.
Phil has courageously faced down threats to the Standard's viability before. In 2011, during Hurricane Irene, the flooding from the overflowing Ottauquechee River swept away the Standard's office and most of Phil's and the paper's assets. And in 2018, a fire consumed the building in Woodstock where the Standard rented office space, causing more loss and disrupting operations for months.
Although fire and flooding couldn't keep the paper down, the financial challenges the Standard faces now are far more daunting. Without the traditional flow of advertising revenue, we've got to find other sources of funding if our local journalism is to endure.
We believe that the Standard plays a critical role in the welfare of the communities we serve. Our journalism engages and informs local residents, which contributes to their shared knowledge, stimulates their ongoing conversations about the community, and facilitates their participation and decision-making. We routinely celebrate the achievements of local people and organizations, and we provide exposure and recognition for the forces of good and progress in our midst. We strive to expose injustices when we discover them too. We also tell the sad and disappointing stories, and we help people understand contentious issues that our community must deal with.
Because we think this mission is important, we're taking steps to try to ensure that we have adequate funding for our journalism. In addition to pursuing expense reductions, we've been introducing new advertising formats that some local businesses are now using to attract and retain customers. And we're developing and launching several new marketing services for local businesses that we hope will generate revenue to make up for the decline in demand for printed ads in weekly newspapers. Our goal is simply to ensure financial stability for the Standard so that the towns we serve can continue to have a reliable local news source.
We've had some success. During 2019, our revenue increased by 5% over prior year, and it was up in every revenue sub-category across the board. We also reduced expenses by 3%. Although we still had a large bottom-line loss, this revenue improvement is a rare feat in our industry these days that signals promise for the Standard's future.
Our progress is good but of course insufficient. New revenue initiatives generally take time to gain traction, and we have a very short runway.
Frankly, it's a race against the clock to generate enough revenue to fund the Standard before it becomes insolvent.
New revenue initiatives generally take time to gain traction, and we have a very short runway.
It's really the community's paper.
For nearly forty years, Phil has shouldered the responsibility for ensuring that the Standard covers the local news and publishes every week. And now for covering its losses. To say that he never got rich owning the paper is an understatement. His has been largely a labor of love for this community that he's lived in all his life, and for which he feels a deep sense of gratitude.
Phil says, "I made an implicit agreement with this community when I bought the Standard all those years ago that I'd increase the flow of information in our area and make sure its newspaper would be a source for good that positively affects people's lives. I saw it as an opportunity to begin to repay the community which had provided me with the encouragement and support I needed while I was growing up in Woodstock as a youngster.
"Yet, it's gotten unbearably tough in recent years with the downturn of newspaper advertising revenue. I never sold out and I'm not giving up. The job isn't done yet. Our community, like all communities, needs journalism more than ever. Local community journalism -- knowing what's happening, knowing what needs to happen, communication with one another so to achieve understanding -- is perhaps more needed than ever before."
Phil says, "I truly believe the Vermont Standard is not my newspaper -- it belongs to the community. It exists for its citizens, not me. That is what I believed when I purchased the paper in 1981, and that's what I believe now."
A couple of years ago, Phil enlisted me, an old friend with a lot of newspaper experience, to help him set the 167-year-old Standard on a sustainable course in the rapidly changing media environment. Thus, the improvements we've been making. However, Phil can't continue to shoulder this financial responsibility alone. If the community wants local journalism it will need to step up.
In addition to our efforts to generate more ad revenue and trim costs, we've begun receiving donations and financial support. But we'll need far more to sustain us over time. Everyone who appreciates Phil, the Standard, and the role journalism plays here in our community can help by subscribing or otherwise buying the paper and using our local news website (and by patronizing our advertisers). Businesses can assist us by advertising regularly for a fair price and taking advantage of the new marketing products we offer.
Also, very importantly, if you or an organization you're affiliated with can afford it, we'd appreciate it if you'll consider supporting local journalism with a donation to our cause. As dedicated as he is, Phil can't subsidize our community's news source all by himself, and time is running out.
Like statewide public television and radio, we need your help if we're to continue our mission right here in our local community.
Phil adds, "I'm not giving up because I believe that our future can be bright. The financial challenges have forced us to take a fresh outlook and create new and better ways of doing business and serving our community. We've got good leadership in place and a talented, motivated staff.
"Honestly, I'm more enthused and energized than I've ever been. I only wish I was ten years younger!"
It doesn't sound as if Phil will be slowing down anytime soon. Don't bother looking for him at the lake. And that's a very good thing for our community indeed.
"Honestly, I'm more enthused and energized than I've ever been. I only wish I was ten years younger!"