SEE ALL
| February 25, 2021
Restaurant Operator Wanted for Fully Built Out Italian Concept
More On This
| February 25, 2021
Senior Lady Seeking Rental Near Woodstock
More On This
| February 25, 2021
Merten's House is Hiring Dietitian
More On This
| February 25, 2021
Cutting Edges Compatible with Fisher Plows for Sale
More On This
| January 20, 2021
More On This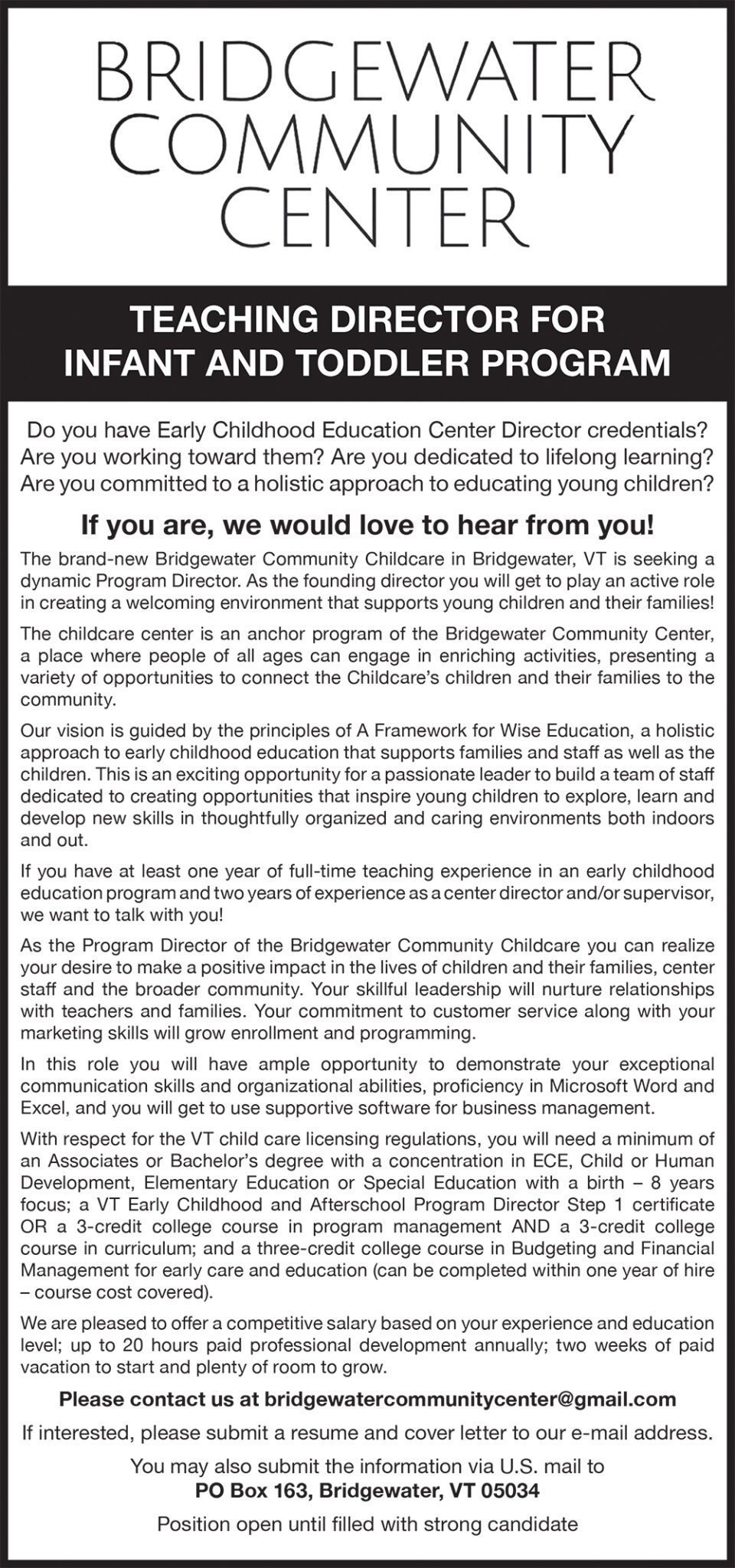 | January 12, 2021
Rentals Suitable for Studio Apt. or Commercial Space
More On This
| November 24, 2020
Junction Fuels is seeking an Office Manager
More On This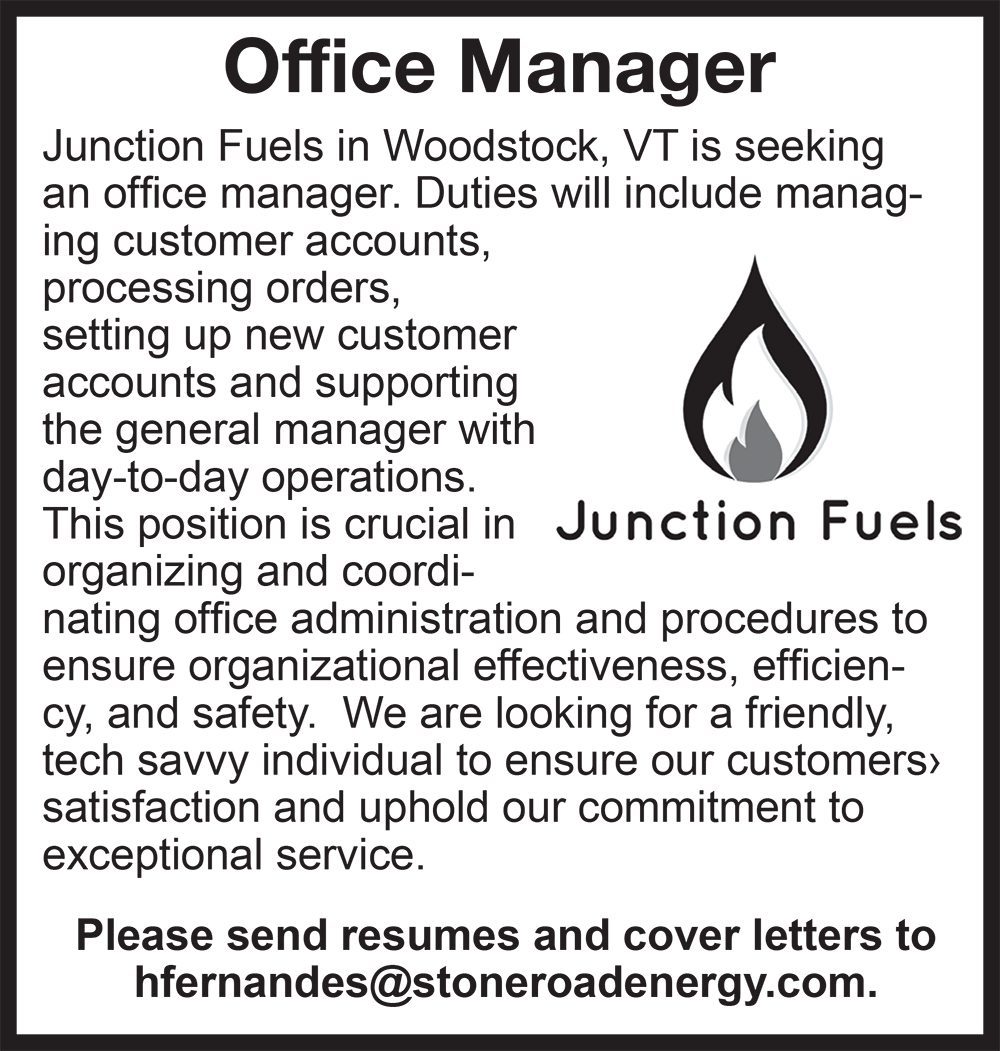 | October 28, 2020
OPH looking to hire a plumber
More On This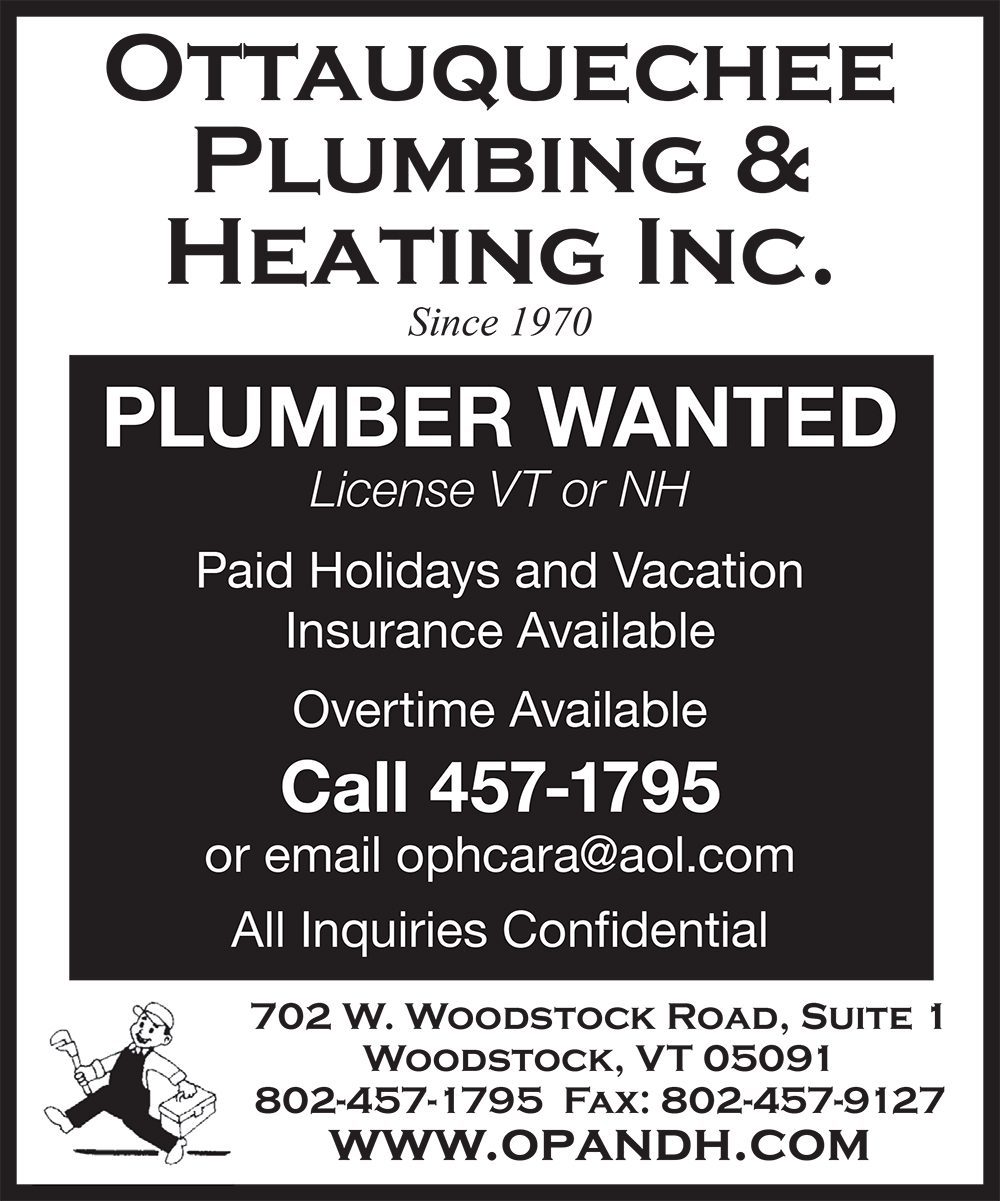 | December 5, 2019
Lincoln Corners Offices
More On This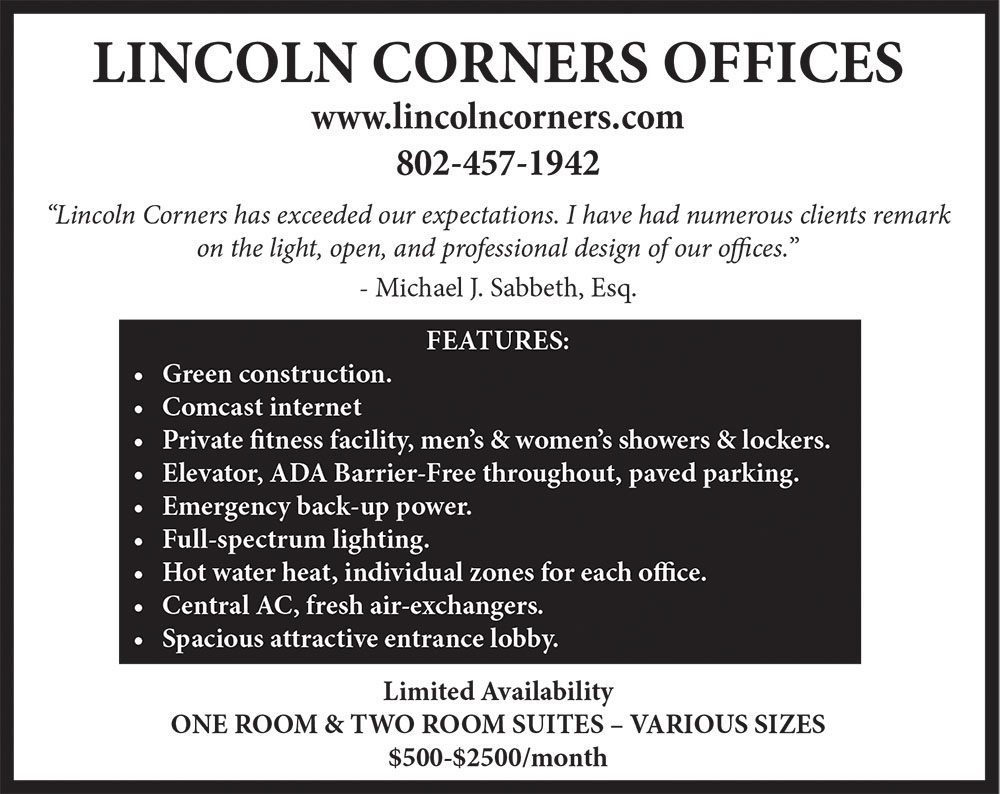 | September 10, 2019
Green and Seasoned Firewood for Sale
More On This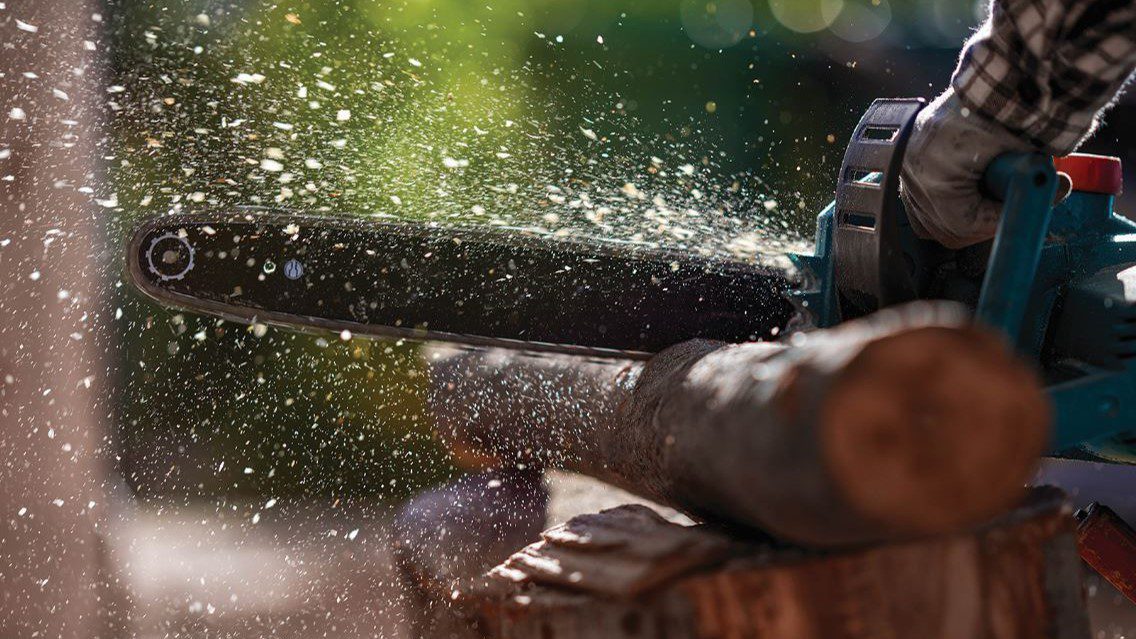 ANTIQUES

April 19, 2019
Actively Buying Fine Antiques
Eric Nesbitt Antiques in Woodstock, VT is actively buying your Fine Antiques, Folk Art, and Fine Art. (Primitives to formal furniture, one item to complete estates) Check out Eric Nesbitt Art & Antiques on Facebook. Call (802) 457-4928 or ekn1953@yahoo.com
January 16, 2019
Actively Buying Artwork and Antiques
Actively Buying—older artwork of all kinds; jewelry, and items of value—no furniture. Confidential and free evaluation. Please call Steven Thomas or Deborah Bassett (802) 457-1764 or email stinc@sover.net.
APARTMENT RENTALS
March 13, 2019
Apartments For Rent
Seasonal and long-term rentals available. Furnished and unfurnished. Contact Emma – Williamson Group Sotheby's International Realty. (802) 457-2000.
COMMERCIAL RENTALS

January 12, 2021
Rentals Suitable for Studio Apt. or Commercial Space
FOR LEASE COMMERCIAL/RESIDENTIAL:
Home Office/Studio Apartment. $1550 per month all included. Other office/residential spaces available also. Great Location, Beautiful Views. Call 802-356-4975 for more information
December 5, 2019
Lincoln Corners Offices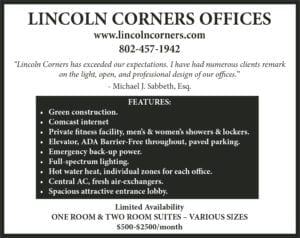 Lincoln Corners Offices - www. lincolncorners.com -802-457-1942
"Lincoln Corners has exceeded our expectations. I have had numerous clients remark on the light, open, and professional design of their offices." - Michael J. Sabbeth, Esq. 
Features: Green Construction, Comcast internet, Private fitness facility, men's & women's shower & lockers. Elevator, ADA Barrier-free throughout, paved parking. Emergency back-up power. Full Spectrum lighting. Hot water, heat, individual zones for each office. Central AC, fresh0air exchangers. Spacious attractive entrance lobby. Limited Availability: One Room & Two Room Suites- Various Sizes $500-$2500/ month
March 27, 2019
One Lincoln Corners: Office Space for Rent
Bright, airy, "green," barrier-free offices, fitness center included. (802) 457-1942 www.lincolncorners.com
FOR SALE
February 25, 2021
Cutting Edges Compatible with Fisher Plows for Sale
⅝" THICK CUTTING EDGES-
Compatible with Fisher plows. Please call Nelson at 802-436-2517
September 10, 2019
Green and Seasoned Firewood for Sale
FIREWOOD —
Green and seasoned wood available now. Cut, split and delivered. Bruce Schulz 802-457-2552. 
September 13, 2018
Native Lumber and Custom Sawing
Slabs. Maple syrup. VanAlstyne Family Farm Inc. 330 Walker Hill Road, East Barnard. (802) 763-7036.
FREE

September 13, 2018
Questions about your legal rights?
Call Vermont Commission on Women or go on-line to view the handbook, The Legal Rights of Women in Vermont:
www.women.vermont.gov
/ 1-800-881-1561
HELP WANTED
February 25, 2021
Merten's House is Hiring Dietitian
Dietician
– PT 4-6 hours per month for Mertens House 14 Bed Nursing Home.
Apply on-line:  mertenshouse.com  or call 802-457-4411 and ask for Carol Cunningham.
January 20, 2021
Teaching Director for Infant and Toddler Program
Do you have Early Childhood Education Center Director credentials?
Are you working toward them? Are you dedicated to lifelong learning?
Are you committed to a holistic approach to educating young children?
If you are, we would love to hear from you!
The brand-new Bridgewater Community Childcare in Bridgewater, VT is seeking a dynamic Program Director. As the founding director you will get to play an active role in creating a welcoming environment that supports young children and their families!
The childcare center is an anchor program of the Bridgewater Community Center, a place where people of all ages can engage in enriching activities, presenting a variety of opportunities to connect the Childcare's children and their families to the community.
Our vision is guided by the principles of A Framework for Wise Education, a holistic approach to early childhood education that supports families and staff as well as the children. This is an exciting opportunity for a passionate leader to build a team of staff dedicated to creating opportunities that inspire young children to explore, learn and develop new skills in thoughtfully organized and caring environments both indoors and out.
If you have at least one year of full-time teaching experience in an early childhood education program and two years of experience as a center director and/or supervisor, we want to talk with you!
As the Program Director of the Bridgewater Community Childcare you can realize your desire to make a positive impact in the lives of children and their families, center staff and the broader community. Your skillful leadership will nurture relationships with teachers and families. Your commitment to customer service along with your marketing skills will grow enrollment and programming.
In this role you will have ample opportunity to demonstrate your exceptional communication skills and organizational abilities, proficiency in Microsoft Word and Excel, and you will get to use supportive software for business management.
With respect for the VT child care licensing regulations, you will need a minimum of an Associates or Bachelor's degree with a concentration in ECE, Child or Human Development, Elementary Education or Special Education with a birth – 8 years focus; a VT Early Childhood and Afterschool Program Director Step 1 certificate OR a 3-credit college course in program management AND a 3-credit college course in curriculum; and a three-credit college course in Budgeting and Financial Management for early care and education (can be completed within one year of hire – course cost covered).
We are pleased to offer a competitive salary based on your experience and education level; up to 20 hours paid professional development annually; two weeks of paid vacation to start and plenty of room to grow.
Please contact us at bridgewatercommunitycenter@gmail.com
If interested, please submit a resume and cover letter to our e-mail address.
You may also submit the information via U.S. mail to
PO Box 163, Bridgewater, VT 05034
Position open until filled with strong candidate
November 24, 2020
Junction Fuels is seeking an Office Manager
Office Manager
Junction Fuels in Woodstock, VT is seeking an office manager. Duties will include managing customer accounts, processing orders, setting up new customer accounts and supporting the general manager with day-to-day operations. This position is crucial in organizing and coordinating office administration and procedures to ensure organizational effectiveness, efficiency, and safety.  We are looking for a friendly, tech savvy individual to ensure our customers› satisfaction and uphold our commitment to exceptional service.
Please send resumes and cover letters to hfernandes@stoneroadenergy.com.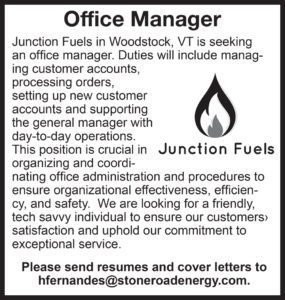 October 28, 2020
OPH looking to hire a plumber
Ottauquechee Plumbing & Heating Inc.
Plumber Wanted
License VT or NH
Paid Holidays and Vacation, Insurance Available,  Overtime Available
Call 457-1795
or email ophcara@aol.com
All Inquiries Confidential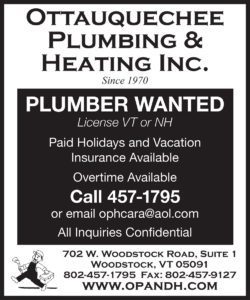 PETS AND LIVE­STOCK
RENTAL WANTED
February 25, 2021
Senior Lady Seeking Rental Near Woodstock
SINGLE QUIET SENIOR LADY
(no pets) who loves the charm of  Woodstock and Vermont seeks a one, two, or three bedroom apartment, cottage, or house in Woodstock,  or walking distance to the green. July -October 2021. Very respectful and have family in Quechee and Woodstock. I am very flexible in the size of the accommodation. Please contact Barbara at
jbthomson36@gmail.com
(preferred) or call Norma at 802-356-8121.
SERVICES

August 14, 2019
Furniture Repair
ANTIQUE AND CONTEMPORARY furniture repair and refinishing: From minor repairs to major reconstructions since 1972. Gerald S. Gambone, Reading, VT (802) 484-7179, geraldgambone@gmail.com. By  appointment.
May 3, 2019
Brick Repair and Relining by Upcountry Chimney Sweep
Upcountry Chimney Sweep Bethel, VT 05032 Brick Repair and Relining Craig Wortman 802-234-9750
Submit Your Ad
For quick service please submit your classified ad copy, name and phone number here - mbusby@thevermontstandard.com