September 8, 2023
Studio Apt for Rent
More On This
September 8, 2023
Shillen Mackall & Seldon Hiring Receptionist
More On This
August 17, 2023
Woodstock Terrace Hiring RN/LPN and Res. Assistant
More On This
April 6, 2023
Clean Out and Clean Ups
More On This
August 24, 2022
James Brower Contracting Hiring Carpenter/Laborer
More On This
April 29, 2022
American Legion - Windsor Hiring Full Time Head Steward/Manager
More On This
March 10, 2021
Would you like to write a column for the paper?
More On This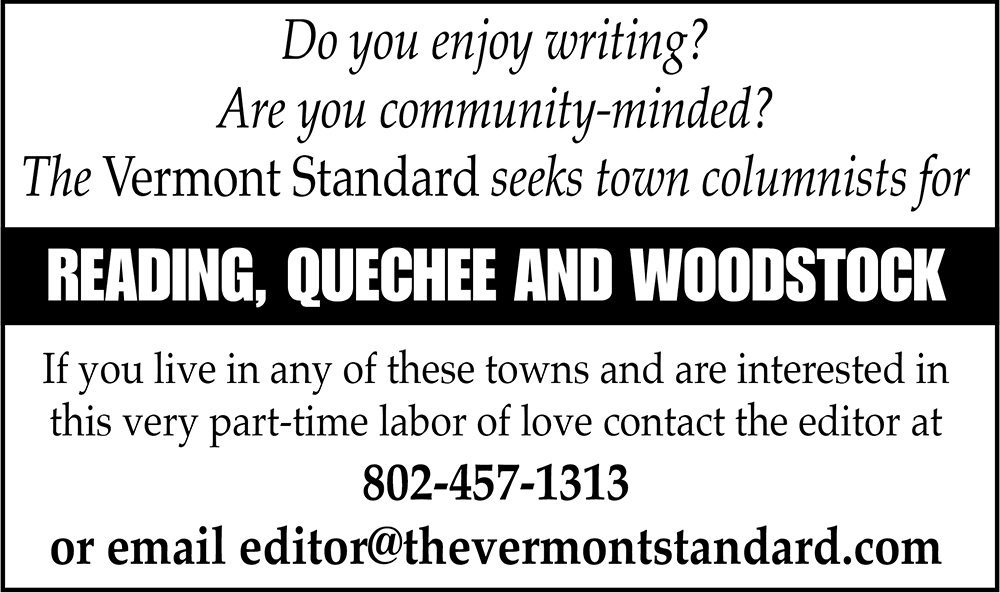 September 10, 2019
Green and Seasoned Firewood for Sale
More On This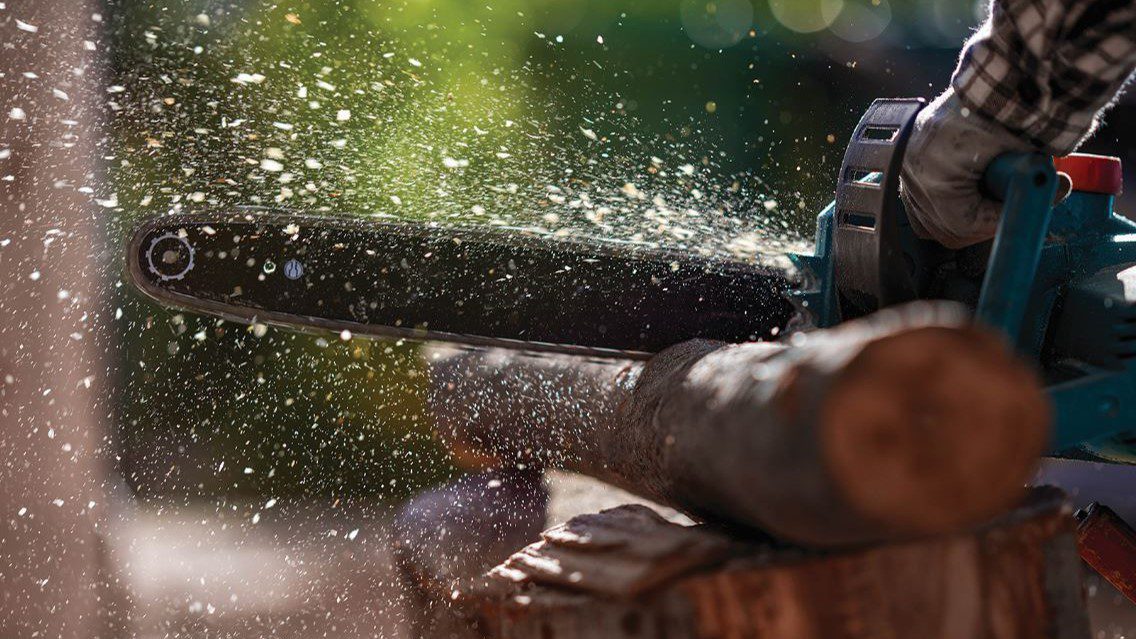 May 3, 2019
Brick Repair and Relining by Upcountry Chimney Sweep
More On This

March 13, 2019
Serious Collector of Vintage VT License Plates
More On This
ANTIQUES
April 19, 2019
Actively Buying Fine Antiques
Eric Nesbitt Antiques in Woodstock, VT is actively buying your Fine Antiques, Folk Art, and Fine Art. (Primitives to formal furniture, one item to complete estates) Check out Eric Nesbitt Art & Antiques on Facebook. Call (802) 457-4928 or ekn1953@yahoo.com
January 16, 2019
Actively Buying Artwork and Antiques
Actively Buying—older artwork of all kinds; jewelry, and items of value—no furniture. Confidential and free evaluation. Please call Steven Thomas or Deborah Bassett (802) 457-1764 or email stinc@sover.net.
APARTMENT RENTALS
September 8, 2023
Studio Apt for Rent
APT FOR RENT - Studio, $800.00/Month. Please call 802-356-1377
March 13, 2019
Apartments For Rent
Seasonal and long-term rentals available. Furnished and unfurnished. Contact Emma – Williamson Group Sotheby's International Realty. (802) 457-2000.
COMMERCIAL RENTALS
July 12, 2023
Office/Retail Space available for rent
OFFICE OR RETAIL SPACE
– 18 Elm Street 2
nd
floor office, above The Village Butcher Shop. 1271 Sq/Ft. Office space, conference Room, bathroom, and storage room.  Stairway from the street, heat included. The rent is $1800.00 per month. Call 802-457-2100, ask for Jireh, or email jirehsr@gmail.com
December 5, 2019
Lincoln Corners Office Space Available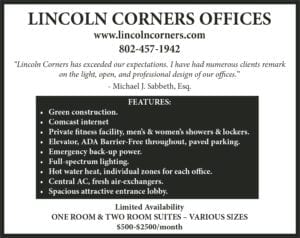 Lincoln Corners Offices - www. lincolncorners.com -802-457-1942
"Lincoln Corners has exceeded our expectations. I have had numerous clients remark on the light, open, and professional design of their offices." - Michael J. Sabbeth, Esq. 
Features: Green Construction, Comcast internet, Private fitness facility, men's & women's shower & lockers. Elevator, ADA Barrier-free throughout, paved parking. Emergency back-up power. Full Spectrum lighting. Hot water, heat, individual zones for each office. Central AC, fresh0air exchangers. Spacious attractive entrance lobby. Limited Availability: One Room & Two Room Suites- Various Sizes $500-$2500/ month
March 27, 2019
One Lincoln Corners: Office Space for Rent
Bright, airy, "green," barrier-free offices, fitness center included. (802) 457-1942 www.lincolncorners.com
September 13, 2018
The Schoolhouse Co-Working Space for Rent
Woodstock co-working. $35/week-$89/month. www.woodstockschoolhouse.com (802) 457-1942.    
FOR SALE
September 10, 2019
Green and Seasoned Firewood for Sale
FIREWOOD —
Green and seasoned wood available now. Cut, split and delivered. Bruce Schulz 802-457-2552. 
September 13, 2018
Native Lumber and Custom Sawing
Slabs. Maple syrup. VanAlstyne Family Farm Inc. 330 Walker Hill Road, East Barnard. (802) 763-7036.
FREE
September 13, 2018
Questions about your legal rights?
Call Vermont Commission on Women or go on-line to view the handbook, The Legal Rights of Women in Vermont:
www.women.vermont.gov
/ 1-800-881-1561
HELP WANTED
September 8, 2023
Shillen Mackall & Seldon Hiring Receptionist
RECEPTIONIST- Busy personal injury law firm in Woodstock, Vermont is seeking a full-time receptionist. Experience preferred, but not necessary. Salary based on experience. Please send resume to Shillen Mackall & Seldon, Sunset Farm Offices, Suite 2A, Woodstock, Vermont 05091, fax: 802-457-4769, email: Kim@promotingjustice.com.
August 17, 2023
Woodstock Terrace Hiring RN/LPN and Res. Assistant
WOODSTOCK TERRACE:
Hiring full-time RN/LPN, and Resident Assistant positions. Salary commensurate with experience. Contact Brittany Cavacas at 802-457-2228.
August 24, 2022
James Brower Contracting Hiring Carpenter/Laborer
WOODSTOCK CONTACTOR
looking for a carpenter and laborer.  Valid drivers license and transportation required. Call James 802-299-5086 or email
jamesbrowercontracting@gmail.com
April 29, 2022
American Legion – Windsor Hiring Full Time Head Steward/Manager
TAKING APPLICATIONS
for Full-Time Head Steward/Manager. Must have experience with ordering, scheduling, tending bar. Please send letter of interest along with contact information and work history/resume to:  American Legion Windsor Post 25, 4 Court St. Windsor, VT 05089, Attn: Larry Greene, Commander.
March 10, 2021
Would you like to write a column for the paper?
Do you enjoy writing? 
Are you community-minded? 
The Vermont Standard seeks town columnists to report the local news and happenings in the towns of Reading Taftsville and Killington.
If you live in one of these towns and are interested in this very part-time labor of love contact the editor at
802-457-1313 or email editor@thevermontstandard.com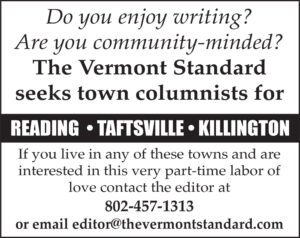 PETS AND LIVE­STOCK
September 13, 2018
VSNIP
(Vermont Spay Neuter Incentive Program) Reduced spay and neuter rates send S.A.S.E (Self Addressed Stamped Envelope) for application to vsnip P.O. box 104 Bridgewater VT 05034.
PUBLIC NOTICES
September 20, 2023
West Windsor Development Review Board Notice of Public Hearing
WEST WINDSOR DEVELOPMENT REVIEW BOARD
NOTICE OF PUBLIC HEARING
A public hearing will be held before the West Windsor Development Review Board (DRB) on Tuesday, October 10, 2023, at 6:30 PM at the Town Hall to consider the following:
Application #2862 by Lauren Stevens & Peter Varkonyi for a 2-lot subdivision at 571 Strawberry Hill Road (parcel #06-007). The application is subject to sketch plan review under Sections 3.2, 6.2(C); 6.3 and Article 7 of the West Windsor Land Use and Development Regulations.
The public hearing will be directly preceded by site visits to the subject parcel on October 10th.
The above applications are available for inspection at the Town Office. Persons wishing to be heard may do so in person or be represented by an agent or attorney. Communications about the applications may be filed in writing prior to or at the hearing. Participation in the proceedings is a prerequisite to the right to take any subsequent appeal.
Deb Shearer, ZA
September 14, 2023
For More Information Contact:
Deb Shearer, Zoning Administrator
Town of West Windsor
P.O. Box 6, Brownsville, VT 05037
802-484-3520 (town office)
zoning@westwindsorvt.org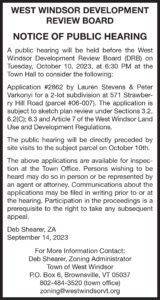 September 20, 2023
Public Notice – Floodplain Management FEMA
PUBLIC NOTICE
Pursuant to Executive Order 11988 (Floodplain Management) and Federal Emergency Management Agency's (FEMA) implementing regulations at Title 44 of the Code of Federal Regulations Part 9, FEMA hereby provides final notice of its decision to provide Hazard Mitigation Grant Program (HMGP) funding for an action located in a floodplain. Funding would be provided through Vermont Emergency Management to the Town of West Windsor to acquire and demolish the West Windsor Fire Station. The action is located on VT Route 44 in Brownsville, VT.
The project is within a mapped special flood hazard area (SFHA), otherwise known as the 1% annual chance Floodplain. Construction associated with a demolition in the floodplain would be negligible and temporary. In the long-term, the values of the floodplain would be restored, and natural flood storage capacity at the site would improve. Restoring the natural floodplain would increase flood storage, improve water quality, and create wildlife habitat. A map of the area of available upon request.
The project must in be in a floodplain because the work associated with the demolition is functionally dependent upon its location in the SFHA; the structure is located in a flood-vulnerable location. There are no practicable alternatives to the proposed action occurring in or near a floodplain. The floodplain is the only practicable location for demolition of this flood-prone structure to occur. Grant conditions will also require compliance with all federal, state and local laws, including coordination with the local floodplain administrator.
Map requests and comments about this project and potential floodplain impacts should be submitted within 15 days of the date of this publication to:
Kari Elkins, Environmental Protection Specialist
Federal Emergency Management Agency, Boston, MA kari.elkins@fema.dhs.gov; (256) 343-3570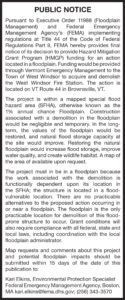 September 20, 2023
Notice of Hearing, Order for Publication re:Faulkner, Marianne G.
VERMONT SUPERIOR COURT
Windsor Unit PROBATE DIVISION
12 The Green Case No. 3004-4-59 Wrpr
Woodstock, VT 05091
802-457-2121
www.vermontjudiciary.org
NOTICE OF HEARING AND ORDER FOR PUBLICATION
IN RE: Faulkner, Marianne G
TO ALL INTERESTED PERSONS:
A Motion to Allow Account (Petition on Accounting) & Summary of Account, have been filed in the Probate Division of the Superior Court on August 29, 2023.
A hearing on the Motion will be held remotely only, via WEBEX, on November 6, 2023, at 1:00 PM. The Motion to Allow Account and the Summary of Account can be viewed prior to the hearing on the Public Portal located in the Courthouse at the above address. Interested persons may contact the Court at the above phone number to receive Webex hearing participation instructions.
If no one appears at the remote hearing to object, the relief requested may be granted. If you wish to receive notice of future events in this proceeding, you must notify the Court by filing a Notice of Appearance form that can be found on the Vermont Judiciary website.
lt is hereby ORDERED that the notice of hearing as set forth in this Order be published in the Vermont Standard, a newspaper of general circulation in Woodstock, Vermont.
Publication date: September 21, 2023
Electronically signed on 9/7/2023 10:14 AM pursuant to V.R.E.F. 9(d)
Frederick M. Glover
Probate Judge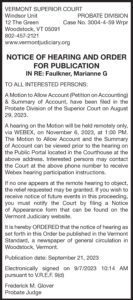 September 13, 2023
State of Vermont Notice of Appeal In RE Peacefield, LLC
STATE OF VERMONT
SUPERIOR COURT ENVIRONMENTAL DIVISION
Docket 23-ENV-00093
In. Re. Peacefield, LLC Jurisdictional Opinion )
NOTICE OF APPEAL
NOW COMES Applicant's Peacefield, LLC ("Applicant"), by and through their counsel, MSK Attorneys, and hereby appeals, pursuant to 10 V.S.A. §6089 and  10 V.S.A. §8504 to the Vermont Superior Court, Environmental Division, the attached August 8, 2023 Jurisdictional Opinion. A copy of that Jurisdictional Opinion is attached hereto. Appellant is the applicant and requested the Jurisdictional Opinion therefore has a right to appeal this decision.
TO ALL INTERESTED PERSONS: In order to participate in this appeal, you must enter an appearance in the Vermont Environmental Court within twenty-one (21) days of receiving this Notice of Appeal.  Notices of Appearance should be mailed to Jennifer Teske, Court Office Manager, Vermont Superior Court—Environmental Division, 32 Cherry Street, Suite 303, Burlington, VT 05401.
DATED at Burlington, Vermont this 24th day of August, 2023.
Respectfully submitted,
MSK ATTORNEYS
By:  /s/ Alexander LaRosa
Alexander LaRosa, ERN 5814
275 College Street, P.O. Box 4485
Burlington, VT 05406-4485
Phone: 802-861-7000 (x119)
Fax: 802-861-7007
Email: ajlarosa@mskvt.com
Attorneys for Appellant/Applicant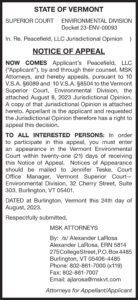 September 6, 2023
Notice of Tax Sale, Barnard, VT – Parcel 07-0509
ADVERTISEMENT AND NOTICE OF TAX SALE
BARNARD, VERMONT
The resident and nonresident owners, lien holders and mortgagees of lands in the Town of Barnard, in the County of Windsor are hereby notified that the taxes and/or water and/or sewer assessed by such town for the years 2019/2020, 2020/2021, 2021/2022, and 2022/2023 remain, either in whole or in part, unpaid on the following described lands in such town, to wit:
Parcel ID Number: 07-0509 Being all the same land and premises conveyed to John H. Sigafoos by Warranty Deed of Wilshire Credit Corporation, dated December 19, 1996, and recorded January 2, 1997, at Book 63, Pages 349-350 of the Town of Barnard Land Records, wherein said land and premises are further described.
And so much of the lands shall be sold at public auction at the Barnard Town Offices, a public place in such town, on the Fifth (5th) day of October 2023 at 10:00 o'clock on the forenoon, to discharge such delinquent taxes with costs and fees, unless previously paid.
Dated at Royalton, Vermont this 21st day of August 2023.
/s/ Jeffrey D. Lewis,
Attorney for Barnard
Collector of Delinquent Taxes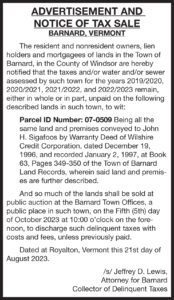 SERVICES
April 6, 2023
Clean Out and Clean Ups
Complete houses, cellars, attics, garages, barns, and dump runs. 25 years experience. Please call 802-558-8202
August 14, 2019
Furniture Repair
ANTIQUE AND CONTEMPORARY furniture repair and refinishing: From minor repairs to major reconstructions since 1972. Gerald S. Gambone, Reading, VT (802) 484-7179, geraldgambone@gmail.com. By  appointment.
May 3, 2019
Brick Repair and Relining by Upcountry Chimney Sweep
Upcountry Chimney Sweep Bethel, VT 05032 Brick Repair and Relining Craig Wortman 802-234-9750
WANTED
March 13, 2019
Serious Collector of Vintage VT License Plates
Serious lifelong collector of old Vermont license plates buying quality early car plates. Conrad Hughson, PO Box 1, Putney, VT 05346. conrad_hughson@comcast.net, 802-387-4498. Please leave message.
Submit Your Ad
For quick service please submit your classified ad copy, name and phone number here - mbusby@thevermontstandard.com