November 17, 2023
Skunk Hollow Tavern Hiring
More On This
November 17, 2023
Book and Framed Print for Sale
More On This
November 1, 2023
Join the WISE Team!
More On This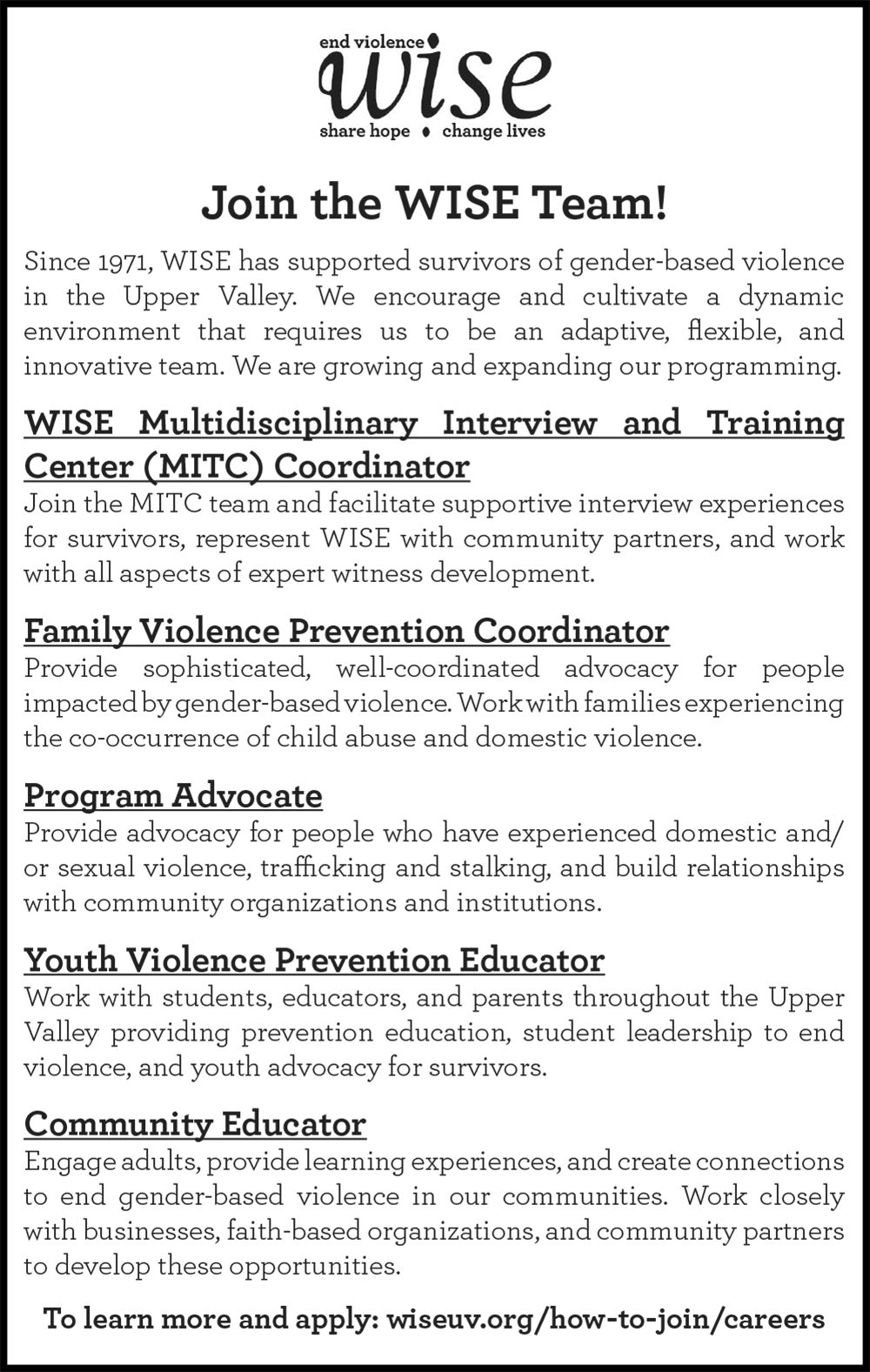 October 20, 2023
SUV 4 Studded Winter Tires
More On This
September 8, 2023
Shillen Mackall & Seldon Hiring Receptionist
More On This
August 17, 2023
Woodstock Terrace Hiring RN/LPN and Res. Assistant
More On This
April 6, 2023
Clean Out and Clean Ups
More On This
August 24, 2022
James Brower Contracting Hiring Carpenter/Laborer
More On This
April 29, 2022
American Legion - Windsor Hiring Full Time Head Steward/Manager
More On This
March 10, 2021
Would you like to write a column for the paper?
More On This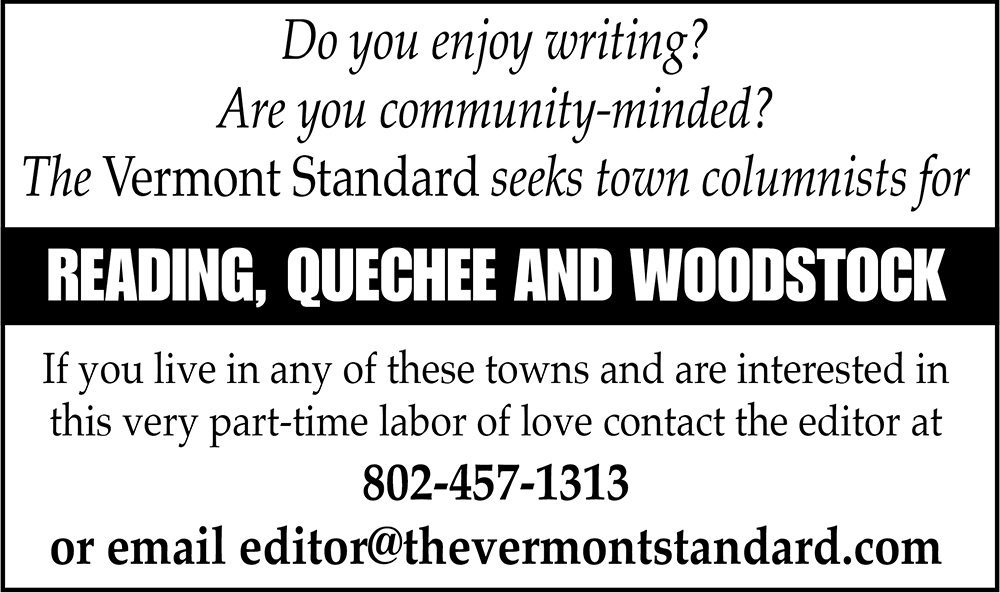 ANTIQUES
April 19, 2019
Actively Buying Fine Antiques
Eric Nesbitt Antiques in Woodstock, VT is actively buying your Fine Antiques, Folk Art, and Fine Art. (Primitives to formal furniture, one item to complete estates) Check out Eric Nesbitt Art & Antiques on Facebook. Call (802) 457-4928 or
[email protected]
January 16, 2019
Actively Buying Artwork and Antiques
Actively Buying—older artwork of all kinds; jewelry, and items of value—no furniture. Confidential and free evaluation. Please call Steven Thomas or Deborah Bassett (802) 457-1764 or email
[email protected]
.
APARTMENT RENTALS
March 13, 2019
Apartments For Rent
Seasonal and long-term rentals available. Furnished and unfurnished. Contact Emma – Williamson Group Sotheby's International Realty. (802) 457-2000.
COMMERCIAL RENTALS
July 12, 2023
Office/Retail Space available for rent
OFFICE OR RETAIL SPACE
– 18 Elm Street 2
nd
floor office, above The Village Butcher Shop. 1271 Sq/Ft. Office space, conference Room, bathroom, and storage room.  Stairway from the street, heat included. The rent is $1800.00 per month. Call 802-457-2100, ask for Jireh, or email [email protected]
December 5, 2019
Lincoln Corners Office Space Available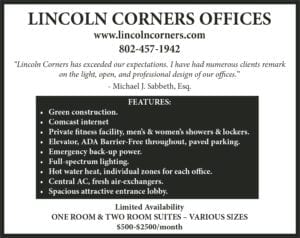 Lincoln Corners Offices - www. lincolncorners.com -802-457-1942
"Lincoln Corners has exceeded our expectations. I have had numerous clients remark on the light, open, and professional design of their offices." - Michael J. Sabbeth, Esq. 
Features: Green Construction, Comcast internet, Private fitness facility, men's & women's shower & lockers. Elevator, ADA Barrier-free throughout, paved parking. Emergency back-up power. Full Spectrum lighting. Hot water, heat, individual zones for each office. Central AC, fresh0air exchangers. Spacious attractive entrance lobby. Limited Availability: One Room & Two Room Suites- Various Sizes $500-$2500/ month
March 27, 2019
One Lincoln Corners: Office Space for Rent
Bright, airy, "green," barrier-free offices, fitness center included. (802) 457-1942 www.lincolncorners.com
September 13, 2018
The Schoolhouse Co-Working Space for Rent
Woodstock co-working. $35/week-$89/month. www.woodstockschoolhouse.com (802) 457-1942.    
FOR SALE
November 17, 2023
Book and Framed Print for Sale
FOR SALE:
A Book, "THE VALLEY OF THE KEDRON" The south parish author is Mary Grace Canfield.The book is in good condition the jacket is rough.Shipped $25.00. A signed print framed and matted of A WOODSTOCK ARCH by Wallace Nutting ,very good condition $75.00 plus s/h, please call Kedron Brook 928-460-3883.
October 20, 2023
SUV 4 Studded Winter Tires
245/65 R17 Cooper Discoverer M/S . Used only one season, (4 months). $380.00. Call 802-457-2675, leave message.
September 10, 2019
Green and Seasoned Firewood for Sale
FIREWOOD —
Green and seasoned wood available now. Cut, split and delivered. Bruce Schulz 802-457-2552. 
September 13, 2018
Native Lumber and Custom Sawing
Slabs. Maple syrup. VanAlstyne Family Farm Inc. 330 Walker Hill Road, East Barnard. (802) 763-7036.
FREE
September 13, 2018
Questions about your legal rights?
Call Vermont Commission on Women or go on-line to view the handbook, The Legal Rights of Women in Vermont:
www.women.vermont.gov
/ 1-800-881-1561
HELP WANTED
November 17, 2023
Skunk Hollow Tavern Hiring
SKUNK HOLLOW TAVERN
Looking for waitstaff. Call
802-436-2139 and ask for Gretchen.
November 1, 2023
Join the WISE Team!
Join the WISE Team!
Since 1971, WISE has supported survivors of gender-based violence in the Upper Valley. We encourage and cultivate a dynamic environment that requires us to be an adaptive, flexible, and innovative team. We are growing and expanding our programming.
WISE Multidisciplinary Interview and Training Center (MITC) Coordinator
Join the MITC team and facilitate supportive interview experiences for survivors, represent WISE with community partners, and work with all aspects of expert witness development.
Family Violence Prevention Coordinator
Provide sophisticated, well-coordinated advocacy for people impacted by gender-based violence. Work with families experiencing the co-occurrence of child abuse and domestic violence.
Program Advocate
Provide advocacy for people who have experienced domestic and/or sexual violence, trafficking and stalking, and build relationships with community organizations and institutions.
Youth Violence Prevention Educator
Work with students, educators, and parents throughout the Upper Valley providing prevention education, student leadership to end violence, and youth advocacy for survivors.
Community Educator
Engage adults, provide learning experiences, and create connections to end gender-based violence in our communities. Work closely with businesses, faith-based organizations, and community partners to develop these opportunities.
To learn more and apply: wiseuv.org/how-to-join/careers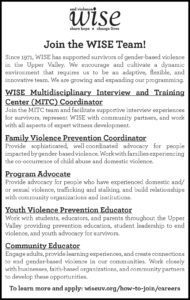 September 8, 2023
Shillen Mackall & Seldon Hiring Receptionist
RECEPTIONIST- Busy personal injury law firm in Woodstock, Vermont is seeking a full-time receptionist. Experience preferred, but not necessary. Salary based on experience. Please send resume to Shillen Mackall & Seldon, Sunset Farm Offices, Suite 2A, Woodstock, Vermont 05091, fax: 802-457-4769, email:
[email protected]
.
August 17, 2023
Woodstock Terrace Hiring RN/LPN and Res. Assistant
WOODSTOCK TERRACE:
Hiring full-time RN/LPN, and Resident Assistant positions. Salary commensurate with experience. Contact Brittany Cavacas at 802-457-2228.
August 24, 2022
James Brower Contracting Hiring Carpenter/Laborer
WOODSTOCK CONTACTOR
looking for a carpenter and laborer.  Valid drivers license and transportation required. Call James 802-299-5086 or email
[email protected]
PETS AND LIVE­STOCK
September 13, 2018
VSNIP
(Vermont Spay Neuter Incentive Program) Reduced spay and neuter rates send S.A.S.E (Self Addressed Stamped Envelope) for application to vsnip P.O. box 104 Bridgewater VT 05034.
PUBLIC NOTICES
November 21, 2023
Notice of Public Hearing – W. Windsor Development Review Board
NOTICE OF PUBLIC HEARING
Public hearings will be held before the West Windsor Development Review Board on Tuesday, December 12, 2023, at 6:30 PM at the Town Hall to consider the following:
Application #2862 by Lauren Stevens & Peter Varkonyi for Final Review of a 2-lot subdivision at 571 Strawberry Hill Road (parcel #06-007). The project is subject to review under Section 6.5 of West Windsor Zoning & Subdivision Bylaws.
Application #2875 by Peter Varkonyi (applicant) and Strawhill Properties, LLC (owner) to install a generator and bury a 1000-gallon propane tank at 871 Route 44. The applicant is requesting to amend conditional use permit #2673. The subject property is partially located in the Special Flood Hazard Area and the project will be reviewed for overall permit compliance under Articles 3 and 5 of the West Windsor Land Use and Development Regulations and West Windsor Flood Hazard Area Bylaws.
The above applications are available for inspection at the Town Office. Persons wishing to be heard may do so in person or be represented by an agent or attorney. Communications about the applications may be filed in writing prior to or at the hearing. Participation in the proceedings is a prerequisite to the right to take any subsequent appeal.
Deb Shearer, ZA
November 17, 2023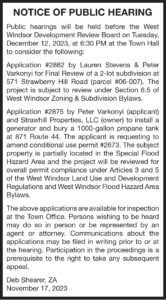 November 15, 2023
Notice to Creditors for Nathaniel Laffin
STATE OF VERMONT
SUPERIOR COURT Windsor Unit
PROBATE DIVISION
Docket No. 23-PR-06423
In re ESTATE of: Nathaniel Laffin
NOTICE TO CREDITORS
To the Creditors of Nathaniel Laffin, late of South Woodstock, Vermont.
I have been appointed to administer this estate. All creditors having claims against the decedent of the estate must present their claims in writing within four (4) months of the first publication of this notice. The claim must be presented to me at the address listed below with a copy sent to the Court. The claim may be barred forever if it is not presented within the four (4) month period.
Dated Nov. 13, 2023
Signature of Fiduciary Frank Rivera, Executor
PO Box 384, South Woodstock, VT 05071
917-620-9687, [email protected]
Name of Publication:
The Vermont Standard
Publication Date: Nov. 16, 2023 & Nov. 22, 2023
Name of Probate Court:
Vermont Superior Court. Windsor Unit. 12 The Green, Woodstock, VT 05091
October 11, 2023
NOTICE TO THE PUBLIC
The Green Mountain Horse Association is hosting an Endurance & Pleasure Ride on Saturday, October 14 Horses will leave GMHA at approximately 7 am & return at approximately 5:30 pm. The ride will be utilizing the following roads:
Woodstock
: Benedict Rd. Calendar Hill Rd. Fletcher School. Rd. Folding Hills Rd. Keeling Rd. Long Hill Rd. Morgan Hill Rd. Noah Wood Rd. Route 106 The Loop Rd.
Hartland
: Reeves Road Jenne Road Best Rd.
Reading
: Caper Hill Rd. Jenne Rd. Riggs Rd. Spear Cemetery Rd. Whitmore Circle
West Windsor
: Rush Meadow Road Duling Road Silver Hill Road Barton Road Sheddsville Road Cemetery Road Cowshed Trail Wardner Road Queen Victoria Road Bryant Road Kings Highway Please use caution while driving on these roads. Spectators are welcome to view the horses on the roads or at the GMHA grounds in South Woodstock.
Contact Ally LaFlair Trail Secretary at 457-1509 or email [email protected] with any questions or concerns.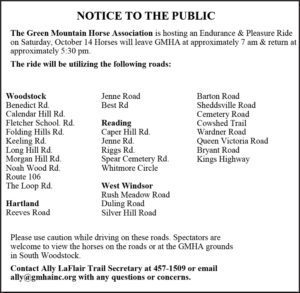 August 2, 2023
Town/Village of Woodstock Zoning Permits
WOODSTOCK ZONING PERMITS
VILLAGE OF WOODSTOCK NOTICE OF HEARING:
The Village Development Review Board will hold a public hybrid meeting at 7:30 PM on Wednesday, December 13, 2023, to consider the following zoning permit application:
V-0021-24: Rachel Weber; Lister No.: 20.52.03; Location: 1 Moore Place; Review Type: Conditional Use Approval; Proposal: To repair and stabilize the damaged riparian buffer zone.
TOWN OF WOODSTOCK ZONING PERMITS
PERMITEE: Laurie P. Chester Qualified Personal Residence Trust; APPLICATION NUMBER: T-0036-24; LISTER'S NUMBER: 12.02.29; LOCATION: 3818 South Road; THIS PERMIT SPECIFICALLY AUTHORIZES THE PERMITEE(S) TO: Construct a 12' x 24' shed.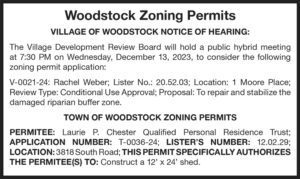 January 26, 2022
Advanced Wood Heat (AWH) Webinar
Advanced Wood Heat (AWH) Webinar – Thursday, February 3, 5:30pm
The Mount Ascutney and Two Rivers-Ottauquechee Regional Commissions present two experts (Emma Hanson, Vermont Department of Forests, Parks & Recreation and Bill Karis, Efficiency Vermont) to discuss AWH and how it compares to other non-fossil fuel heating options.
Information at: https://marcvt.org/energy/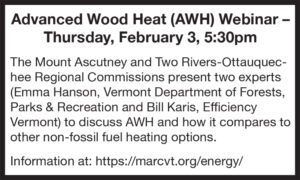 SERVICES
April 6, 2023
Clean Out and Clean Ups
Complete houses, cellars, attics, garages, barns, and dump runs. 25 years experience. Please call 802-558-8202
August 14, 2019
Furniture Repair
ANTIQUE AND CONTEMPORARY furniture repair and refinishing: From minor repairs to major reconstructions since 1972. Gerald S. Gambone, Reading, VT (802) 484-7179, [email protected]. By  appointment.
May 3, 2019
Brick Repair and Relining by Upcountry Chimney Sweep
Upcountry Chimney Sweep Bethel, VT 05032 Brick Repair and Relining Craig Wortman 802-234-9750
WANTED
March 13, 2019
Serious Collector of Vintage VT License Plates
Serious lifelong collector of old Vermont license plates buying quality early car plates. Conrad Hughson, PO Box 1, Putney, VT 05346. [email protected], 802-387-4498. Please leave message.
Submit Your Ad
For quick service please submit your classified ad copy, name and phone number here -
[email protected]