January 5, 2023
Jasmin Auto Body Hiring Technician
More On This
December 21, 2022
Mertens House Hiring LNAs and Housekeeper
More On This
November 30, 2022
Town of Plymouth seeks Town Clerk
More On This
August 24, 2022
James Brower Contracting Hiring Carpenter/Laborer
More On This
August 17, 2022
Mac's Market is hiring a meat/cutter/wrapper in Woodstock
More On This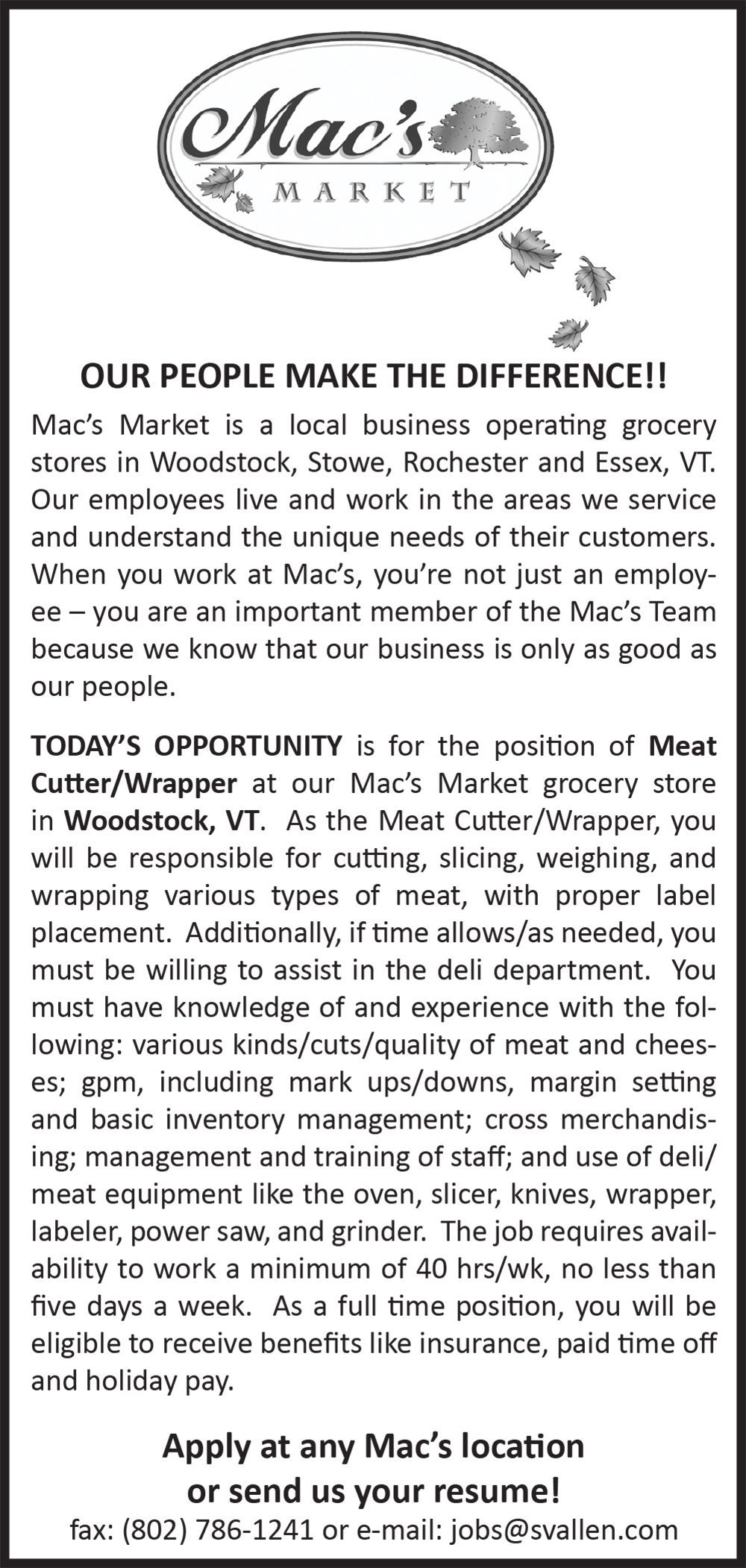 July 6, 2022
Buying 18th and 19th Century Furniture
More On This
June 29, 2022
More On This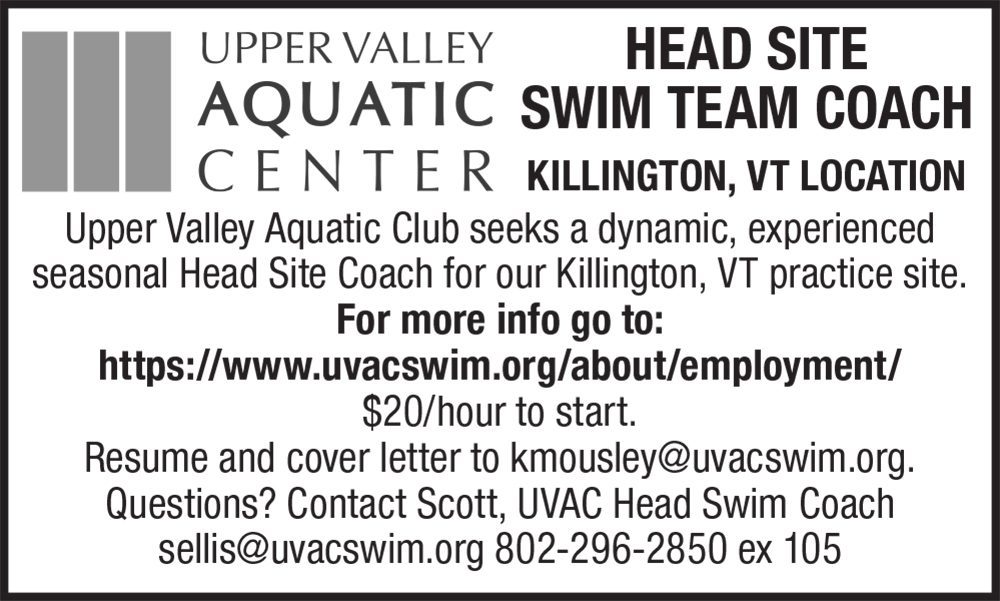 April 29, 2022
Woodstock Terrace Hiring FT Server/Dishwasher & Housekeeper
More On This
April 29, 2022
American Legion - Windsor Hiring Full Time Head Steward/Manager
More On This
March 10, 2021
Would you like to write a column for the paper?
More On This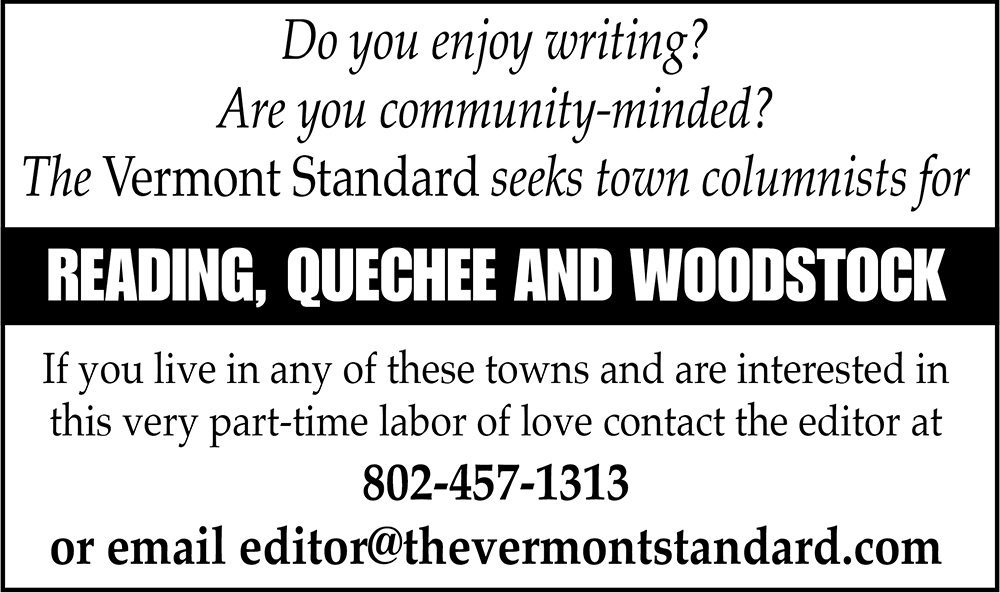 ANTIQUES
July 6, 2022
Buying 18th and 19th Century Furniture
BUYING 18TH AND 19TH CENTURY FURNITURE: O
riginal paint or finished
.
Also, accessories, woodworking tools, metal or wooden planes, edge tools, tool chests, and workbenches. One piece or house lot. Please call Jim or Sue at Liberty Hill Antiques.  802-484-7710 or email
suzanirene@icloud.com
April 19, 2019
Actively Buying Fine Antiques
Eric Nesbitt Antiques in Woodstock, VT is actively buying your Fine Antiques, Folk Art, and Fine Art. (Primitives to formal furniture, one item to complete estates) Check out Eric Nesbitt Art & Antiques on Facebook. Call (802) 457-4928 or ekn1953@yahoo.com
January 16, 2019
Actively Buying Artwork and Antiques
Actively Buying—older artwork of all kinds; jewelry, and items of value—no furniture. Confidential and free evaluation. Please call Steven Thomas or Deborah Bassett (802) 457-1764 or email stinc@sover.net.
APARTMENT RENTALS
March 13, 2019
Apartments For Rent
Seasonal and long-term rentals available. Furnished and unfurnished. Contact Emma – Williamson Group Sotheby's International Realty. (802) 457-2000.
COMMERCIAL RENTALS
December 5, 2019
Lincoln Corners Office Space Available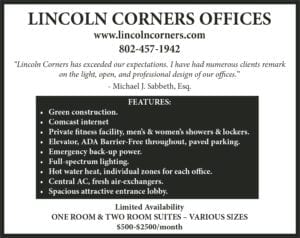 Lincoln Corners Offices - www. lincolncorners.com -802-457-1942
"Lincoln Corners has exceeded our expectations. I have had numerous clients remark on the light, open, and professional design of their offices." - Michael J. Sabbeth, Esq. 
Features: Green Construction, Comcast internet, Private fitness facility, men's & women's shower & lockers. Elevator, ADA Barrier-free throughout, paved parking. Emergency back-up power. Full Spectrum lighting. Hot water, heat, individual zones for each office. Central AC, fresh0air exchangers. Spacious attractive entrance lobby. Limited Availability: One Room & Two Room Suites- Various Sizes $500-$2500/ month
March 27, 2019
One Lincoln Corners: Office Space for Rent
Bright, airy, "green," barrier-free offices, fitness center included. (802) 457-1942 www.lincolncorners.com
FOR SALE
September 10, 2019
Green and Seasoned Firewood for Sale
FIREWOOD —
Green and seasoned wood available now. Cut, split and delivered. Bruce Schulz 802-457-2552. 
September 13, 2018
Native Lumber and Custom Sawing
Slabs. Maple syrup. VanAlstyne Family Farm Inc. 330 Walker Hill Road, East Barnard. (802) 763-7036.
FREE
September 13, 2018
Questions about your legal rights?
Call Vermont Commission on Women or go on-line to view the handbook, The Legal Rights of Women in Vermont:
www.women.vermont.gov
/ 1-800-881-1561
HELP WANTED
January 5, 2023
Jasmin Auto Body Hiring Technician
Jasmin Auto Body 
is looking to hire an experienced auto body technician. Top of industry wage, strong monthly bonus, 401k plan with employer match, BCBS health insurance, 2 weeks paid vacation to start, and paid sick leave. Large well-kept shop with all the current tools and equipment. We have technicians that are currently hitting $3000.00 monthly bonus on top of their strong weekly paycheck. Contact us for a discrete interview and let us show you how much more you could be making a year. Please call 802-295-7572.
December 21, 2022
Mertens House Hiring LNAs and Housekeeper
MERTENS HOUSE:
Are you interested in helping people?  Mertens House is a small, homelike, long term care facility where every staff member gets to know and assist our residents every day.  We have the following career opportunities: PT housekeeper - this can be a very flexible position. FT and PT LNA's - if you are tired of rushing to provide care, join a team where you and your coworker can take plenty of time and provide truly quality care for our 14 residents.
You won't find a facility like Mertens House anywhere else.  Come in today to see the difference for yourself.  Call 802-457-4411 or visit us at
www.mertenshouse.com
November 30, 2022
Town of Plymouth seeks Town Clerk
PLYMOUTH TOWN CLERK POSITION
The Plymouth Select Board is accepting resumes for the position of Town Clerk.
The responsibilities include providing citizens with accurate and vital information, assisting the treasurer and tax collector, registration renewals of motor vehicles, vital records administration, including processing marriage licenses, birth and death certificates, dog licensing, maintaining town records and documents, managing voter registration and other election related business, such as presiding over election day in coordination with the BCA.
The Clerk is also responsible for recording and posting the minutes of Select Board meetings, and other publicly warned meetings and hearings, including the Board of Civil Authority. An understanding of applicable state laws, rules and regulations pertaining to the governing of town business is required.
It is the intention of the Select Board to ask the voters to allow them to appoint the Town Clerk position and Treasurer position at the March 2023 town meeting.
The town office is open Monday thru Thursday, 8:00 AM to 4:00 PM.
This position requires the applicant to be able to work confidently and independently.
A high school diploma or equivalent and being a Plymouth town resident are the minimum qualifications. Training and start up orientation will be available. This is a full - time position with a full benefit package. Hourly wage is dependent on experience and qualifications.
Please submit a cover letter, resume, and three references to the Plymouth Town Clerk @ clerk@plymouthvt.org or in person.
August 24, 2022
James Brower Contracting Hiring Carpenter/Laborer
WOODSTOCK CONTACTOR
looking for a carpenter and laborer.  Valid drivers license and transportation required. Covid vaccination required.  Call James 802-299-5086 or email
jamesbrowercontracting@gmail.com
August 17, 2022
Mac's Market is hiring a meat/cutter/wrapper in Woodstock
OUR PEOPLE MAKE THE DIFFERENCE!!
Mac's Market is a local business operating grocery stores in Woodstock, Stowe, Rochester and Essex, VT.  Our employees live and work in the areas we service and understand the unique needs of their customers.  When you work at Mac's, you're not just an employee – you are an important member of the Mac's Team because we know that our business is only as good as our people.
TODAY'S OPPORTUNITY is for the position of Meat Cutter/Wrapper at our Mac's Market grocery store in Woodstock, VT.  As the Meat Cutter/Wrapper, you will be responsible for cutting, slicing, weighing, and wrapping various types of meat, with proper label placement.  Additionally, if time allows/as needed, you must be willing to assist in the deli department.  You must have knowledge of and experience with the following: various kinds/cuts/quality of meat and cheeses; gpm, including mark ups/downs, margin setting and basic inventory management; cross merchandising; management and training of staff; and use of deli/meat equipment like the oven, slicer, knives, wrapper, labeler, power saw, and grinder.  The job requires availability to work a minimum of 40 hrs/wk, no less than five days a week.  As a full time position, you will be eligible to receive benefits like insurance, paid time off and holiday pay. 
Apply at any Mac's location or send us your resume!
fax: (802) 786-1241 or e-mail: jobs@svallen.com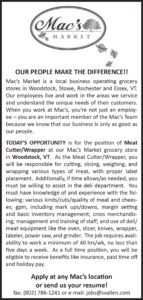 PETS AND LIVE­STOCK
September 13, 2018
VSNIP
(Vermont Spay Neuter Incentive Program) Reduced spay and neuter rates send S.A.S.E (Self Addressed Stamped Envelope) for application to vsnip P.O. box 104 Bridgewater VT 05034.
PUBLIC NOTICES
January 18, 2023
Legal – Village of Woodstock Notice of Smokefree Parks Ordinance
Village of Woodstock, Vermont
Townofwoodstock.org
Notice of Smokefree  Parks Ordinance 
On January 10, 2023, the Trustees of the Village of Woodstock, Vermont, adopted the Ordinance for Smokefree Parks. This notice is published pursuant to 24 V.S.A. § 1972 to inform the public of these ordinances and of the citizens' right to petition for a vote to disapprove these ordinances.
This Ordinance prohibits the use of tobacco products, tobacco substitutes, and cannabis products in Village parks.
The full text of the Ordinance may be examined at the Woodstock Town Office at 31 the Green and may be examined during regular office hours.
Citizen's right to petition for vote:
Title 24 V.S.A. § 1973 grants citizens the right to petition for a vote at a special or annual Village Meeting to disapprove ordinance amendments adopted by the Trustees. To exercise this right, citizens must present to the Trustees or the Town Clerk a petition for a vote on the question of disapproving the Ordinance signed by not less than five percent (5%) of the Village's qualified voters. The petition must be presented within forty-four (44) days following the date of the adoption of the Ordinance. Unless a petition requesting a vote is filled pursuant to 24 V.S.A. § 1973, the Ordinance for the Control of Vehicles Driving to the Right shall become effective sixty (60) days from the date of said adoption.
Person to contact:
Additional information pertaining to this Ordinance may be obtained by calling the Municipal Manager at 802-457-3456 during regular office hours.
January 26, 2022
Advanced Wood Heat (AWH) Webinar
Advanced Wood Heat (AWH) Webinar – Thursday, February 3, 5:30pm
The Mount Ascutney and Two Rivers-Ottauquechee Regional Commissions present two experts (Emma Hanson, Vermont Department of Forests, Parks & Recreation and Bill Karis, Efficiency Vermont) to discuss AWH and how it compares to other non-fossil fuel heating options.
Information at: https://marcvt.org/energy/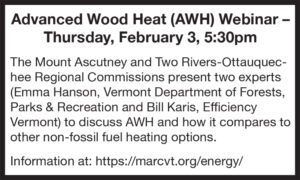 SERVICES
August 14, 2019
Furniture Repair
ANTIQUE AND CONTEMPORARY furniture repair and refinishing: From minor repairs to major reconstructions since 1972. Gerald S. Gambone, Reading, VT (802) 484-7179, geraldgambone@gmail.com. By  appointment.
May 3, 2019
Brick Repair and Relining by Upcountry Chimney Sweep
Upcountry Chimney Sweep Bethel, VT 05032 Brick Repair and Relining Craig Wortman 802-234-9750
WANTED
March 13, 2019
Serious Collector of Vintage VT License Plates
Serious lifelong collector of old Vermont license plates buying quality early car plates. Conrad Hughson, PO Box 1, Putney, VT 05346. conrad_hughson@comcast.net, 802-387-4498. Please leave message.
Submit Your Ad
For quick service please submit your classified ad copy, name and phone number here - mbusby@thevermontstandard.com