SEE ALL
| February 19, 2020
Sharon Academy
More On This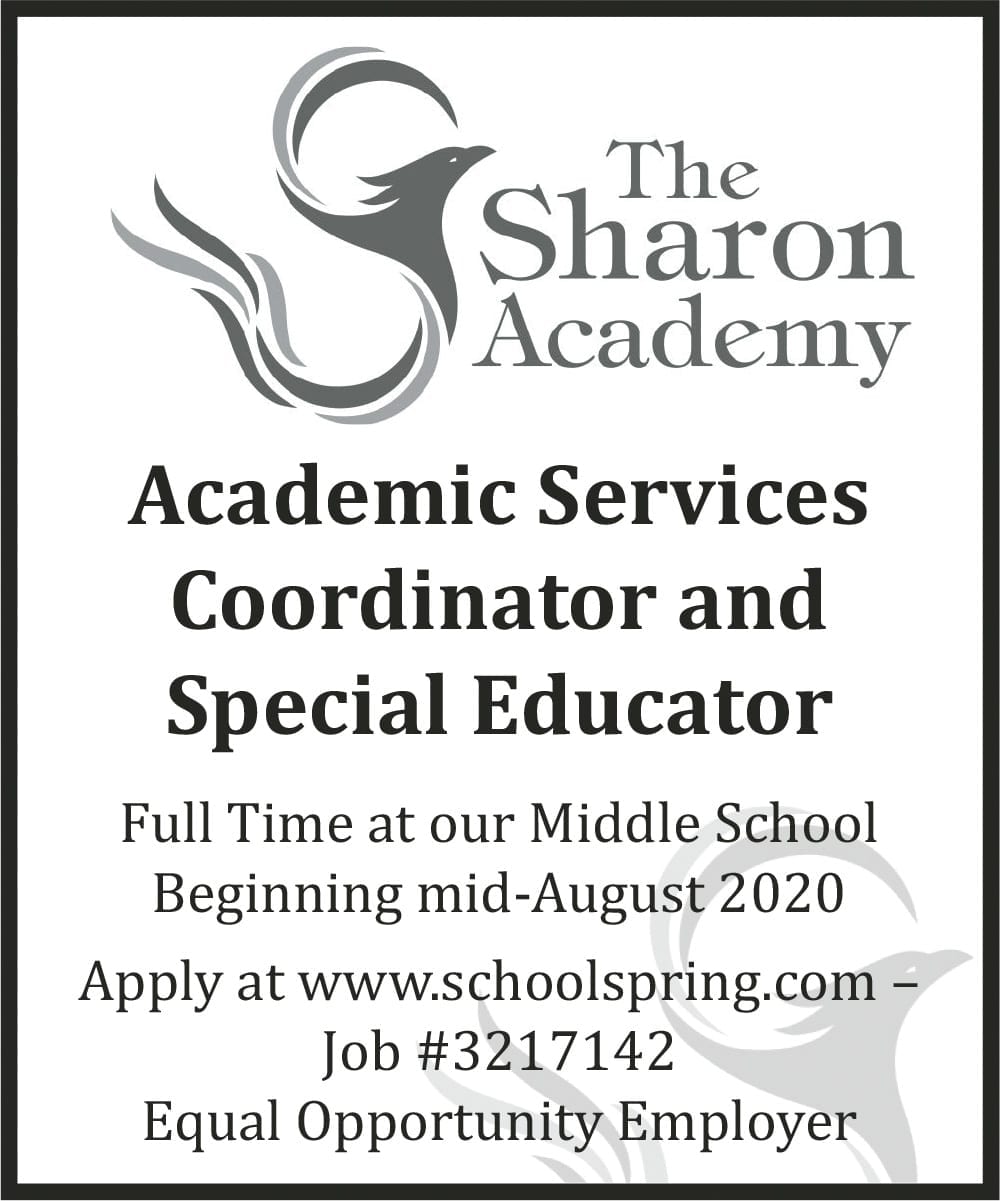 | February 12, 2020
Kelly Education is hiring for Substitute Teachers and Paraprofessionals
More On This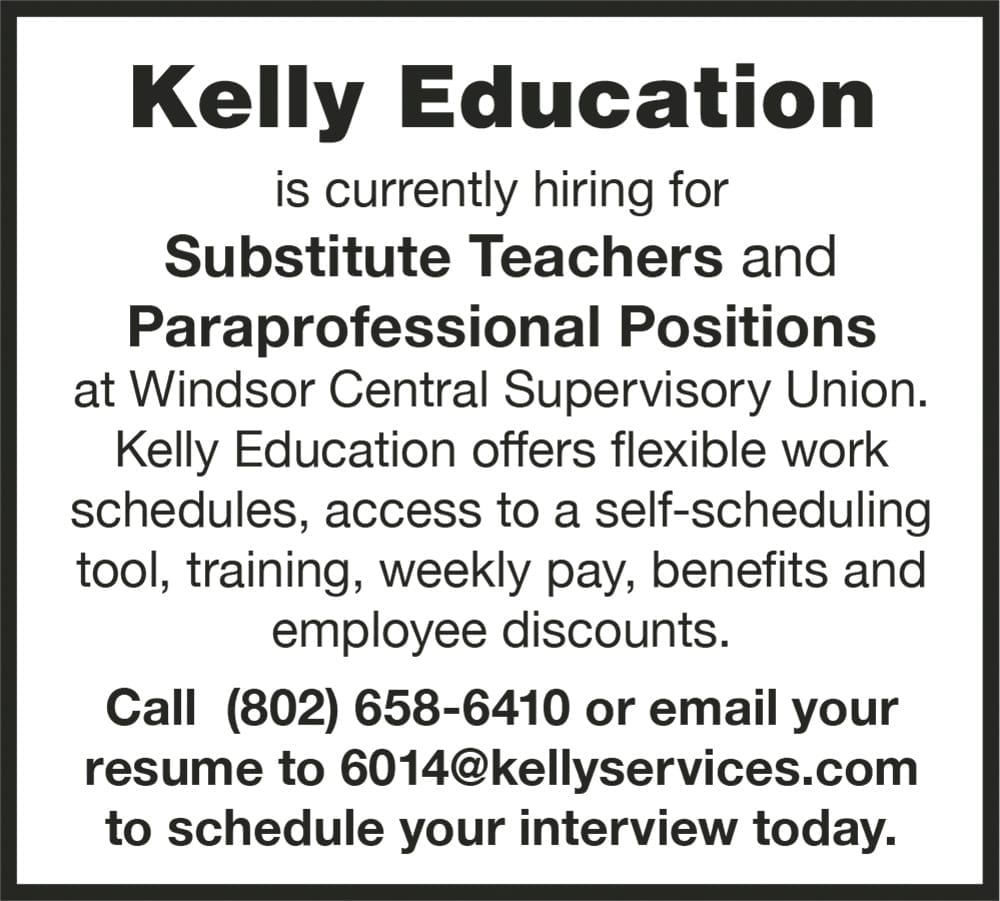 | February 12, 2020
Farms For City Kids General Farm Worker
More On This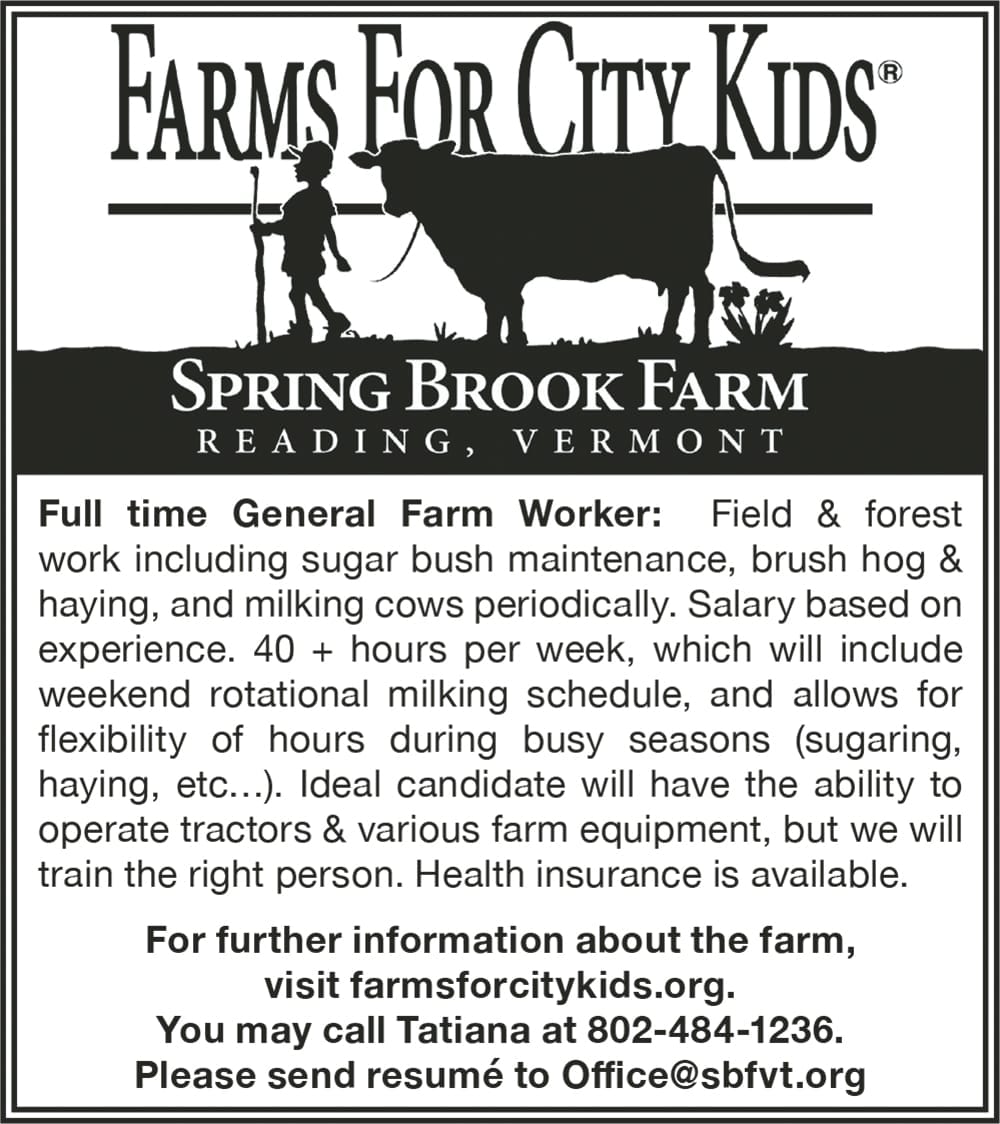 | February 12, 2020
State of Vermont Agency of Transportation looking for Senior Maintenance Worker
More On This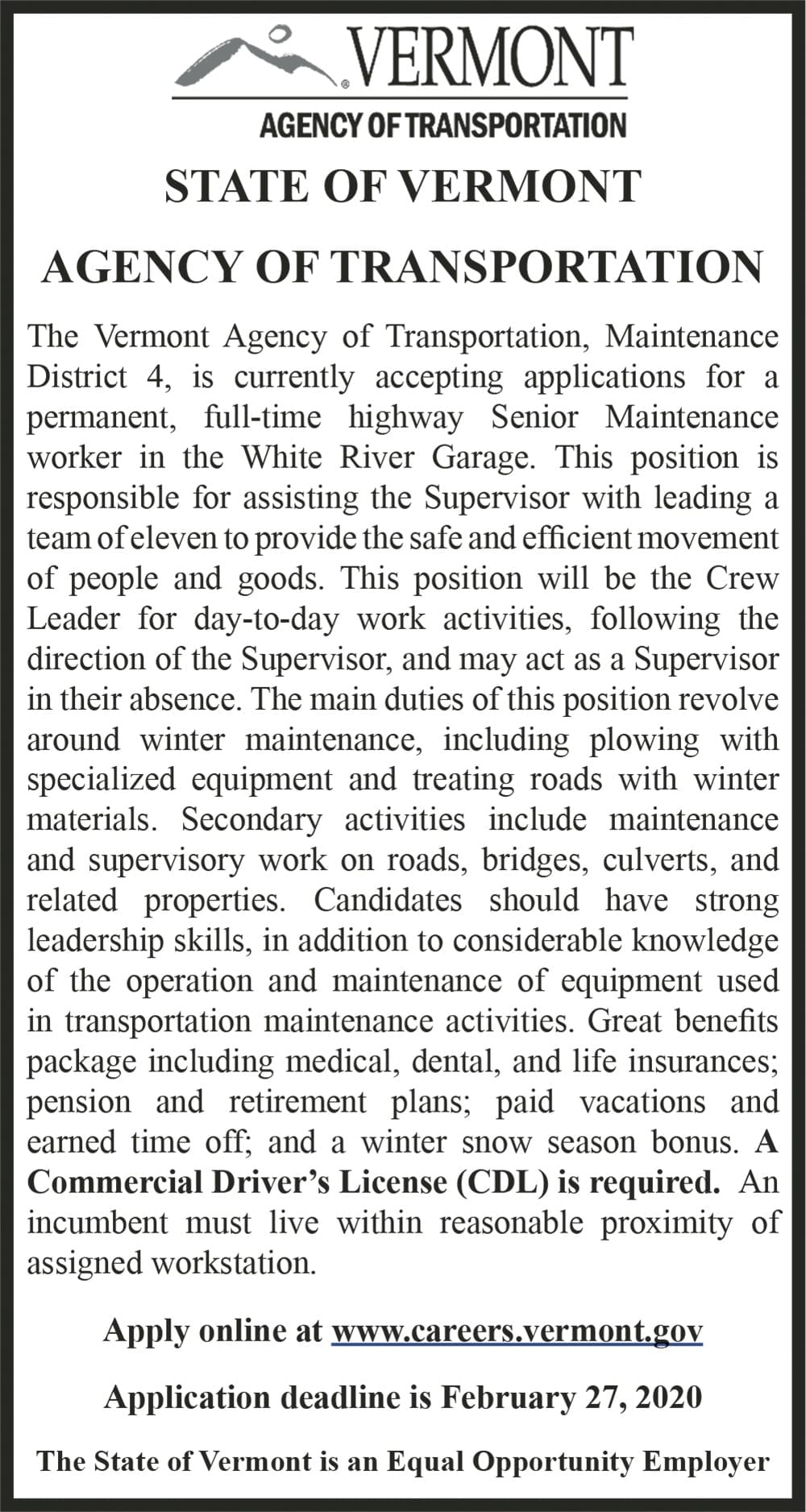 | February 10, 2020
Merten's House is Hiring Maintenance Worker
More On This
| February 7, 2020
Merten's House is Hiring Several Positions
More On This
| February 4, 2020
Hair Stylist Needed- Offering Flexible Hours
More On This
| February 3, 2020
Bridgewater Apt for Rent
More On This
| January 29, 2020
Full Time Sales Position at Woodstock Pharmacy
More On This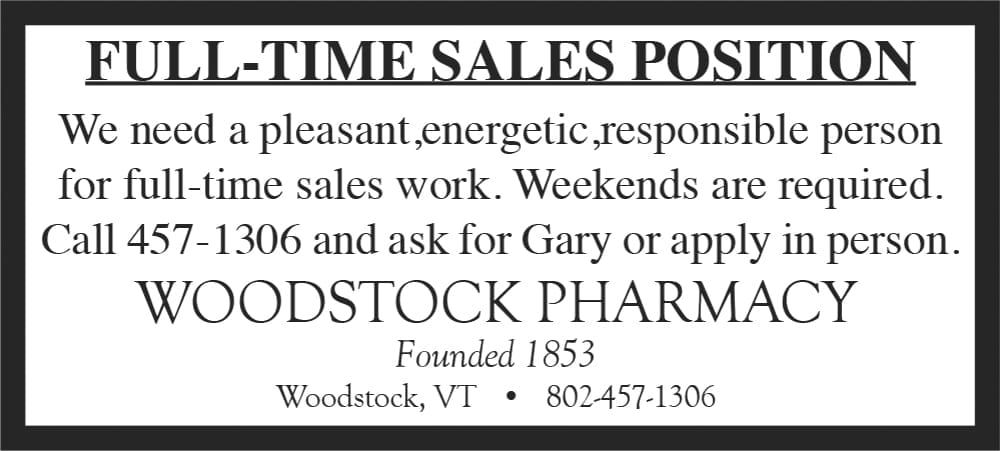 | January 27, 2020
Audsley Plumbing and Heating is Hiring
More On This
ANTIQUES

December 19, 2019
43rd Annual Cabin Fever Antiques Show: Quechee, VT
43rd Annual Cabin Fever Antiques Show: "the best little winter antiques show in Vermont"
February 15, 2020 10am-3pm
MidVermont Christian School
399 W. Gilson Ave, Quechee
Admission $10
Stoneblockantiquesandart.com
Greg Hamilton, manager 802-989-1158
April 19, 2019
Actively Buying Fine Antiques
Eric Nesbitt Antiques in Woodstock, VT is actively buying your Fine Antiques, Folk Art, and Fine Art. (Primitives to formal furniture, one item to complete estates) Check out Eric Nesbitt Art & Antiques on Facebook. Call (802) 457-4928 or ekn1953@yahoo.com
January 16, 2019
Actively Buying Artwork and Antiques
Actively Buying—older artwork of all kinds; jewelry, and items of value—no furniture. Confidential and free evaluation. Please call Steven Thomas or Deborah Bassett (802) 457-1764 or email stinc@sover.net.
APARTMENT RENTALS
February 3, 2020
Bridgewater Apt for Rent
BRIDGEWATER 1BDRM APARTMENT
w/d, no pets, utilities included $850.mo. Contact Ellen
802-281-0615
Ellenquinn55@comcast.net
January 27, 2020
Sunny Second Floor Apt. for Rent
Sunny second floor 2 BR/1 BA apartment.  High ceilings, large bedrooms, ample closet space, new appliances. Non smoking. All utilities included. $1500/ month - 
802-356-2591
January 22, 2020
Cute, Country, Apt for Rent
Cute, Country, 1 bedroom apt for rent. $850.00 per month including all utilities. Security deposit and references required. Please call 802-763-2247.
December 11, 2019
Apt for Rent in Woodstock Village
CONVENIENT VILLAGE LOCATION
: large 1 bedroom, $900.00 month plus utilities, non smoking. Please call 802-369-4575
March 13, 2019
Apartments For Rent
Seasonal and long-term rentals available. Furnished and unfurnished. Contact Emma – Williamson Group Sotheby's International Realty. (802) 457-2000.
COMMERCIAL RENTALS

December 5, 2019
Lincoln Corners Offices
Lincoln Corners Offices - www. lincolncorners.com -802-457-1942 "Lincoln Corners has exceeded our expectations. I have had numerous clients remark on the light, open, and professional design of their offices." - Michael J. Sabbeth, Esq.   Features: Green Construction, Comcast internet, Private fitness facility, men's & women's shower & lockers. Elevator, ADA Barrier-free throughout, paved parking. Emergency back-up power. Full Spectrum lighting. Hot water, heat, individual zones for each office. Central AC, fresh0air exchangers. Spacious attractive entrance lobby. Limited Availability: One Room & Two Room Suites- Various Sizes $500-$2500/ month
March 27, 2019
One Lincoln Corners: Office Space for Rent
Bright, airy, "green," barrier-free offices, fitness center included. (802) 457-1942 www.lincolncorners.com
FOR SALE
September 10, 2019
Green and Seasoned Firewood for Sale
FIREWOOD —
Green and seasoned wood available now. Cut, split and delivered. Bruce Schulz 802-457-2552. 
September 13, 2018
Native Lumber and Custom Sawing
Slabs. Maple syrup. VanAlstyne Family Farm Inc. 330 Walker Hill Road, East Barnard. (802) 763-7036.
FREE
September 13, 2018
Questions about your legal rights?
Call Vermont Commission on Women or go on-line to view the handbook, The Legal Rights of Women in Vermont:
www.women.vermont.gov
/ 1-800-881-1561
HELP WANTED
February 19, 2020
Sharon Academy
Academic Services Coordinator and Special Educator
Full Time at our Middle School Beginning mid-August 2020
Apply at www.schoolspring.com – Job #3217142
Equal Opportunity Employer
February 12, 2020
Customer Service Representative Needed at Junction Fuels
Junction Fuels is looking to hire an exceptional Customer Service Representative!
Our ideal candidate should have strong computer skills, problem solving skills and be willing to serve as a customer facing champion.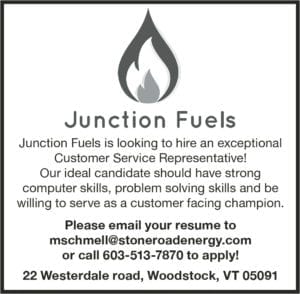 February 12, 2020
Kelly Education is hiring for Substitute Teachers and Paraprofessionals
Kelly Education
is currently hiring for Substitute Teachers and Paraprofessional Positions at Windsor Central Supervisory Union.     Kelly Education offers flexible work schedules, access to a self-scheduling tool, training, weekly pay, benefits and employee discounts.   
Call (802) 658-6410 or email your resume to 6014@kellyservices.com to schedule your interview today.
February 12, 2020
Farms For City Kids General Farm Worker
Full time General Farm Worker: Field & forest work including sugar bush maintenance, brush hog & haying, and milking cows periodically. Salary based on experience. 40 + hours per week, which will include weekend rotational milking schedule, and allows for flexibility of hours during busy seasons (sugaring, haying, etc…). Ideal candidate will have the ability to operate tractors & various farm equipment, but we will train the right person. Health insurance is available.
For further information about the farm, visit farmsforcitykids.org.
You may call Tatiana at 802-484-1236. Please send resumé to Office@sbfvt.org
February 12, 2020
State of Vermont Agency of Transportation looking for Senior Maintenance Worker
STATE OF VERMONT
AGENCY OF TRANSPORTATION
The Vermont Agency of Transportation, Maintenance District 4, is currently accepting applications for a permanent, full-time highway Senior Maintenance worker in the White River Garage. This position is responsible for assisting the Supervisor with leading a team of eleven to provide the safe and efficient movement of people and goods. This position will be the Crew Leader for day-to-day work activities, following the direction of the Supervisor, and may act as a Supervisor in their absence. The main duties of this position revolve around winter maintenance, including plowing with specialized equipment and treating roads with winter materials. Secondary activities include maintenance and supervisory work on roads, bridges, culverts, and related properties. Candidates should have strong leadership skills, in addition to considerable knowledge of the operation and maintenance of equipment used in transportation maintenance activities. Great benefits package including medical, dental, and life insurances; pension and retirement plans; paid vacations and earned time off; and a winter snow season bonus. A Commercial Driver's License (CDL) is required.  An incumbent must live within reasonable proximity of assigned workstation.
Apply online at www.careers.vermont.gov
Application deadline is February 27, 2020
The State of Vermont is an Equal Opportunity Employer
February 10, 2020
Merten's House is Hiring Maintenance Worker
Maintenance worker;
  Independent and responsible individual needed to oversee two health care facilities in Woodstock, Vt.  The Homestead is a 22 bed Residential Care Home and Merten's House is a 14 bed Long Term Care Nursing Home.  Duties would include a variety of tasks such as lawn care, moderate snow removal, light carpentry, cleaning and repair of resident rooms, documentation of building systems, being familiar with health and safety guidelines including fire safety and scheduling repairs when needed. Prefer to have proven experience with a working knowledge of tools and common appliances.  
High school diploma or equivalent, building experience or relevant field a plus.
Please call Carol Cunningham, Administrator for Mertens House 802-457-4411 or apply on line at mertenshouse.com or call Sarah Hunt RN, Director for The Homestead 802-457-1310.
February 7, 2020
Merten's House is Hiring Several Positions
RN
-24 hr PT overnight 
RN
every other weekend Days
LNA
Sun – Wed overnights
LNA
PT Evenings
24 hour week positions include health & dental insurance – plus vacation and sick time. Come see us in person, it will be worth it.  Merten's House is a 14 bed Long Term Care Nursing Home located in Woodstock, VT. Apply on-line: mertenshouse.com or call 802-457-4411 for an appointment.
February 4, 2020
Hair Stylist Needed- Offering Flexible Hours
HAIR STYLIST NEEDED Flexible hours, great opportunity for experienced person. 802-672-1212
January 29, 2020
Full Time Sales Position at Woodstock Pharmacy
FULL-TIME SALES POSITION
We need a pleasant,energetic,responsible person for full-time sales work. Weekends are required.
Call 457-1306 and ask for Gary or apply in person.
WOODSTOCK PHARMACY
Founded 1853
Woodstock, VT   •   802-457-1306
January 27, 2020
Audsley Plumbing and Heating is Hiring
AUDSLEY PLUMBING AND HEATING
is now hiring full time master or journeymen plumbers. Must have experience and able to work on their own. Needs to be reliable, hardworking, and trustworthy. Valid drivers license required.  Please contact the office at 802-457-2746 to acquire application or send resume to
Audsley_plumbing@hotmail.com
December 11, 2019
Junction Fuels Hiring Customer Service Representative
Junction Fuels is looking to hire an exceptional Customer Service Representative! Our ideal candidate should have strong computer skills, problem solving skills, and be willing to serve as a customer facing champion. Please email your resume to thamilton@meritumenergy.com or call 210-876-3560 to apply!
August 14, 2019
Support Staff Wanted
WANTED SUPPORT STAFF: Looking for a very experienced caregiver to work with a disabled man, with high medical needs, 20 hours a week. Responsibilities include assisting with personal care, community socialization, and providing emotional support. Candidate must attend some training, have reliable transportation, be a good communicator, exhibit patience, and enjoy helping those in need. Experience a must. Apply by calling 802-484-7431
PETS AND LIVE­STOCK
SERVICES
August 14, 2019
Furniture Repair
ANTIQUE AND CONTEMPORARY furniture repair and refinishing: From minor repairs to major reconstructions since 1972. Gerald S. Gambone, Reading, VT (802) 484-7179, geraldgambone@gmail.com. By  appointment.
May 3, 2019
Brick Repair and Relining by Upcountry Chimney Sweep
Upcountry Chimney Sweep Bethel, VT 05032 Brick Repair and Relining Craig Wortman 802-234-9750
WANTED
March 13, 2019
Serious Collector of Vintage VT License Plates
Serious lifelong collector of old Vermont license plates buying quality early car plates. Conrad Hughson, PO Box 1, Putney, VT 05346. chughson@svcable.net, 802-387-4498. Please leave message.
September 13, 2018
Looking for Freon R12
Certified buyer willing to pay cash for R12 cylinders or cases of cans. (312) 291-9169;
www.refrigerantfinders.com
Submit Your Ad
For quick service please submit your classified ad copy, name and phone number here – rkelly@thevermontstandard.com