By Tom Ayres, Senior Staff Writer
Softly lit and comfortably appointed, the warm space makes visitors feel right at home, as if tucked in their own family living room. One can readily envision being stretched out on the comfy couch, reading a book, listening to music, or simply relaxing and conversing.
The room is not in someone's living quarters, however. Instead, it's ensconced in the offices and laboratories of one of the few independent research centers conducting clinical trials on mental health issues in northern New England. And the study that has its beginnings during a 13-hour stay in this particular room goes to the heart of the recent, exciting, and possibly life-changing revival of psychiatric and pharmaceutical research that first thrived in the United States, Canada, and Europe in the 1950s: the potential use of psychedelic drugs such as lysergic acid diethylamide (LSD) and mushroom-derived psilocybin in treating major depression, anxiety, post-traumatic stress, and substance abuse disorders, as well as a range of other psychiatric illnesses. The expansive research was sharply curtailed in the mid-1960s when the federal government banned LSD and other psychedelics for virtually all research use and made recreational possession and use a crime.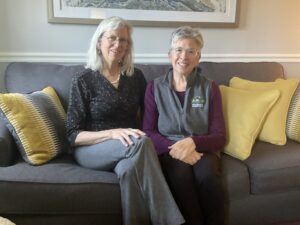 Led by principal investigator Susan Smiga, M.D., a board-certified child, adolescent, and adult psychiatrist, and coordinated by Brenda Balenger, the clinical manager of the Woodstock Research Center, a team of researchers and independent evaluators are testing the efficacy of LSD in treating Generalized Anxiety Disorder, one of many mental disorders in the DSM-5 — the standard classification of psychiatric conditions used by mental health professionals in the United States.
Smiga, Balenger, and a curious visitor met at the 27-year-old research center on Maxham Meadow Way on the eastern edge of Woodstock Village last week for a wide-ranging discussion about the current study involving LSD and anxiety, the world of clinical research in general, and opportunities for people from throughout the Upper Valley and beyond to participate in a variety of studies.
"Once a person is determined to be appropriate for participating in the study, the schedule of visits is planned out," Balenger said of the ongoing "double-blind" research using different dosage levels of LSD plus a placebo in evaluating the effects of the psychedelic drug in impacting chronic anxiety. "It's a dose-ranging study — we're looking at four different doses and a placebo, so you have a 20-percent chance of being in one of those groups," Balenger continued. "It's a 13-hour day here in this room with two dosing session monitors — Dr. Patricia Daly, a psychiatrist and our sub-investigator, and Bill Ballantine, a Doctor of Psychology. Their job is not so much to provide therapy during the day, but to offer support and make observations. When they are here, study participants can bring things in to occupy their day — books, games, musical instruments, but no screens, no telephones or laptops."
The screening guidelines for enrolling participants to the research were established by MindMed, a New York-based biotech company that develops psychedelic-inspired medicines. The screening standards are stringent, such that only three of more than 130 applicants have completed the 12-week study thus far. That said, participants needn't have been formally diagnosed with Generalized Anxiety Disorder by a care provider. Instead, anyone can participate in a study at the research center if they make it through the screening process. In the case of the present LSD research, there is an initial questionnaire that a potential study enrollee fills out online. "We then schedule a phone call to discuss the details of the study and collect information on their medications and medical history, anxiety, previous use of psychedelics, and their willingness and interest in participating," Balenger stated. "If all goes well with that, then we work on scheduling them."
Smiga spoke about the specifics of what the diagnosis of Generalized Anxiety Disorder entails, per the DSM-5 classification system. "Given the title 'generalized,' it's a broad range of things that you're anxious about, versus say a specific phobia, such as spiders, snakes, or heights or something like that," the psychiatrist explained. "Agoraphobia — going out in public — panic disorder, where you have panic attacks, but in between you aren't worrying about everything in your life. Some people have anxiety limited to a specific circumstance such as social or performance situations. PTSD used to be considered an anxiety disorder. We have to make sure that what we are dealing with here is specifically Generalized Anxiety Disorder." PTSD patients, Smiga pointed out, are excluded from the current study using LSD at the request of MindMed, presumably, the research psychiatrist surmised, because of concern that a psychedelic experience could cause the participant to re-experience the traumatic event or events that initiated the post-traumatic stress in the first place.
"There's a lot of pre-work done with the study enrollee before the single dosing session, not so much about what they're going to expect from the experience, but asking — if this is a mind-opening experience, where do they want to go with that? So they're already thinking about good things in a sense, rather than going into it in freefall," Smiga added. Both the psychiatrist and Balenger went on to talk about how the ongoing LSD study is structured. The data gathered is anonymized, with neither the researchers, dosing session observers nor follow-up raters knowing whether any one study participant received a particular dosage of LSD or a placebo. The post-treatment raters also do not know the group assignment of the study participants in terms of the type of dosage they received nor the level of generalized anxiety they exhibited prior to dosing.
"It's a complicated coding system, so we're given a different number for each visit by each participant, and we have to use that number when we call in for the rating sessions," Balenger said of the rating that takes place one, two, three, four, and twelve weeks after the dosing experience. "And we keep track of that in our records." As previously mentioned, three participants have successfully completed the three-month study process, while there have been four "screen fails," she noted. "That just means that for one reason or another, they get excluded because they don't meet the requirements of the study anymore," Balenger added, noting that such a decision "can be very difficult for someone who really had their heart set on being in the study, so we work very hard to remind potential subjects that there is a very specific eligibility process."
Asked to reflect on what the psychoactive effect of LSD and other psychedelic medications may be on the human brain, Smiga commented, "I think the big push for these drugs is that they affect the brain in a very different way from the traditional psychotropics we have available. There is this sort of increase in flexibility or reorganization of the brain. I sometimes think about electroconvulsive therapy or ECT, which is viewed by many as barbaric — and maybe it was when it was done without anesthesia. We don't know how it works, but basically, that seizure in the brain for people with really bad depression can markedly reduce symptoms. In my mind, there's something similar in that you really have to make a jolt — and these drugs are making that jolt somehow."
The Woodstock Research Center is continuing to screen interested participants in the LSD and Generalized Anxiety Disorder study. "I like to see that people want to participate because they are curious and have not had a diagnosis or success with other interventions and treatments," Smiga concluded.
For more information about participating in the ongoing study of LSD and Generalized Anxiety Disorder at the Woodstock Research Center — as well as to learn about other mental health studies undertaken by the research facility — visit the center's website at woodstockresearch.org.