The weekend of music is a collaboration with our friends in the West Windsor/Brownsville area and music lovers everywhere.
July 21-23, West Windsor, VT Historic Town Hall
Musicians – Sakiko Ohashi, piano, serves as the festival artistic director. In addition to her performances, Hiroko Sasaki, piano, will join Sakiko for piano four hands on Friday night.  Joining with Sakiko this year is Brad Ritchie, 'cello, on Saturday evening. And, Helen Hwaya Kim, violin, will be returning for an afternoon of wonderful music on Sunday, the 23rd.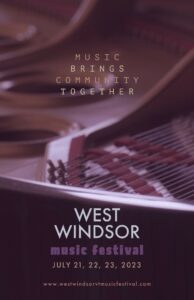 SCHEDULE
Opening Concert – Friday, July 21st, 7:30 pm – The opening concert features the exciting piano duo concert with Sakiko and Hiroko. Long-time friends coming back together to share wonderful music.​
Children's Concert – Saturday morning, July 22nd, 10:00 am – A concert for kids featuring Sakiko and Friends with special activities. Free to all!​
Saturday Evening Concert  – Saturday, July 22nd, 7:30 pm – Brad Ritchie, 'cellist, will join Sakiko for an evening of very special music, including Debussy's Sonata for Cello and Piano.
​Midday Sunday Concert – July 23rd, 3:00 pm – Joining Sakiko for a second year is the remarkable violinist, Ms. Helen Hwaya Kim.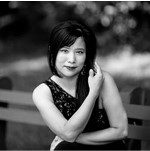 SAKIKO OHASHI
Sakiko Ohashi, Festival Artistic Director, is a native of Japan and began her piano studies at the age of four. By the time she was 10 years old, she was accepted to the Juilliard Pre-College Division as a student of Herbert Stessin. Since then, performances have taken her throughout the United States, Canada, Japan, and Europe.​
In 1996, Ms. Ohashi made her concerto debut at Lincoln Center in New York City, performing Bartok's 3rd Piano Concerto with the Juilliard Symphony conducted by Otto-Werner Mueller. She is also the winner of the 1993 E. Nakamichi Concerto Competition at the Aspen Music Festival where she appeared with the Aspen Young Artists Orchestra. She has appeared as a soloist with numerous orchestras including the South Carolina Philharmonic, Louisiana Philharmonic Orchestra, and the South Dakota Symphony. In New York, her appearances have included venues such as Alice Tully Hall, Carnegie Weill Recital Hall, Juilliard Theatre, and The Harvard Club.
Ms. Ohashi has appeared in numerous music festivals, including the Aspen Music Festival, Killington Music Festival, Orford Centre for the Arts, Banff Center for the Arts, Fontainebleau Music Festival in France, Glassboro Summer Session, and Mozarteum Summer Academy in Salzburg, Austria.
She holds Bachelor and Master of Music degrees from the Juilliard School, and has taught at the Greenwich House of Music in New York, the Sewanee Summer Music Festival in Tennessee, Augustana College in South Dakota, and Bard College in New York.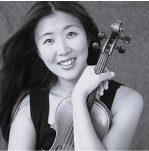 HELEN HWAYA KIM
Helen Hwaya Kim joined the music faculty in 2006 at Kennesaw State University with a stellar performance background. She made her orchestral debut with the Calgary Philharmonic at the age of six, and has gone on to become a respected and sought-after artist. She has appeared as a soloist with the Boston Pops at Boston's Symphony Hall, as well as with the Milwaukee and Atlanta Symphony Orchestras.
Ms. Kim earned her Bachelor's and Master's Degrees from the Juilliard School, where her teachers included Cho-Liang Lin and Dorothy DeLay.  While at Juilliard, she served as Concertmaster of the Juilliard Orchestra and was the winner of the Juilliard Concerto Competition at both the Pre–College and College levels. She is the recipient of more than one hundred national and international awards. She won the prestigious Artists International Competition in New York and, as a result, gave debut recitals at Carnegie Weill Hall and the Aspen Summer Music Festival.​
A native of Canada, Ms. Kim has been engaged by many of Canada's leading orchestras, including the National Arts Center Orchestra, Montreal Metropolitan Orchestra, Vancouver Symphony, Calgary Philharmonic, McGill Chamber Orchestra, and the Windsor, Regina, Victoria and Prince George Symphonies. She has also appeared with the DeKalb, New Orleans, Aspen, and Banff Festival Orchestras, and with orchestras in the United Kingdom, Germany, and Poland.
Ms. Kim has been profiled on national and international television and has appeared on CBC, PBS, and CBS networks. Her performances have been aired on NPR and CBC radio networks.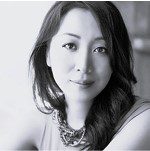 HIROKO SASAKI
Hiroko Sasaki has established a successful career as a piano recitalist, chamber musician, and concerto soloist. Ms. Sasaki's concert debut in Carnegie Hall's Weill Recital Hall prompted Harris Goldsmith of the New York Concert Review to declare her "a true artist at work." Musical America praised the same concert for its "exquisite proportion and rare poetic understatement." The Washington Post has acclaimed her "radiant playing," and the 2004 Musical America singled her out as one of the world's most outstanding young musicians. The Fedelio Magazine in Hungary quoted "this sensitive artist reminded me of the personality of the great Hungarian pianist, Annie Fischer – with her remarkable technical excellence, she gave us a perfect experience of the post-romantic voice" in her most recent performance at a Klassz pARTon Festival, summer 2019.
Ms. Sasaki continues to perform extensively as a recitalist and chamber musician in England, Scotland, Taiwan, France, Hungary, Switzerland, Canada, and the U.S. She gives annual recitals in Carnegie's Weill Hall and makes frequent tours of Japan. She has regularly performed chamber music in festivals such as the Budapest Spring Festival, the Huddington Festival, the Yehudi Menuhin Festival, Tanglewood, Taos, Banff, Tel Hai, Richmond, and L'Academie Musicale de Villecroze, where she won a career- development grant. She is currently a member of the Amadeus Trio, which performs regularly throughout the United States. She has appeared as a soloist with numerous orchestras, including the Philharmonia Orchestra in London, the Prague Symphony Orchestra, the Nagoya Philharmonic Orchestra, the Budapest Chamber Orchestra, and members of the Vienna Philharmonic Orchestra.
When Ms. Sasaki was 13, the celebrated pianist Mitsuko Uchida arranged for her to leave Japan and attend the Yehudi Menuhin School in England. Soon after, she made her European debut. At 16, she entered the Curtis Institute, where she studied with Leon Fleisher, graduating in 1994. She later earned a Master of Music degree with Mr. Fleisher from the Peabody Conservatory on full scholarship and an Artist Diploma from the Royal Conservatory of Music in Toronto. Her teachers have included Marc Durand, Yoheved Kaplisnky, Gilbert Kalish, and Sophia Rosoff.
BRAD RITCHIE
Cellist Brad Ritchie joined the Atlanta Symphony Orchestra in 1997. Originally from Portland, Oregon, he earned his Bachelor of Music at Indiana University where he studied with Tsuyoshi Tsutsumi and Janos Starker. In his senior year, his string quartet won the school's Kuttner Quartet Competition, which provided them with a year of recitals and trips to a number of chamber music competitions from Osaka, Japan, to Evian, France.
Following a summer of quartet concerts in Europe, Ritchie enrolled in the Musikhochschule in Freiburg, Germany, and earned his graduate degree studying with Adriana Contino. After completing his studies in Germany, Ritchie played for two years in the New World Symphony in Miami under Michael Tilson Thomas.
In 1997, he became a member of the Atlanta Symphony Orchestra and also joined the Atlanta Chamber Players. During his tenure with the Atlanta Chamber Players, he has made recordings on the CRI, ACA Digital, and MSR labels and toured extensively, including performances at Carnegie Hall, Boston's Jordan Hall, the American Cathedral in Paris, France, and at the International Chamber Music Festival in San Miguel de Allende, Mexico.
He is a founding member of the contemporary music ensemble Sonic Generator, currently in its 10th season in residence at Georgia Tech University.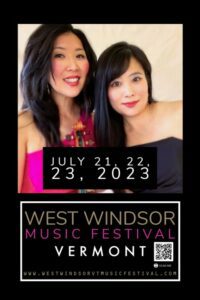 Sample music from last year's festival
Get ready for our 2023 festival
TICKETS AND MORE DETAILS
Concert tickets are $15 each or buy a weekend pass for 3 concerts for $40
https://sevendaystickets.com/organizations/west-windsor-vermont-music-festival
Scenes from last year's festival…