By Tom Ayres, Senior Staff Writer
With a focus on obtaining body and dashboard cameras, increasing compensation and enhancing workplace culture, upgrading communications technologies such as radios and in-car computers, building collaborative relationships with community leaders in the 24 municipalities that comprise Windsor County, and working on transition issues with outgoing sheriff Mike Chamberlain, new Windsor County Sheriff Ryan Palmer says he has hit the ground running.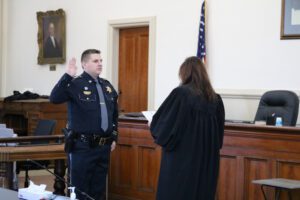 Palmer was sworn into office at the County Courthouse in Woodstock yesterday morning, Wednesday, Feb. 1. The apparently smooth changeover in leadership from Chamberlain, who'd helmed the Windsor County Sheriff's Department for 40-plus years, to Palmer stands in marked contrast to sheriff shifts in other parts of the state, including in Franklin County, where the sheriff's office is mired in allegations of potential financial mismanagement by past and present elected sheriffs, and in Windsor County's neighbor to the north, Orange County, where the transition from 16-year Sheriff Bill Bohnyak to incoming Sheriff George Contois has resulted in significant staff departures and deteriorating relationships between the Sheriff's Department and municipal leaders.
Palmer, elected by voters over Chamberlain in the November general election after defeating longtime Windsor County Sheriff's Deputy Thomas Battista for the Democratic Party's nomination for sheriff in the August primary, talked about the transition and his vision for the future of the county sheriff's department in an interview last Saturday.
"Right off the bat after the election, I sent out an email to everyone on the staff and hosted a department meeting the following Wednesday. I outlined my vision for the department and set some goals and a strategy for the department moving forward," Palmer explained. "I also asked the staff what their expectations were of me. I asked 'What are you folks looking for? What are the things we need to work on?' I started to build this line of communication because one of the biggest issues I hear across the leadership spectrum in law enforcement is the whole issue of communication. People just want to be heard. They want to know the why of things. And for me, I don't care where an idea comes from — if it's a good idea, let's put it into play."
Palmer said that one of the first steps he took to solidify morale and communication with staff members was to name his former primary opponent, Battista, a 20-year veteran of the Windsor County department, as his administrative lieutenant. "He'll be running the office — the administrative side of the house. I've known Tom a long time and he ran a good campaign last year. We didn't get personal with each other," Palmer offered. "Tom worked hard over the last decade to make the department function better. I'm comfortable with him. I appreciate his knowledge. Institutional knowledge is very important in a sheriff's department. It's its own unique entity — a much different operation than a municipal or state agency."
One key initiative that Battista got rolling last year in his role as a grant writer, and that Palmer has accelerated in recent weeks, is obtaining body and dashboard cameras for the department. That's priority number one for the new sheriff. "Tom was on top of this and was able to get a grant from the Governors Highway Safety Association so that we were able to purchase the cameras. It costs $40K for 20 of them. I just signed the agreement for them and they'll be here and in place in a couple of weeks. They're cutting-edge and they're subscription-based, so they'll be replaced periodically," Palmer noted, adding that the recordings are all stored on the cloud in real time.
Palmer added that he is working on a range of initiatives aimed at "rebranding" the sheriff's department and particularly at enhancing staff development and human resources programs. "I'm redesigning our patches and uniforms, which is very important to me if not to the public, to give a sense that we are headed in a new direction," Palmer said. "In the grand scheme of things, however, what is most important to me is internal operations. I'm in the process of finishing up a contract with a company that sells a system called 'Guardian Tracking,' which is an online personnel management system that allows you to track discipline issues, awards, training, personnel policies — all of it online. We're working towards greater accountability in-house and making sure that we're doing things properly."
The new sheriff also touted the importance of diverse professional development programs for the current staff of 15 deputies and administrators, which Palmer hopes to expand with the addition of several new part-time employees this summer. "I'm bringing in training programs and I'm encouraging people to sign up for programs available to them from a variety of sources," he offered. "I've already sent Tom [Battista] to a two-day leadership course and I've got five deputies signed up for a criminal interdiction course. And I'm signed up to go to the National Sheriffs Institute at the FBI Academy at Quantico, Va. in March."
Picking up on a theme that was central to his primary and general election campaigns last year, Palmer said he plans to place a priority on "community policing" moving forward, while still continuing to seek out the speed and traffic control contracts that are the department's "bread and butter" for generating revenues. Of the 24 towns in the county, the sheriff's department presently has patrol contracts with just nine –Andover, Bethel, Bridgewater, Cavendish, Hartland, Plymouth, Reading, Stockbridge, and Weston. However, Palmer added, he has reached out to all the county's selectboards to make it clear that he has an expanded vision of what the sheriff's department might provide to local towns.
"I've met with all the selectboards and I've heard what they have to say," the new sheriff said. "I'm starting to develop services with that input. What's that going to look like? We'll see in times ahead. Part of my whole spiel at these meetings is talking about the shift in culture and what my expectations are. I don't just want 100,000 traffic tickets written. I want our people to go out and interact with the community and be a part of it. When you use this word community and boil it all down, it's as simple as that. When I talk with selectboard members, a big thing for me is being a community problem-solver.
"I'm asking towns, 'What are your real policing things that you want addressed? Where are your problems?' We're here to solve or help towns work through those issues. That's a big thing for me," Palmer concluded.