For 168 years, the town of Woodstock and its surrounding communities have relied upon the Vermont Standard to report the local news.
The paper's mission each week has been to keep residents abreast of the latest happenings; let readers know what's going on; give them something to talk about; tell them when someone is born or when someone dies, and everything in-between. We tell you who won, who lost; whether there's reason to celebrate or to mourn; whether there is cause to be skeptical or reason to go all in; whether to be optimistic or cautious. Good news or bad, the Standard's audience simply wants to know, "What's new around here, what's the latest?"
No other news media covers this particular slice of Vermont. Sure, regional news providers, such as TV stations, online sites, or daily papers from other towns, touch on our area and report some of the bigger stories that occur, but our communities aren't their main focus or primary concern. At the Standard, though, our own communities are our only concern.
And the "little" stories are often just as important as the "big" ones to those who call this place home. Like we do.
We think ours is a noble mission. We're proud to be entrusted to keep our communities informed and connected. We tell residents about local subjects that may interest them, affect them, entertain or inspire them. Independently owned, we work on behalf of the people, businesses and organizations of this area.
And readers look forward to the paper each week. Whether in print or digital, they read it, they trust it, and they have conversations with family and friends about the information they find in it.
That's the way it was so many years ago when the Standard began and throughout all those decades since. That's the way it remains to this very day.
Since 1853, the communities we serve have needed us. Right now, we need them.
Today the Standard is launching its first Annual Appeal.
Like at nearly all other local news organizations throughout the country, the advertising revenue that used to sustain the Standard has declined to the point that it is no longer sufficient to fund the operation of the paper. The effect of the pandemic on the economy has only made things worse. Now, we need to find other sources to fill the gap and generate enough funds to pay our expenses. So, we are turning to you, our audience, and anyone who wants to ensure that Greater Woodstock continues to have meaningful community journalism.
We are turning to those of you who believe that the role the Standard plays in our community makes it a better place to live, work, visit or do business.
Despite our challenging financial straits, the Standard has thus far resisted the traps that have accelerated other newspapers' descent into a slow, painful death spiral. It is now common practice in the newspaper industry to cut staff and news content to the bone in an effort to minimize expenses. But common practice doesn't always make common sense, as those severe cost-cutting strategies leave the community with only a shadow of a paper that is hardly worth reading or supporting; alive but not well. That's not the kind of paper the Standard wants to be, nor would that kind of paper be able to serve our audience adequately.
And we haven't implemented dramatic increases in our cover and subscription prices either, as so many papers have done. While that approach does raise money in the short term, it also limits access to the news for readers who can't afford it, causing circulation declines that ultimately make the paper less capable of doing its job: to effectively disseminate news, information, and advertising throughout the community.
Instead, we are asking you to make a special gift to our Annual Appeal. Much like a church, university, or any other crucial community entity, we are extending our hand to those who value what we do to ask if you'll consider helping us close the gap between what we collect in fees from our advertisers and readers and the expense required to produce a solid local news report each week.
You can be assured that we're being quite prudent with our expenditures; we're running a frugal, no-frills operation. And we are pursuing strategic initiatives that are evolving the news and marketing services we provide to meet the changing needs of our customers, which we believe will generate new revenue to help fund our journalism over the long run.
We are merely striving to break even; to simply afford what it costs to produce local journalism. Any money we receive beyond that limited goal would go towards setting up an endowment to help fund the Standard in the future.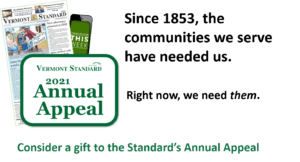 So, for the next few weeks, we'll use this space to encourage you to consider what the Standard and having local journalism mean to our community — the value we bring to life around here. If you're able, please send us a check at PO Box 88, Woodstock, VT 05091 or, on our Vermont Standard THIS WEEK website, see the Vermont Standard Annual Appeal Donation Form to make a contribution with your credit card. You can also call in to make a credit card contribution over the phone by contacting Morgan Busby at (802) 457-1313.
The Standard is not a 501(c)(3) non-profit, so your gift can't be deducted from your taxes, but your gift will be helping to ensure that the Standard will be around to serve our community for a long time.
Starting next spring we intend to make this Annual Appeal a celebration of local journalism in our community, with events that you'll be able to participate in each year (e.g., a celebratory community-wide barbeque, special guest speakers, contests, raffles, etc.)
Please consider joining your neighbors who have already made a contribution. If we all chip in, together we can ensure that Woodstock and our surrounding communities will have the benefits of local journalism for many more years to come.
Thank you for your kind consideration and for giving the staff of the Vermont Standard the privilege to serve you. We consider it an honor.