By Tom Ayres, Senior Staff Writer
More than 100 parents and community members packed the Teagle Library at Woodstock Union High School and Middle School (WUHS/MS) and an online Zoom feed of the Windsor Central Supervisory Union School Board (WCSU) meeting Monday evening to voice strong concerns about an alleged threat of violence at Woodstock Elementary School (WES) two weeks ago. The purported response by school administrators to the supposed threat resulted in significant distress among parents and families and sparked the resignation of a respected fourth-grade teacher, Stephanie Petrarca, and a member of the WCSU Board representing Woodstock, Todd Ulman, who has withdrawn his two children from WES.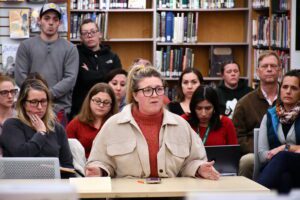 Speaking at the regular monthly meeting of the WCSU School Board on Monday, more than 20 community members sounded their alarm about what was termed an "inexcusable" communication failure surrounding the most recent incident of reported threatening behavior at the school and on buses transporting students to and from WES. The public comment session at the outset of the stormy meeting lasted nearly two hours. Critics of school administrators, and specifically WES Principal Maggie Mills and WCSU Superintendent Sherry Sousa, also assailed what was termed by several parents as an "endemic" culture of bullying and misbehavior at the elementary school that has not been met with sufficient disciplinary action, student accountability, or effective communication with parents who say their children have been repeatedly victimized by other students.
Kirsten Oates, a Pomfret resident and parent of a fourth-grade child at WES, used her allotted time at the outset of the public comment period to set the tone for those who followed with their own remarks. "Wednesday, Jan. 25, a fourth-grader threatened the life of one of their peers," Oates told the gathering, her voice quavering with emotion. "Since then," Oates added, "the inadequate and delayed communication that has been sent out from the administration has inaccurately hidden behind privacy and FERPA." (According to a statement from Superintendent Sousa, the federal Family Educational Rights and Privacy Act, commonly known by its acronym FERPA, "prevents school personnel from releasing any student information, including behavior records, school responses, and/or safety plans.")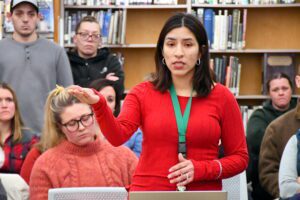 The alleged threat that sparked the most recent concerns about supposed violent behavior, bullying, and disciplinary shortcomings at WES involved a fourth-grade boy, age 9, who was reported to have shown a bullet to another student on a school bus on Wednesday morning, Jan. 25, claiming that he was going to use it to harm another child whom he had previously been accused of bullying since the outset of the school year last September. In the early afternoon that same day, a student who witnessed the threat on the bus contacted a school staff member to report the incident, according to a parent. Shortly thereafter, staff began to take action to assess, investigate, and contain the situation, former fourth-grade teacher Petrarca wrote in a statement to the media on Jan. 31. Sousa has repeatedly said that she could not confirm or deny that the incident even occurred as reported or any of the timeline associated with it, citing FERPA regulations repeatedly.
Castigating what Oates termed "inexcusable communication" lapses on the part of school administrators, an irate Oates told WCSU board members that, "Parents found out that a child in the fourth grade had threatened the life of one of their peers from their nine- and ten-year-children," Oates said. "Children," the angry parent repeated for emphasis, "and not the school administrators. Even after parents started emailing Principal Mills on Jan. 26 and 27, it wasn't until 1:55 p.m. on [Jan.] 27 that any communication was sent to only the fourth-grade parents," Oates claimed, reading from a prepared statement. "It took 48 hours for any school communication to be sent after the incident was reported."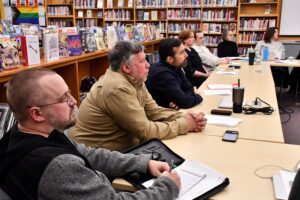 Oates and other speakers also criticized WES Principal Mills for attempting to "silence" children regarding the alleged threat, before it had even been reported to parents by school officials. "The children who knew the details of the alleged threat were instructed by Principal Mills not to discuss nor speak to their friends because that is how rumors are spread," Oates said Monday. "[Principal Mills] continued to silence our children that week when she spoke to the entire fourth-grade class, telling them not to speak of the incident to each other. She then summoned the original group of children back to her office on Monday, Jan. 30, to chastise them for speaking about the incident and continued to emphasize that they were not to speak to their friends about it. No matter what the intent of Principal Mills' message was, her words have created fear within our children, fear for their safety, fear to speak up, and fear to feel," Oates continued.
Following Oates in addressing the school board several speakers later, Holly Gaspar of Woodstock also read from a prepared statement she had drafted with her husband, Rick. Gaspar's remarks underscored much of what Oates and other parents and caregivers had to say. She reported numerous incidents involving her own daughter — including one with echoes of the supposed threat of violence on Jan. 25 — that gave rise to overarching concerns about bullying behavior and what the Gaspars regarded as the communications and disciplinary shortcomings of school administrators. 
"We felt so lucky to move to Woodstock to raise a child in this town, in these schools," Gaspar opined before school board members and the crowd of more than a hundred listeners. "But what we have experienced so far in our child's school has been a mix between caring teachers and an absent administration, creating a huge impact on her learning and overall social well-being through her daily interactions," Gaspar continued. "On numerous occasions, we have raised concerns that our child has shared and asked for help and support over experiences of racial remarks, violence, and various behavioral concerns, all to be quickly dismissed. All of these scenarios come to us first from our child, rather than the school," the WES parent added. "On several occasions, the incidents have warranted further discussion with the school and we have asked for additional community resources and support to bring knowledge and expertise alongside these major traumas happening within our school community, only to be dismissed over and over."
Gaspar went on to detail an occurrence last November that seemed to resonate with the purported threat of two weeks ago. "Several months ago, our child walked off the school bus — the same bus, mind you, as last week's reported violent threat…with an unfired bullet," she said exasperatedly. "We brought it directly to the school administration. We asked repeatedly for action steps and broader safety and prevention messaging to the wider school community in the wake of the recent gun violence across our nation. We were told that is not what the administration is being advised to do, and nothing was communicated further with families. Our child had feelings of nervousness, of being scared, (and) getting someone in trouble. She was told in the moment, 'You did a good thing.' But after that, the only ongoing support came from within her household, from her parents, as with every incident reported that she has endured over the last one-and-a-half years." Those incidents, Gaspar concluded, included being "repeatedly picked on for her skin tone," having her clothing grabbed and a fist raised in her face, and frequent, unwanted physical contacts throughout the school day. "All of these repeated incidents have been shared by our child herself (and) never from the school," Gaspar charged.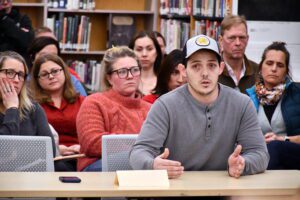 Ryan Townsend, a parent of three children who attend WES, told the WCSU gathering that he is the uncle of the 10-year-old special-needs student who was reportedly the target of the Jan. 25 threat by the fourth-grade boy, and who also has supposedly been bullied by the boy repeatedly for the past six months. Townsend, who told the Standard he is planning a write-in campaign on Town Meeting Day for one of the two Bridgewater seats on the WCSU Board, said that he wished to speak Monday night "more on the policies that have allowed this most recent incident of the threat to even exist in the first place. There's lots of bullying, abuse, and violence happening in our school system. It seems more often than not to be just one particular school and one particular leader that keeps getting involved and silencing people. I don't understand, where we are in a world where we encourage everybody to see something, say something and speak up, how our own school leader could pull kids aside and silence them.
"Not to mention in particular this kid who was the victim of this death threat," Townsend continued. "As she is my niece and a special-needs kid, I know her very well. When she first came to Woodstock two years ago, she'd had trouble at her previous school fitting in and all she wanted at WES was to be friendly and make friends. She used to get up excited, have herself dressed, and be waiting for her driver to pick her up in the morning. It has been common over the past two or three months that she has learned to dislike and even dread going to school. With every single complaint (to the administration), there'd be a new course of action," Townsend alleged. "And yet the next day, we would send my niece back to school and she would be bullied yet again by the same kid. The behavior was never stopped or corrected. We turn our hopes and prayers to you guys," he told school board members. "You're the only oversight there seems to be here. It's a very clear picture what the issues are. I really hope you do something about it, please."
In wrapping up her remarks at the outset of the meeting, Oates said she joined with other parents in calling for WCSU to develop and provide to the public all policies mandated by the Vermont Department of Education related to threats of school violence, bullying, and intimidating behavior, except for those policies which must remain confidential so that any emergency response by law enforcement or school officials is not jeopardized. Oates also called for the formation of "an impartial Oversight Committee to ensure checks and balances when any safety protocol is activated." The Pomfret parent went on to call for "an investigation of how this entire [recent] incident was handled and related incidents leading up to this by an impartial committee including law enforcement, teachers, board members, and parents."
Following the extensive public comment session Monday, the WCSU Board moved perfunctorily through its routine business agenda before voting to go into executive session to discuss a "student matter." Citing the confidentiality of executive session deliberations, the board did not make clear to the assembled crowd whether the discussion was to address any of the students or issues related to the purported threat of violence late last month.