Starting this summer, the Upper Valley will have a new service that helps residents and visitors save money as they eat, shop and play in the area, courtesy of the Vermont Standard. The Standard's publisher Dan Cotter says that the web service, aptly named Do802, is the first of its kind, and it's designed to help locals and tourists find really good deals available at stores, restaurants, amusements, and service providers in the area, while at the same time helping businesses smooth their cash flow. 
"It's a progressive web app," says Cotter. "You don't go to the app store to buy it, but it's a free website that acts like an app. So anyone can access it, and you can save it to your cell phone home screen so that it looks like and acts just like an app."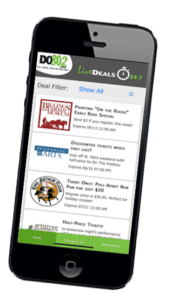 With the slogan "What to Do and Where to Save," the app will have two main pages. The "What to Do" page will be a comprehensive listing of special events happening in the area, with detailed descriptions, pictures, prices, hours, etc. "It has this rolling log of what's going on in the area. Any day you want — today, tomorrow, this weekend, next week, whenever," says Cotter. "If you're a resident or visitor, this will be a great place to find out what's happening for fun around here." The "Where to Save" page offers the latest special offers and deals available at area businesses that are happening right now.
The Standard's Vice President of Business Development Lauren Dorsey said, "The Upper Valley is unique. There's so much to do all the time, from going to shows, festivals, and classes to visiting markets, restaurants, and bars, it's an extremely vibrant place." The Upper Valley's low population density can, at the same time, make it difficult to hear about everything. "While there are some great ways to find out what's going on, you have to know where to look, and it can be nearly impossible to dig through old emails or posts to find everything happening on a given afternoon. It's so easy to miss something that you really would have wanted to do. That's why we made Do802. We wanted to make something accessible and easy to use that would help people take advantage of all that this community has to offer."
Cotter says that Do802 also offers businesses "dynamic, live, instant, real-time marketing," adding, "it's a way for businesses to promote themselves to customers 'in the moment.'" 
Cotter explains that in the past, with traditional marketing practices, businesses would have to advertise their sales in advance, but with Do802, local merchants can reach consumers instantly with last-minute, highly-attractive offers. "For example, a restaurant owner might be having a slow day, and so she says, 'Hey, from now until closing, we're having a special deal' — perhaps something free or buy one, get one. The audience is made up of people who are checking for good deals, to find out who's offering a special right now because they're planning to go out to eat this evening, or they're tourists, who are in town and looking for activities to do and nice places to eat. They'll check Do802 to see who's doing something special or offering a promotion." Dorsey said, "A real-time deal like this helps everyone. The restaurant owner gets to attract customers during a slow period she couldn't have predicted. Residents checking the app will find a great deal or a new place to go out to eat. Tourists who are in town will discover a nice restaurant that's open, without a wait, near where they're staying." Cotter adds, "Or it could be a theater that realizes on the day of the show that they've still got some unsold seats. They could post a deal that says last-minute tickets are half-price until showtime while they last – similar to how the theaters in New York City sell same-day tickets at the TKTS booths."
Businesses can post their deals at any time 24/7 right from a cell phone. Cotter offers more examples: "I could be a bakery owner, and let's say it's 3 p.m. and at 6 p.m. I know that when I close I have to throw away the baked goods that are leftover in the case. But now they'll be able to post a deal right then on Do802 and say, 'Come and get 'em — pastries are just $1 until closing." He continues, "A carpet or furniture store might have a truck arriving this week bringing new inventory. In order to move the old inventory to make room, they could post that if you come in right away everything is 50% off on the showroom floor." According to Cotter, "Do802 allows a business to market in the moment, based on its inventory, based on market or competitive conditions, based on traffic at its store or business at any given time. That's what's different about Do802 versus what businesses have traditionally done or what anybody else has created."
He notes that the promotional messages and offers on Do802 don't have to be strictly monetary in nature. "It could just be touting your daily meal or drink specials, or it could be, 'So-and-so is singing in our pub tonight.' Or it could be, 'So-and-so is warming up right now. They'll be singing in 15 minutes for the next two hours.' So you can use it in a variety of ways to promote what's going on at your business and encourage customers – residents and visitors – to come in right away."
Dorsey said, "One of the things that makes it very unique and makes it endemic to the Upper Valley is just the sheer amount of visibility that we're going to be able to get out. Do802 will be something that many, many people in the local community use, as well as visitors." The Standard plans to promote the use of Do802 very aggressively using its print publications, digital target marketing, and onsite signage.
 "Because we are hoping to have a lot of participating businesses in highly visible locations, it's going to be something that is just immensely prolific throughout the area, and that you see constantly. I think that kind of saturation is very rare," Dorsey says. 
Cotter says the tourists are especially important to local businesses. "The fact that Do802 will serve the visitors is a big deal because a lot of businesses try to promote with Facebook or other vehicles that only get their message to the people who already know them — and not very many of them at that, more like 10% of them. But Do802 will be used by the visitors, who are lucrative customers. They've got to eat out three times a day, they're looking for attractions and things to do, they're looking for gifts to take home or souvenirs." 
Cotter says that Do802 was built locally. "This is a new product that was created by the staff at the Vermont Standard and our web developer partner, Indelible. And it's the first of its kind. Nobody's ever done this before." 
Just as important is Do802's potential to generate revenue for the Vermont Standard. "We're trying to create additional revenue streams to support local journalism for the area," says Cotter. "When people use Do802, and if a business participates in Do802, they're actually supporting local journalism. They're helping us create revenue to keep our newspaper afloat.
"Ads in the paper are no longer sufficient to support the journalism," Cotter continues. "So we have to find additional revenue streams. Do802 is a very exciting experiment – nobody's done it before."
For more information about Do802, please contact Lauren Dorsey at ldorsey@thevermontstandard.com