Our '22 annual appeal begins with gratitude
By Dan Cotter, publisher 
Last year at this time, when we made our first annual appeal, what stood out to me was how incredibly kind and generous our readers are.
A couple of hundred Vermont Standard readers who live locally or read the paper from afar to keep up on goings-on in the area took a few minutes to write a check or enter their credit card on our website to help us keep local journalism alive. Contributions ranged from ten dollars to gifts of thousands of dollars. And many came with a note of appreciation for our work and encouragement to keep doing it despite our daunting financial challenges.
Phil Camp and I were stunned at how good people were to us and how much they valued the service that our small but talented team provides to the community. We alternated between gasps, high fives and even a few tears as we opened the mail or checked our website for contributions each day during those four weeks.
Your help strengthened us financially and it strengthened our resolve to continue trying to find a way to sustain the journalism that has informed and connected residents in Woodstock, Barnard, Bridgewater, Hartland, Killington, Plymouth, Pomfret, Quechee, Reading, Windsor, West Windsor and points between and beyond for 169 years.
I got the impression that many of our supporters were not just donating from their excess. They were actually sharing what they have with us. A big difference.
It felt like people were digging deep, as if it wasn't just another handout for some good cause to them. It seemed more personal. Some told us that the local news coverage we produce plays a big role in how they experience, understand and enjoy the community. They claim that reading the paper is an integral part of their weekly rhythm and something they look forward to
Those kinds of comments inspire us. To keep going. To do better.
It seemed like many were picking us up, sharing our pain and joining our fight to keep the Standard going – as our friends, as our partners, as our backers. It felt like they were investing in us and counting on us to stay strong to help the community stay strong.
We are humbled, and we don't take that responsibility lightly.
I like that term, sharing. It reminds me, Phil and our staff that we're not in this alone. That the responsibility to produce – and pay for – the local journalism that makes life here better is not just our problem. Rather, a lot of people who share in the benefit of our journalism are invested, and they're offering whatever they can share to help keep this going.
Thank you, friends.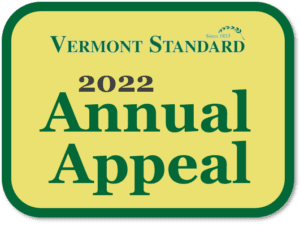 As the Standard begins its 2022 Annual Appeal, I hope you'll take a moment to consider whether you're willing to share some of your resources with us so that we can continue informing and fostering a wholesome connection among our neighbors in the communities we serve.
For the next few weeks, we'll use this space to talk about what the Standard and local journalism mean to our community — the value it brings to life around here. If you're able, please send us a check at PO Box 88, Woodstock, VT 05091 or go to our Vermont Standard THIS WEEK website at www.thevermontstandard.com/annual-appeal to make a contribution with your credit card.
The Standard is not a 501(c)(3) non-profit, so your gift can't be deducted from your taxes, but your gift will be helping to ensure that the Standard will be around to serve our community for a long time.
It's been tough sledding for the Standard this year. Although COVID itself finally eased up, its residual effects on the local economy have lingered and continue to inhibit our revenue stream. That, of course, on top of all the well-known factors that have severely cut into the advertising revenue that once supported newspapers like the Standard all throughout the country.
Regardless of our ad revenue challenges, we know that our community desperately needs the type of local journalism that the Standard provides. Especially right now. I'll have more to say about that in the next couple of weeks as our 2022 annual appeal continues.
If you contributed last year, we hope you'll consider doing so again. We need you. And if you didn't but can offer us help now, you'll be one of those we're searching for to fill the gap in what we need to make ends meet this year.
Thank you for the distinct honor it is to serve you.
---
---