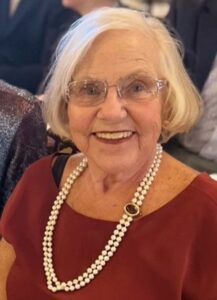 Gail Bernard unexpectedly passed away on January 18, 2023, peacefully at her home in Englewood Florida at the age of 80. Gail was one of 9 children who were born in Medford Massachusetts and made a home wherever she lived including Billerica Massachusetts, York Beach Maine, Woodstock Vermont, and Englewood Florida. In each place, she made wonderful lasting friendships that are still alive today. Gail was a fabulous cook who enjoyed hosting dinner parties and cooking for her friends and family. She was always interested in people's lives and would sit and talk with you in an effort to create genuine and meaningful connections.
Gail was an avid reader and movie buff. She loved to knit and each one of her children, grandchildren, and grand puppies has a homemade Christmas stocking that will be cherished forever.
Gail's family was her pride and joy. She would never miss a graduation, wedding, or birth, and would come to as many sporting events as possible including this year's Thanksgiving football game in Dunstable. When she couldn't be with her family up North, her Park Forest community filled her life with so much fun and companionship.
Gail was preceded in death by her husband George and Son James.
She is survived by her daughter Robbin and husband Jeff Kalmes of Billerica Massachusetts, her son Derek and wife Jennifer Bernard of Dunstable Massachusetts, her grandchildren Patrick and his wife Taylor, Sarah and her husband Andy, and Drew, Ryan, Finn, Owen, and great-grandson Jack as well as many extended family members and great friends.
There will be 2 celebrations of life in Gail's honor. The first celebration of life will be February 5, 2023, at Park Forest ClubHouse on Park Forest Blvd. in Englewood FL at 2:30 pm. The second one will take place on March 5, 2023, at The Groton Country Club, 94 Lover's Lane in Groton Ma. at 1 pm. Anyone who loves Gail is welcome to attend.
Fond memories and expressions of sympathy may be shared at www.nationalcremation.com/location/port-charlotte for the Bernard family.