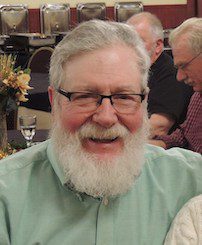 Douglas P. Martin, 81 of Barnard, VT, passed away on Monday, May 15th, in the Garden Room at Gifford Memorial Hospital, after a brief but vicious battle with Pancreatic Cancer. He was surrounded by his family when he passed.
Born April 15th, 1942, to Cecyle and John Martin in Rockingham, VT, Douglas grew up on the farm in Barnard where a strong work ethic was instilled upon him at an early age. By the time he reached his senior year of high school, he was tending two different herds of milking cattle every morning before going to school.
Graduating Woodstock High School in 1960, Douglas briefly attended the University of Connecticut. Choosing a career as a machinist, he apprenticed at Pratt & Whitney Aircraft in Connecticut. On a weekend visit back home, he met the love of his life, Barbara Rowell. The two married on April 22, 1967, and the couple enjoyed 56 years of partnership together, working hard and raising two boys.
Rather than waiting to be drafted, Douglas enlisted in the Navy during the Viet Nam era, but a broken leg quickly ended that chapter.
Douglas was hired on to G.W. Tool & Die (now Nolato) as a tool marker. Douglas worked for several departments over a span of continual employment with the company that lasted for 53 years (a feat nearly unheard of today). Throughout its history, the company has gone through 6 ownership changes and Doug was able to claim that he had worked for all 6 of them. At the age of 80 years old, still working full time and with no immediate plans for retirement, he was featured on WCAX's Super Senior segment in the fall of 2022.
Douglas enjoyed many hobbies in his life, but none were more important than Hunting and Motorcycles. He was a Life Member of the NRA, the Lake Champlain Retriever Club, and the Goldwing Road Rider Association (later called the Green Mountain Road Runners). He was a member of the Barnard Volunteer Fire Department for many years, was active in, and on a few occasions lead, the Barnard Snow Travelers snowmobile club, and even coached Pee Wee Baseball and was the troop Cub Scout leader of Barnard's pack 219.
Douglas is survived by his wife of 56 years, Barbara, his sons Christopher and Robert (Jennifer), three grandchildren, John, Simon and Axel, and two nephews, Chad & Nathan. He was preceded in death by his parents, John & Cecyle, his sister, Margaret, and her son Todd.
In lieu of flowers, the family requests donations be made to the Gifford Memorial Hospital's Last Mile Ride or to Cancer Research.
A graveside service was held on Saturday, May 20th at 11:00 in Riverside Cemetery in Woodstock, VT. A celebration of life will be held at the Barnard Town Hall on Saturday, June 17th from 11 am – 3 pm.
An online guestbook can be found at cabotfh.com
---
---