Dennis M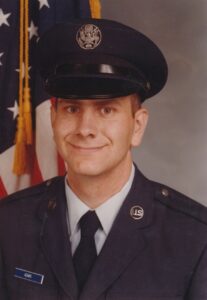 ichael Adams, Sr. went home to be with the Lord, at the Jack Byrne Center in Lebanon, NH on January 16, 2023.
He was born on January 25, 1961, in Rutland, Vermont the son of Lester Earnest Adams and Velma Florence Bell
Dennis graduated from Woodstock Union High School in 1979 and married Paulagay Nielsen in 1981.
Dennis shared his love of trains with James, his love of sports with Ethan, his love of mischievousness with Alice, and his ability to make anybody laugh with Aaron.
He loved to spend time with family and friends, fishing, camping, hiking, traveling to historic places and teaching the history. He also enjoyed playing drums, strategic games on the computer, and model trains.
He played in the band Automatic Pilot in Woodstock, VT., and worked with the Boy Scouts of America for several years.
He served in the Air National Guard from 1983-1990, and at one time actively served at West Lebanon Baptist Church, now Hope Fellowship. He served several consecutive terms on the Hartford School Board, and in later years occasionally attended River Bank Church.
Over the years he worked for the Woodstock Inn and Resort, Woodstock Soapstone Co, making Soapstone stoves, as a Premier Coach Bus Lines Driver, a Vermont Transit Driver, an Advanced Transit Bus lines Driver, and drove as an Uber/Lift Driver.
He leaves behind his wife of 41 years Paulagay Adams, his children: Grace Gay Adams Hazen and husband Dylan, Dennis Michael Adams Jr., Kellie Nicole Adams Fernander and husband Jimmy, Matthew Christian Schill and fiance Lindsay Storey, grandchildren: James Michael Fernander, Ethan Alexander Fernander, Alice Bell Fernander, Aaron Andreas Fernander, Daisy Hazen, his 4 brothers, David Adams of Bridgewater, VT, Jeff Adams of Woodstock, VT, Richard Adams of Woodstock, VT, Greg Adams of Florida, several cousins, aunts, uncles, nieces and nephews
A celebration of life was held on Saturday, January 21st at 11:00 am at the Trinity Evangelical Free Church in Windsor, and a potluck was held following the service. Burial will be at a later date.
Memorial donations may be made to Rachels' Kitchen, 165 Main Street, Windsor, VT 05089, or the Vermont Fish & Wildlife Conservation Group, PO Box 207, East Charleston, VT 05833 https://www.vtfwcg.org/support-us/
The Cabot Funeral Home in Woodstock is assisting the family. An online guest book can be found at cabotfh.com