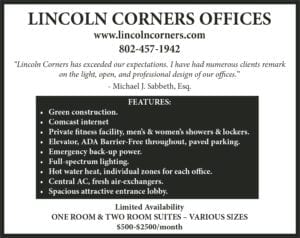 Lincoln Corners Offices – www. lincolncorners.com -802-457-1942
"Lincoln Corners has exceeded our expectations. I have had numerous clients remark on the light, open, and professional design of their offices." – Michael J. Sabbeth, Esq. 
 Features:
Green Construction, Comcast internet, Private fitness facility, men's & women's shower & lockers. Elevator, ADA Barrier-free throughout, paved parking. Emergency back-up power. Full Spectrum lighting. Hot water, heat, individual zones for each office. Central AC, fresh0air exchangers. Spacious attractive entrance lobby.
Limited Availability: One Room & Two Room Suites- Various Sizes
$500-$2500/ month