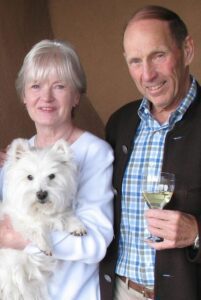 Bruce Edward Marier, 86, of College Hill Road in Woodstock, died of Covid-19 and complications from cold agglutinin disease on December 17, 2022, at St. Vincent Hospital in Santa Fe, New Mexico. He, his wife Suzanne, and their West Highland White Terrier, Oscar, had driven from Woodstock in late October to visit Northern New Mexico and the people and places that had become special to them during the twelve years they lived in Taos. A superb skier and an intrepid hiker, Bruce loved the Taos mountains. He loved too the opera and classical music performances that so enrich Taos and Santa Fe.
Born on September 8, 1936, in Holyoke, Massachusetts, Bruce was educated in Holyoke public schools, served in the U.S. Navy, and graduated with a degree in Mathematics from the University of Hartford. His professional career was with computer consulting and manufacturing corporations including IBM, Honeywell, and DEC. Although corporate assignments took him to states including Arizona, Connecticut, New York, and Massachusetts, and to several European cities as well, the Boston area and Vermont were always considered home.
A second career began in 1995 when he and two others formed Claret Software in Lebanon, NH and developed Clarifye, a successful PC-oriented wine-management system. At that time he and Suzanne built a home for themselves and their Westies, Parker and Maddie, on Rose Hill in Woodstock. For several years Bruce was president of the Upper Valley Computer Industry Association. After 9/11, and after Claret Software closed, Bruce embraced his knowledge and love of wine to serve as wine steward at Hemingway's in Killington. He and his family moved to Taos in 2005 and returned to Woodstock in 2017.
Bruce is survived by Suzanne, his wife of forty-five years, and by his niece, Melanie Peetz, of West Springfield, Massachusetts, his nephew, Kevin Peetz, of Natick, Massachusetts, and his many friends and companions. His verve, his enthusiasms, and his love of life will be missed. Final arrangements were made by Rivera Family Funerals and Cremations in Santa Fe.