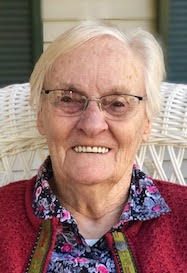 Beatrice (Bea) Robinson, 94, passed away peacefully, on Wednesday, January 18, 2023, with her loving family by her side. Bea was born in North Pomfret on October 5, 1928 daughter of Arthur and Susan (Boyd) Longley. She was one of eleven children who grew up on the family farm, with four brothers and six sisters. At age eighteen she married Gilman Frank Robinson on July 1, 1947, joining the Robinson Farm in Woodstock. She took great pride in caring for the home, the animals, and the vegetable and flower gardens alongside her mother-in-law.
Bea enjoyed many hobbies including knitting, making root beer and fresh bread, pies and donuts from scratch, puzzles and playing board games with her grandchildren.  During the winter months, Bea and Gilman spent their weekends traveling the state on their snowmobiles, until his tragic logging accident in 1988.  Bea and her mother-in-law would soon move up the hill to a smaller home overlooking the Robinson Farm.
In 1992, Bea was introduced to Leeds Ackerman who became her companion for the next 23 years. They enjoyed spending time feeding the fish in the pond; taking nature walks, and watching hummingbirds and other wildlife outside their front door.   Together they traveled by RV across the United States, stopping to visit monuments and national parks. In the winter months, they spent time in Florida, fishing and visiting with family and friends.
Bea will always be remembered for her witty sense of humor, love of dogs, obsession for owls, Blueberry Buckle, and her gorgeous flowerbeds that were impeccably maintained. She is survived by her son Stanley (Lori) Robinson, her three granddaughters; Amanda Robinson, Brenda (Rob) Narucki, Carrie Paquette, and her grandson Jake (Hali) Robinson as well as seven great-grandchildren, two great-great-grandchildren, and several nieces, nephews, close friends and all the loving caregivers and staff at the Woodstock Terrace.
She was predeceased by her husband Gilman Robinson, daughter Phyllis Templeton, companion Leeds Ackerman, and her grandson Jesse Robinson.
At Bea's request, there will be no visiting hours. A graveside service will be held later this spring.  In lieu of flowers, please consider making a donation to your favorite local charity in her memory.
An online guest book can be found at cabotfh.com