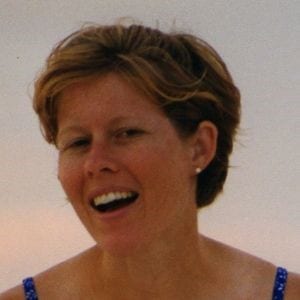 May 7, 1964 – September 25, 2019
Melrose, Massachusetts | Age 55
Deborah Hadden Gray passed from this life to the next on September 25th after a prolonged illness.  She is survived by her husband, David; her sons Liam and Collin, her parents, Craig and Joan (Gill) Hadden of Barnard, VT, a brother, David Hadden and his wife Amie of Bangor, ME as well as 16 nieces and nephews.
Born in St. Louis, Deb spent her earlier years in Pennsylvania, Massachusetts, and Barnard, VT. She graduated from Woodstock High School and Bucknell University.  Her faith, love for nature, art, science, and an active lifestyle were developed at a young age, shaping her into an intelligent, giving, and modest woman.
Deborah earned a Masters degree in Biology and worked as a wetlands scientist and planner for Camp Dresser & McKee in Cambridge and Fort Point Associates in Boston early in her  professional career. She worked 20 years at Massachusetts Port Authority on airport and maritime projects, retiring as Boston Port Director having  managed critical projects such as dredging of the harbor to accommodate the ever-larger ships using the Port. She was respected as a thoughtful and pragmatic manager, thriving at collaborating on complex projects with colleagues, the business community, elected officials, advocacy groups, and the public. She loved and valued her colleagues greatly.
Deborah's true focus and love, however, were her husband and sons.  She prioritized and planned her time around them – cherishing those times dearly.
Deb had a strong but private faith and lived it through her daily actions and deeds ~ important as her disease progressed, helping her persevere and later resolve to live her remaining time in the most meaningful ways. Deb drew much strength and support from her devoted friends to remain active as circumstances allowed. She later appreciated receiving amazing care from dedicated professionals tending to her complex needs; including many aides, nurses, and doctors with whom she developed loving relationships.
A Memorial Service will be held on Saturday, October 26, 11 am at Grace Chapel, Lexington, MA.   A celebration of her life will follow, 2 pm at the Exchange Conference Center in Boston.
Gifts in Deb's memory may be made to the Melrose High School Permanent Scholarship Fund, PO Box 760695, Melrose, MA 02176 (www.mhsfund.org) or a cause of your choice.